Do you want to increase the trust customers have in your business? Including reviews on your website is one of the best ways to do this!
Customer reviews can add a 'social proof' to your site. They allow your visitors to see that other people have had good experiences using your products and services and let them know you are trustworthy. This can, in turn, give you insights into how you can improve what you're offering and lead to increased conversions.
In this post, we will explore how you can add the most recent product reviews directly to your WordPress site from WordPress, Facebook, TripAdvisor, and others.
What is TrustPilot, and What are the Benefits of Displaying Customer Reviews?
TrustPilot is a review platform where customers can leave feedback by sharing their experiences using online businesses. The system is incredibly popular, with hundreds of thousands of reviews covering over 100,000 websites (including big brands like Amazon, eBay, etc.)
One of the most significant advantages of review sites like TrustPilot is that they can help you establish credibility among your users. These platforms are usually open to everyone, and those sharing their experiences help others make better choices. At the same time, these tools can provide you with a window into your customers' perception of your products and services.
By digging deeper into what your customers want, you can improve what you're offering and increase conversions through your website. And the benefits don't end here. Review sites like TrustPilot also have valuable social features, such as ratings and comments, which can help you engage with customers on social media platforms like Facebook and Twitter to promote your business even further.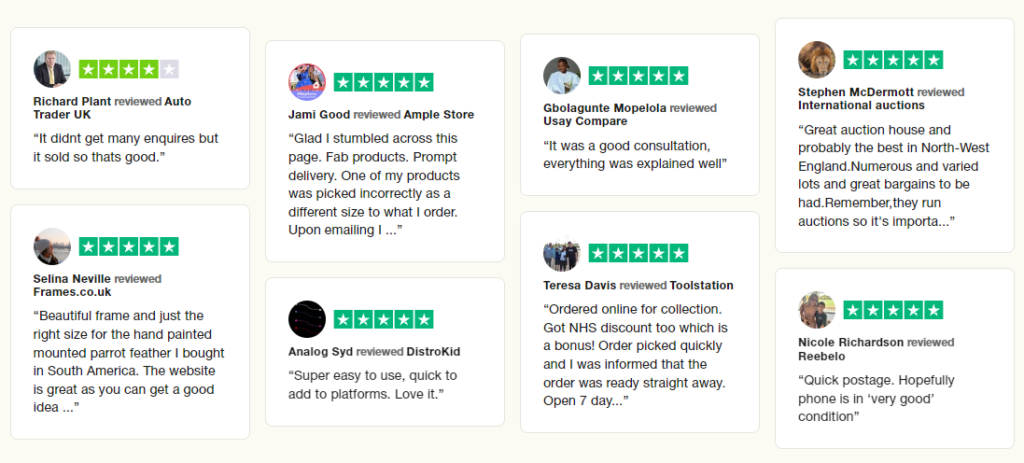 Which is the Best Plugin to Embed TrustPilot Reviews?
If you're looking for a way to show product and service reviews on your WordPress website, you'll find there are a few good widget options out there. But where should you start?
One important thing to keep in mind when it comes to choosing the perfect review and rating plugin for your site is its ability to pick up and showcase reviews originating from multiple platforms – and not just TrustPilot. After all, many users do not know about this tool and instead trust others like Facebook, Google, and TripAdvisor.
You also want to find a plugin that allows you to customize the way the feedback is shown. For example, displaying the product stars but hiding the score or not showing the date when they were written. Of course, the price of the plugin will also play an important role in picking the best review plugin for WordPress!
Based on our experience using product reviews on various websites, there are two plugins we can recommend: WP Review Slide Pro (for supporting multiple platforms) and Trustpilot Reviews Plugin (the official TrustPilot WordPress plugin that only supports that platform). Let's take a look at both.
Option 1: WP Review Slider Pro
WP Review Slider Pro is, without a doubt, the best review plugin available right now to embed reviews into WordPress. One of its biggest advantages is that It enables you to display business reviews from over 90 websites, including Facebook, Expedia, Google, and TrustPilot, and embed them directly on your WooCommerce store.
The plugin also offers unparallel customization. For example, you can choose to auto-update reviews to showcase only the latest ones and personalize the design of the product review widgets. The options are varied; you can pick the colors, fonts, and most essential elements yourself or use one of the many built-in templates or pre-formatted components like sliders, grids, and floats. And the best thing: You can reuse them anywhere on your site using a simple shortcode!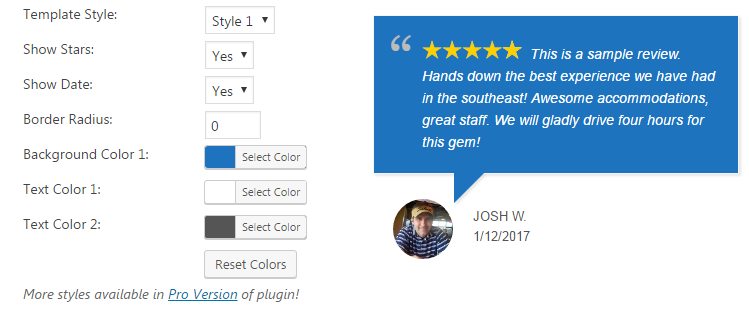 Another thing that sets his plugin apart from its competitors is that it actually encourages customers to leave more reviews. For instance, you can create customized forms and use them to capture feedback directly through your website using a button or a popup form.
With WP Review Slider Pro, you can also:
Display only the form fields that you need to capture reviews.
Add Google reCAPTCHA to keep malicious software away from your site.
Use form logic to only showcase social media buttons if the review is above a certain rating.
Analyze your product feedback over time to identify trends, common complaints, favorites, and more (the plugin supports analytics by showcasing graphs and charts to visualize the reviews better).
Option 2: Trustpilot Reviews Plugin
Trustpilot Reviews Plugin is TrustPilot's official plugin. This tool also lets you automatically invite your customers to share their feedback through the platform. In consequence, one of the most significant advantages of this plugin is that when users share their thoughts, they create authentic content that is unique to your site – which is excellent for SEO purposes.
There is just one downside of using the Trustpilot Reviews Plugin: It only allows you to showcase business reviews from TrustPilot itself (it also doesn't include any analytic tools or powerful customization options). In contrast, WP Review Slider Pro comes with many more features and supports over 90 review platforms!
How to Showcase TrustPilot Reviews Using WP Review Slider Pro
WP Review Slider Pro is very easy to install and configure. All you need to do is grab the reviews you like from Facebook, Yelp, Google, TrustPilot, etc., choose how you want to display the widget and where, and you are done! They will be automatically added to your website and look exactly like you wanted.
This video explains some of the plugin's main capabilities:
If you have just installed the plugin, the steps to get your reviews to show anywhere on your site are very straightforward. Let's go through them in a little more detail.
Step 1: Retrieve the Reviews
The first step when using WP Review Slider Pro is to choose the reviews you want to display on your WordPress and WooCommerce site. The platform will show you a list of reviews from over 90 sites. You can easily filter these by name, rating, R-type, date, the number of words, and type, among others. 
For example, you can look for a word (say, the name of your product) and select all reviews that contain it. The plugin allows multiple element selections, or you can choose the reviews you like manually.
Step 2: Setup a Template and Customize
Once you have chosen the reviews you want to showcase on your site, you can then select the type of preview for them. For instance, you can present them in a slider or use one of the many pre-built templates that come with WP Review Slider Pro.
The plugin includes a wide range of customization options. Apart from the template style, there's the option to show whether you want to show stars or not, their color and icon, the date format, avatars, names, borders, and background and text color. You can create unlimited templates and badges to reuse as widgets all over your site!
Step 3: Show Your Reviews!
If you created a customized template for your reviews, you can now add them anywhere on your site using a shortcode. Even more, creating submission forms to ask your users for personalized feedback is really easy. You can even instruct the plugin to receive notifications every time someone leaves a low-rated review about your product.
Lastly, it's also very straightforward to go through all your feedback in detail using the plugin's reporting charts and graphs.
Get Started Today
Allowing your visitors to read other people's reviews of your products and services can have a massively positive impact on your website.
While the Trustpilot Reviews Plugin only works with reviews from that one platform, WP Review Slider Pro supports feedback from over 90 different sites (including TrustPilot but also Facebook, Expedia, Airbnb, TripAdvisor, and many more).
With WP Review Slider Pro, you can choose from a selection of great review templates or create your own using the powerful customization tool. You can also auto-update reviews and showcase the latest ones, and get notified every time someone leaves a new review about your product or service.
Using a review plugin can improve your social proof and visitors' confidence. If you want to show your users the benefits of your business, there's no better way than using WP Review Slider Pro with your WordPress and WooCommerce installation.