Did you know that Facebook holds 19% of all customer reviews? It's also one of the top review sites people check before visiting a business, right alongside Google Reviews and Yelp. Chances are, your business has been getting positive reviews from "real" people on Facebook. Social media is one of the most popular and trusted sites because people can freely share their testimonials and opinions about businesses with their friends and family.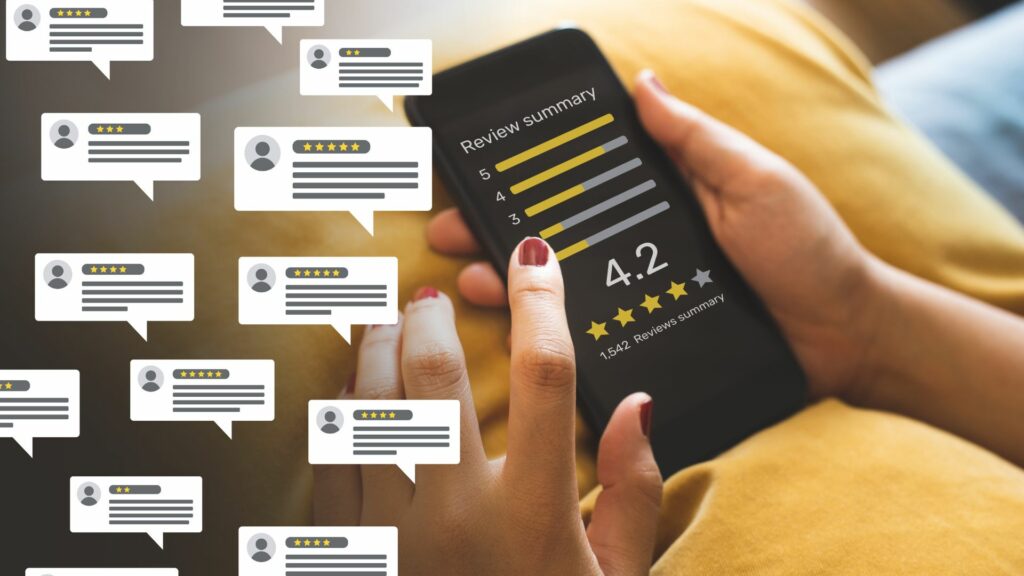 Unfortunately, unless you bring this social proof from your Facebook page to your WordPress site, you can't leverage it to your advantage. Don't worry; in this article, we'll show you how to import your Facebook reviews to your website.
Why Should You Display Your Facebook Page Reviews On Your WordPress Website?
When people don't know how to proceed or which product to choose, they immediately start looking around them for cues to see what others are doing – a phenomenon known as social proof.
It's no different in the eCommerce world. When people shop, they look for positive and negative reviews and testimonials to make a decision. That's why online stores work so hard to get others to review their products: social proof increases the number of customers making purchases.
Facebook reviews are excellent social proof. When social media users see your business page's reviews, they are far more likely to consider doing business with you or buying a product from your site. Unfortunately, Facebook reviews live on Facebook, which means you can't easily leverage them on your WordPress website. Unless customers have visited your Facebook page, they probably won't see them. You lose your opportunity to boost your credibility and turn your WordPress site visitors into paying customers.
But, by importing your Facebook page reviews to your WooCommerce store, you can optimize your Facebook reviews even further and convert more of your general website traffic. Displaying reviews on your WordPress site can make a huge difference to your revenues. 
Importing your Facebook page reviews to WordPress isn't as complex as you might think. One of the easiest ways to display Facebook reviews is to use a WordPress plugin called WP Review Slider Pro. 
The Best Plugin Solution For Embedding Facebook Reviews On WordPress: WP Review Slider Pro
WordPress doesn't have built-in functionality to pull and display reviews from multiple platforms. That's why recommend using WP Review Slider Pro – a WordPress reviews plugin that lets you create a stylish slider that displays reviews from Yelp, Facebook, Google Reviews (and 90+ more platforms) on your website. You can also easily add reviews and testimonials manually.
All it takes to display Facebook reviews directly on your WordPress website are a few simple steps (but we'll get into the details a little later).
Manually displaying reviews on your website isn't easy, and it can be tricky to showcase reviews that seem impartial and genuine. You might even need some coding skills to get the job done professionally.
With WP Review Slider Pro, it's incredibly easy to import your reviews, and once it's done, you can manage and display your Facebook reviews using a professional template. You can even create multiple templates to display different reviews in different places or create a custom review template inserted via shortcode or an included widget.
You can turn on source icons, add borders, and colors, float badges on your page, or add popups or slide-out reviews. You can even display your star rating for maximum impact.
Of course, you don't want to display more negative reviews on your site. WP Review Slider Pro lets you filter and moderate reviews to choose only the best ones.
Customers agree as well. In the spirit of social proof, we compared the top Facebook review plugins and found that WP Review Slider Pro ranked best because of its ease of use and cost-effectiveness. The plugin is also ideal for embedding Google reviews, displaying product reviews, creating a Google review slider, and showcasing Expedia reviews.     
Still, need convincing? Here are just a few of the things you can do with WP Review Slider Pro:
Directly import or manually add and auto-update reviews directly from popular review sites like Amazon, Facebook, Airbnb, IMDB, eBay, and Google Reviews.
Showcase your reviews in attractive, highly customizable formats (like sliders, grids, and floats) using either built-in templates or custom CSS, which makes it perfect for beginners and expert coders alike.
With WP Review Slider Pro, analyze your reviews over time. Analytic graphs and charts will help you identify trends and common complaints/ favorites at a glance.
With WP Review Slider Pro, you can actually collect even more reviews by using customized forms to capture more feedback and testimonials. Simply add your form behind a button or a popup and start collecting responses.
How To Display Facebook Reviews On Your WordPress Site With WP Review Slider Pro
Are you ready to install WP Review Slider Pro to your WordPress website? Here's the step-by-step process to embed Facebook reviews using this innovative review plugin. 
How to Connect WordPress to Facebook
1. Get WP Review Slider Pro from the website.
2. Retrieve your reviews. On the left-hand admin panel of WP Reviews, select the Facebook link.
3. Click on the "Get Access Code Here" button. A popup window will open with a Facebook login button. Click it, and log into the Facebook account that is connected to your business's Facebook page. A new page will open. Copy the access code and enter the URL for your WordPress site.
4. Scroll down to the bottom of the page and select the Facebook page that has the reviews you'd like to display. Then Click Save. Now close the window and go back to your WordPress dashboard.
5. Click on WP FB Reviews and paste your access code into the access code box, and save.
Choosing your Template Style
Next, you choose from one of several template styles on offer that can put your Facebook reviews on display right on your WordPress site.
There are several different styles to choose from, including:
The Masonry Style Grid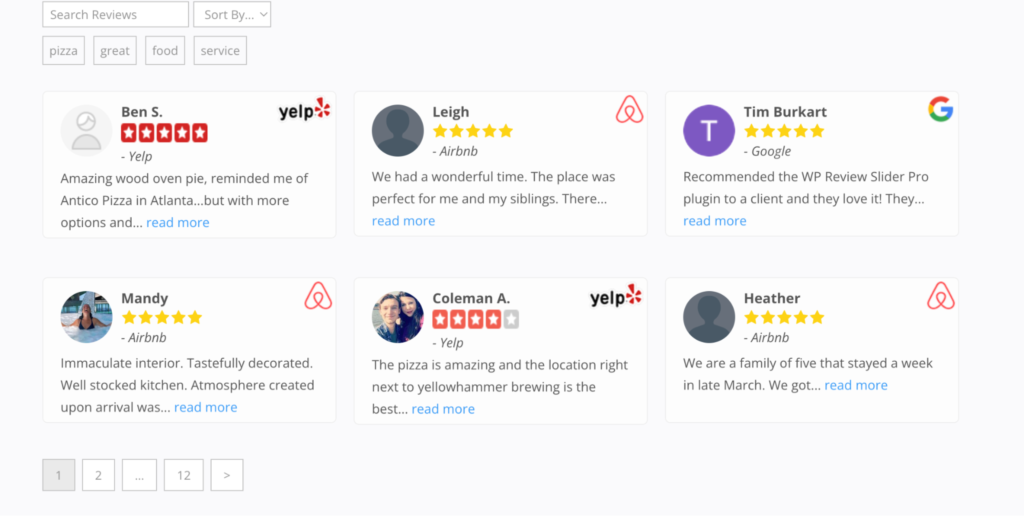 The Slider
The Badge and Form

You can use the Template tab to change the styling options. Here are just a few of the things you can do:
Change the colors, border radius, date format, etc.
Turn off the stars and date
Changing the star icon to hearts or any other icon you prefer
Enter your own custom CSS or use a child theme to control the entire look of your Facebook review template.
Once you've chosen your template, you can add this directly to your website.
Use WP Review Slider Pro To Collect Even More Facebook Reviews
Now that you know how to add Facebook reviews to your WordPress site, you are probably eager to collect even more reviews. Don't worry – WP Review Slider Pro can help with that. If users react positively to your site, ask them to review you on Facebook.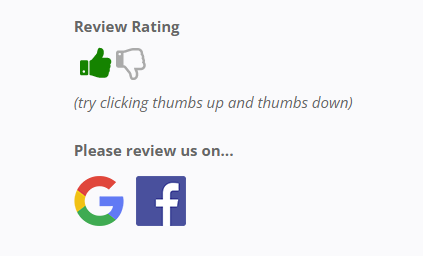 For negative reviews, you probably want to keep it more discrete. You can route them to the internal review system to voice their opinion, which can protect you from negative reviews. You can create an unlimited number of submission forms on your site, so you can collect reviews at different touchpoints (and display them on the site).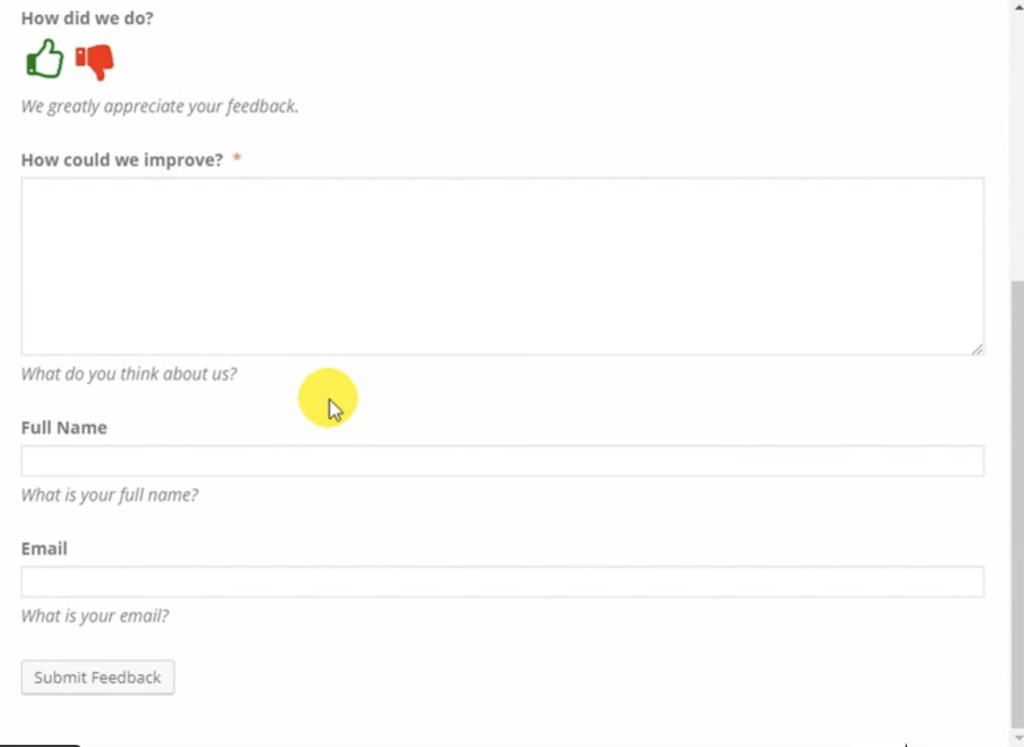 Why is WP Review Slider Pro the best WordPress plugin to display Facebook reviews?
Facebook is not the only site where users are reviewing you. Ideally, you should collect and display your social proof from a number of other sites, including Google Reviews and Yelp reviews. There are plenty of plugins designed to collect reviews from each of these platforms, but that's not the best approach. You can quickly end up with dozens of plugins that need constant updating and monitoring. WP Review Slider Pro seamlessly collects reviews from several platforms, so you can easily manage your reviews. 
WP Review Slider gives you complete control over the reviews that are displayed and how they are displayed. It can help you generate more reviews and automatically updates so that your reviews never get stale.
Best of all? It comes in at the cost of only $29 per year – for all of the features and all of the platforms, you'll need to display reviews and use them to your advantage. (And don't forget, it has the best ratings!) 
Install WP Review Slider Pro today to start using reviews on your site. WP Review Slider Pro comes with a 30-day money-back guarantee, so there are no risks – just great reviews!