Amazing Features To Grow Your Business
Everything you need to build trust and sell more!
Retrieve Reviews
Easily grab your reviews from Facebook, Google, Yelp, TripAdvisor, etc… or manually add them.
Setup a Review Template or Summary Badge
Create a review template slider or grid with filters to show off the reviews you want people to see! Also, easily create a summary review badge.
Add Template to Site
Put the template or badge shortcode on your site and show off your testimonials. Create an unlimited number of templates and badges for your site if you choose.
Done!
Start building user confidence by displaying social proof and increasing your search engine ranking!
Even More Features
Make the reviews float on the page, create a review submission form, make an automated feedback pop-up form, analyze your reviews with charts and graphs, and more!
The easiest way to build trust is through other customers.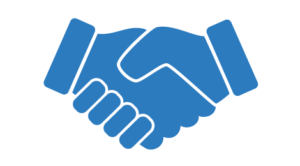 That's why reviews are so integral in building credibility, validating the quality of your business to prospects, and earning sales. Having your reviews imported directly into and displayed through WP Review Slider Pro looks more professional, feels more authentic, and adds an extra layer of polish to your online persona.
Improve Social Proof
Increase your visitors' confidence by display Social Proof of reviews. Now you can display different reviews every day automatically!
Slider or Grid Display
Turn your reviews in to fully functional sliders with all kinds of options! Not in to sliders? Simply display them in a masonry grid, regular grid, or list! Even include a Load More button!
Review Filters
Select which reviews to show based on length, rating, source page, and a lot more filters or just pick and choose which ones you want to show off.
Download Reviews
Easily grab reviews from your Facebook page, Yelp, TripAdvisor, Airbnb, Google Places, and 65+ other sites so you can display them on your site.
Customizable Templates
Pick a template, easily change the colors, hide/show the stars and the date, and even change the border radius. They will look great on all screen sizes!
Email Notifications
Automatically get emailed when the plugin finds a new low rating review!
Twelve review templates to choose from! We'll even add another if you don't see one you like.
Change the colors, border radius, date format, and turn on or off the stars and date. Even change the star icon if you wish.
Enter your own custom CSS or use a child theme to completely control the look of the template!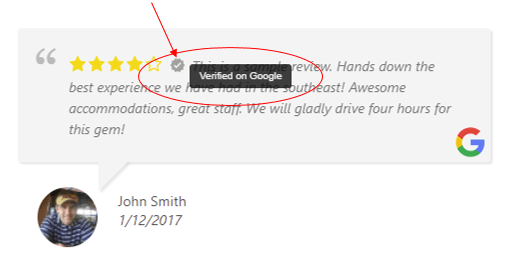 Verified icons are now required in the UK. Easily turn them on and off and place them before or after the review text.
Link the site icon to your social page for even more proof if you choose.
Select the full star icon and the empty star icon. Or leave the empty one blank if you want. Note: TripAdvisor and Yelp reviews must use their respective icons.
If you don't see one you like, simply contact us and we'll get it added!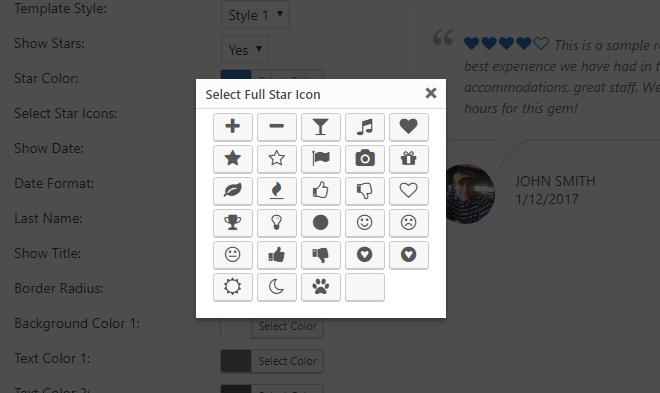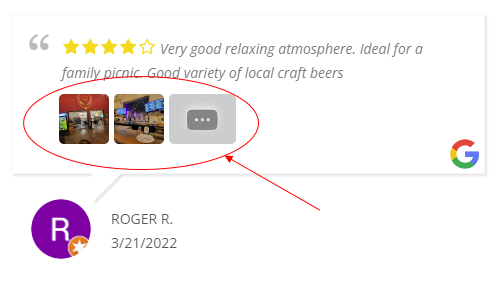 Automatically add TripAdvisor, Google, or Yelp cusotomer images. You can also manually add images and YouTube videos to any review by simply editing the review after you download it.
When you click the image or video it will show in a pop-up window!
Shorten Long Text With "Read More"
Pop-up the review or expand the text.
Click the "read more" below for an example pop-up.
Click the "read more" below to expand the text.

Very Good Plugin
A really good plugin: 1. you can create feeds with reviews from practically all social...
read more

Review Summary Badges
Easily create fancy badges like these to show off your Social Proof! Fully customizable colors, borders, icons, and CSS! These are also "Floatable" just like the review templates!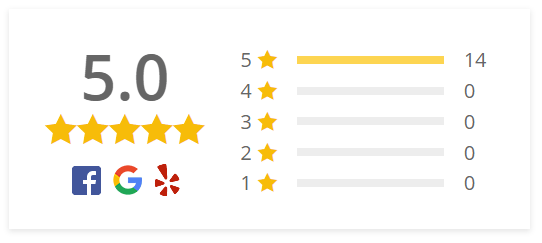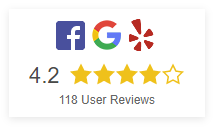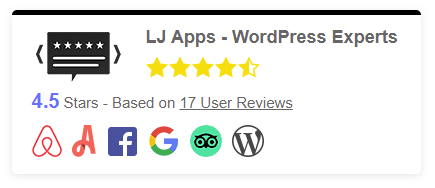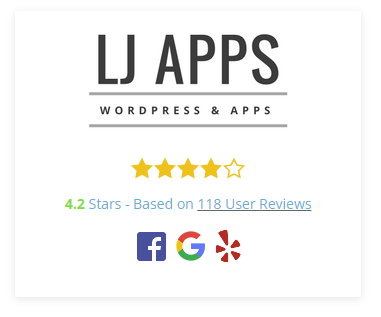 Front End Review Submission Forms
Create multiple forms that your customers can use to submit reviews to your products or testimonials for your business!
Create an unlimited number of submission forms for different parts of your site. Great for collecting reviews about your service or product and displaying them in a slider!
Hide the form behind a button, create an automatic Pop-up form, only display the form fields you actually need, Google reCAPTCHA support built in, and a lot more!
Catch negative reviews before they make it to Social Media! Use Form logic to show links (buttons or icons) to your Social Media Sites only when the rating is above a certain value!
Floating Badges and Review Sliders
Make your Badges or Review Slider float on the page! There's an example on the desktop version of this page in the bottom right.
Create an unlimited number of Floating Badges or Review Sliders to display on your site!
When someone clicks the Float you have the option of linking to another page or displaying a slide-out window of reviews!
Enter custom Header and Footer code for the Slide-out and even custom CSS style if you want.
The locations of the Float and the Slide-out can be changed easily!
Google Rich Snippets
Easily add the Google schema for rich snippets to a review slider or badge.

Easy to set up while creating your review template or badge.
Review data is automatically updated when you get new reviews.
Also included individual review markup if you wish.
Sync WooCommerce Reviews
 Automatically sync your WooCommerce reviews with the plugin to easily create a review slider displaying your latest product reviews!
Create a summary review slider of your product reviews for your homepage!
When you get a new WooCommerce review it is automatically inserted into the plugin. If you delete the review it's automatically deleted from the plugin.
Don't like the WooCommerce review system? Use our review submission form to completely replace it with this plugin.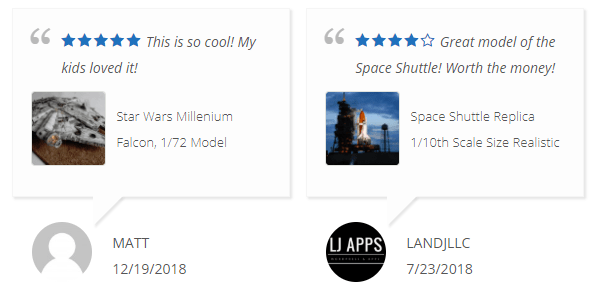 Multi-Language and Multi-Location Support
 Create review sliders based on language, location, and much more.

Automatic language detector so you can display and filter reviews by language.
Create review sliders for each location of your business. You can easily pick the original review source pages for each review template.
Filter reviews based on keywords, rating, word or character length, social page, category, or even pick and choose the reviews per a slider or grid.
Send an Automated Email to yourself or others when a new reviews is downloaded or submitted.
Customize the notification to send only for certain types of reviews, some or all ratings, or certain source pages. Change the subject and send to multiple people if you like.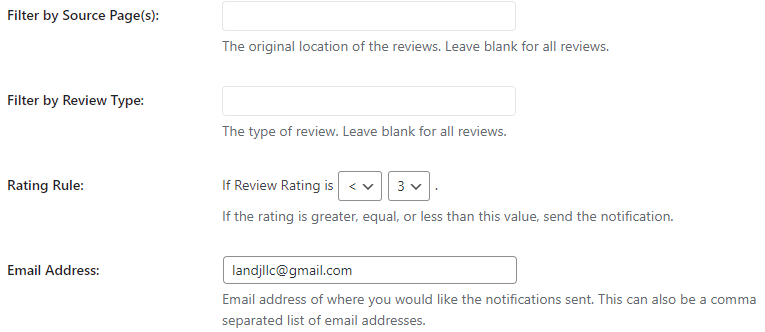 Grab Your Reviews From 90+ Sites…
The plugin automatically works with a third-party service that allows you to download reviews from even more sites!
Agoda
Airbnb
AliExpress
AlternativeTo
Amazon
Angie's List
Apartmentratings
Apartments
Apple Appstore
Avvo
BBB
Birdeye
BookATable
Booking
Capterra
CarGurus
Cars
Citysearch
ConsumerAffairs
CreditKarma
CustomerLobby
DealerRater
Edmunds
Ebay
Etsy
Expedia
Experience
Facebook
Feedback Company
Feefo
FindLaw
Foursquare
Freemius
Gartner
G2Crowd
GetYourGuide
Glassdoor
Google
Google Play
Google Shopping
Greatschools
Healthgrades
HomeAdvisor
HomeAway
Homestars
Housecall Pro
Houzz
Hostelworld
Hotels
HungerStation
Indeed
Influenster
InsiderPages
IT Central Station
iTunes
Jet
Lawyer
LendingTree
Martindale
Newegg
Nextdoor
Niche
OpenRice
Opentable
ProductHunt
ProductReview
RateMDs
ReserveOut
Sitejabber
Siftery
SoftwareAdvice
StyleSeat
Talabat
TheKnot
Thumbtack
TripAdvisor
TrueLocal
Trulia
TrustedShops
TrustRadius
Twitter
Vitals
VRBO
Walmart
WeddingWire
WooCommerce
WordPress
Yell
YellowPages
Yelp
Yotpo
Zillow
ZocDoc
Zomato