What do you do when you want to bump up your conversions?
There are a lot of things you can and should do. But customer feedback and social proof are at the top of the list!
Reviews are one of the most important factors in making a purchase decision. Although customers read through all sorts of content to find out more about a topic when it comes to buying, reviews reveal the information they care about:
How the product/service works in practice
What the customer can expect in general
Benefits the product or service offers that aren't necessarily advertised
The unexpected drawbacks that only reviews can reveal
Google reviews are among the most important, as they are the most visible. They help customers gain a more complete understanding of a product before purchasing. This makes gaining good reviews an important part of online marketing and visibility on search engines. So, how do you maximize reviews?
The key is often as simple as asking for them! But you can make it easier with Google reviews WordPress plugins. If you're using WordPress, like 30% of all websites on the internet, there are many plugins for exactly this purpose. You don't need to risk breaking your site by accident while coding.
In this article, we will show you the best plugins for Google reviews and how to use them to increase conversions.
Why should you showcase Google reviews on your website?
Google reviews are essentially customer testimonials. As a customer, how can you really know how a product will really be without reviews? But that's not all – showcasing Google reviews on your website has many benefits.
Improve search rankings
Google reviews are also good for your search results (SEO)
Ratings left by your customers will appear on the Google search results, helping you rank higher in the search results
You bolster your lead generation, which, if used properly, means increased conversions as customers enter the buying process

Google Review Snippets
Recently, Google reviews released a new feature called "review snippets" which displays reviews on the SERP when someone is looking for local businesses. Google automatically looks for valid reviews and features them as a "snippet" by showcasing stars and a summary of the review.

However, It's important to note that Google does not display stars for local businesses or organizations whose website features self-serving reviews. Let's say you have an online apparel brand. If you were to embed Google reviews on your website which talk about your brand, it is unlikely to be featured in the review snippets. A viable workaround is to display reviews for specific products. In this example, it could be about a specific tee design, the comfort of a particular shoe, the material used in the inseam of a hoodie, etc.

Reviews featured here also come from trusted sources like:
To get snippets featured prominently and all the SEO benefits that come with reviews, you need Google reviews that can be displayed on your website.
How to display Google reviews on your website?
The easiest and most convenient option is a Google reviews WordPress plugin.
Most plugins are easy to use and boost SEO. The most difficult part is choosing the right plugin for displaying your Google business reviews. So, how do you make the choice?
The key here is to consider the most important factors for your business.
Factors when choosing the best WordPress Google Review Plugin
Pricing
Your budget must be the first consideration. Once you've established a budget for yourself, you can then look at the overall value. Getting the most bang for your buck will mean having all the features you need at the lowest cost.
If you're just getting started with your business, there are some free Google review WordPress plugins. However, free plugins normally don't have the largest or most professional teams working on them. This means they may become outdated, or they may simply be buggy and lack some "industry standard" features that would be found with all the paid alternatives.
Free plugins are normally good when you're getting started. But they normally lack good customer support and aren't conducive to scaling.
Features
A good Google reviews WordPress plugin should offer functionality and customization. Typical features include built-in templates, a "read more" button for saving space, a "write a review" button, filters for displayed reviews, and options such as organizing reviews by date. Other important examples would be integrations with WooCommerce, analytics, and features to help you get more reviews!
Reviews
Speaking of reviews, the Google reviews WordPress plugin you choose should have some good reviews of its own! Check other users' reviews for responsive customer service, any bugs, and other important issues.
Top 10 Google review WordPress plugins for your WP site
Without further ado, here are the top 10 Google Reviews WordPress plugins for business use. We will go over the focus of each plugin and the main benefits of each.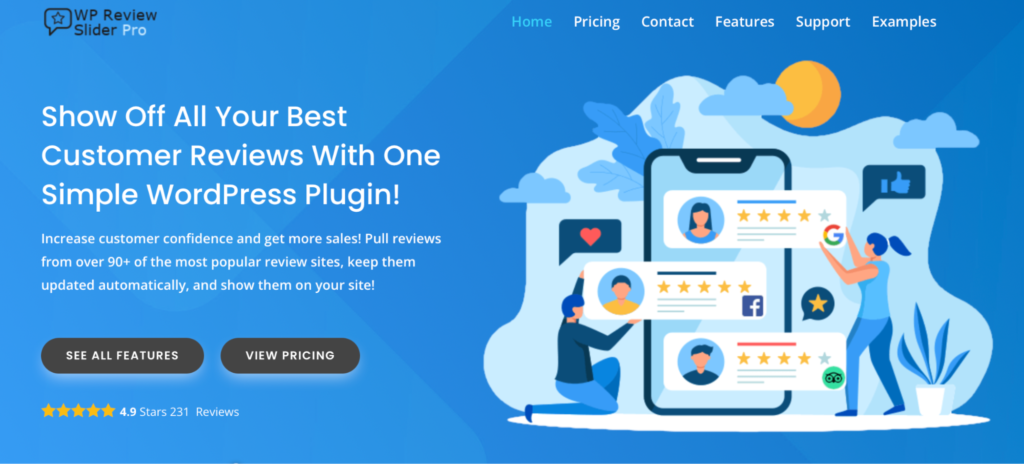 This simple plugin enables you to display reviews on your WordPress site from the platforms of your choice. You can feature Amazon, Facebook, Airbnb, IMDB, and Yelp reviews, among others. There are over 90 platforms from which you can draw reviews. This is important because, for SEO purposes, the plugin you choose must support the platform you're trying to draw reviews from.
Users also have access to a strong suite of organizational features. You can showcase your reviews in sliders, grids, floats, or other options using their built-in templates. You can create customized floating badges that either pop up or slide out. You can even make your own using CSS! So, while you don't need any coding knowledge to use the plugin, you can choose to code your own if you'd like.
WP Review Slider Pro also has some advanced features. They make great use of review analytics, as seen in the homepage screenshot above. They also offer:
Automatic language detecting and filtering
Forms for getting new reviews
Customized form fields
Google reCAPTCHA
Social media buttons
Direct importation of reviews from the over 90 platforms
Manual review addition
Synchronization with WooCommerce reviews
Custom auto-updating
In their totality, these advanced features give you complete control over your reviews. They can take manual inputs, but they can also save you a lot of time through automation. This is where the plugin truly demonstrates its value.
Pricing: Starts at $29 per year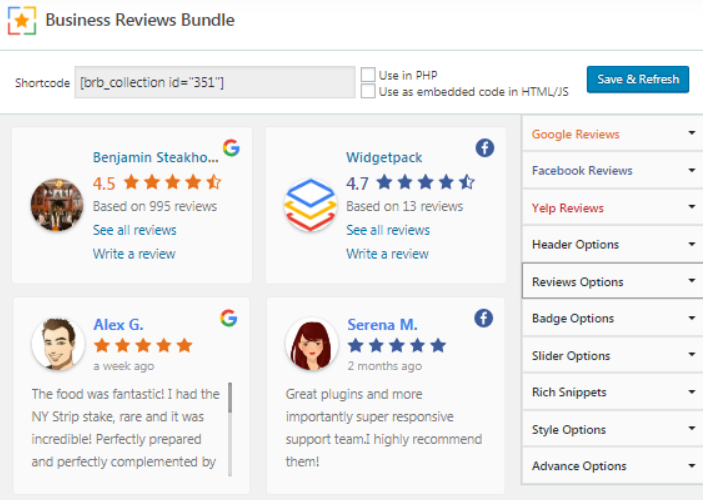 This simply named plugin combines Google, Facebook, and Yelp reviews from different locations. It places them in a single feed and enables you to make a "summary score."
The only real drawback we could find is that Business Reviews comes with a high cost. There are alternatives with a comparable suite of features that cost less. Regardless, this plugin comes with a great array of useful features:
Google My Business API
Reviews rendered directly in HTML, indexed for better SEO
Merge businesses
5 simple but attractive layout options
Shortcode and widget
Universal Javascript or HTML code
Integrates with site builders (Elementor, Site Origin, more)
Trim long reviews
Sort by source, other variables
Pricing: Free version for 5 Google and 3 Yelp reviews; Business plugin starts at $85 per year per site.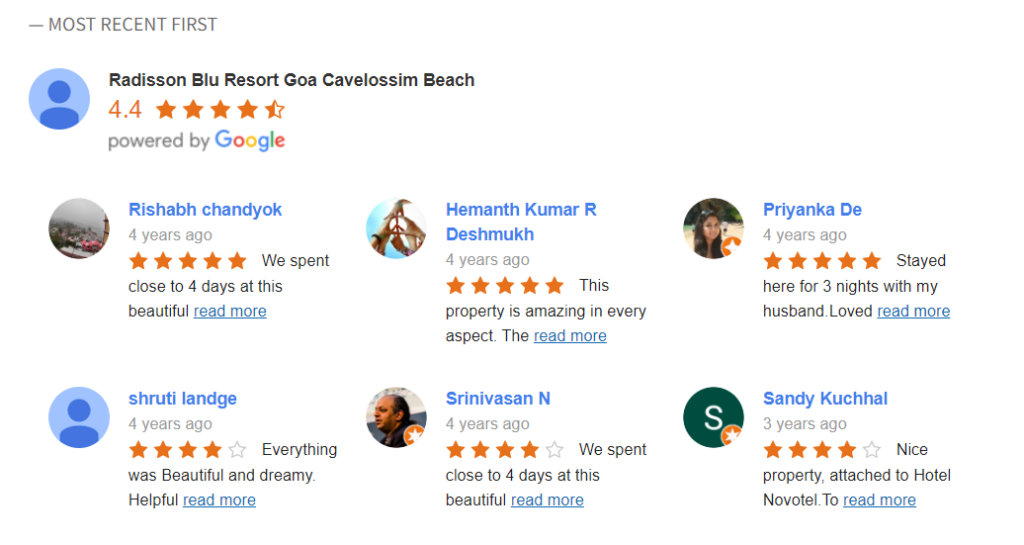 WordPress Google Reviews & Ratings offers a well-rounded tool for efficiently displaying your best reviews. They offer all the basic features offered by WP review plugins.
You can display your reviews in a slider, list, or grid, whichever fits best with the design of your site. One interesting feature that stands out is that it saves audits in the WordPress information base.
Compared to other options, this plugin is limited in a few key ways. First, you can only show up to 5 reviews of any Google Place. You also don't receive some of the more advanced features like forms or analytics. However, given the very low cost of the plugin, this isn't something we can hold against them. WordPress Google Reviews & Ratings is a strong option for a small business with a single site.
Pricing: $34 for a regular license with 6 months of support.
Everest is a well-rounded option with more features than the above entry. However, it's another example of a simpler option that is better for small businesses or solo professionals with simple sites.
In terms of features, Everest offers:
Unlimited Google Business Places
10 templates for badges
10 templates for reviews
A slider or list layouts
Floating reviews (5 templates)
Google Places API integration
Filtering to display 5-star reviews
Translation
Shortcode widget
Privacy settings
There aren't many bells and whistles here, but that's a good thing if you're looking for a very cheap and easy-to-use Google review plugin.
Pricing: $18 for a regular license with 6 months of support.
5. Google Places Reviews Pro WordPress Plugin
If you're just getting starting with your business's online presence and want the most barebones review display, this is a great choice. You get the basic functions for review display on a WordPress site. However, you may have to deal with troubleshooting due to some technical shortcomings, but this shouldn't be a major hassle.
The only problem with Google Places Reviews Pro WordPress Plugin comes when you want to scale. It is lacking when it comes to things like building a review database, which is slower than some alternatives. For example, the API grabs the 5 most relevant reviews, and you have to manually change settings to update new ones in your database.
At the point when you want to scale, you're better off getting a more professional plugin. This one simply lacks the advanced features that our other entries have.
Pricing: $39 for a regular license with 6 months of support.
Free WordPress Review Plugins
Here are the best review plugins that offer a free version.
WP Google Review Slider is a comprehensive plugin with all the basic review display/customization features plus several advanced ones. It's the overall best plugin, with a strong roster of useful features:
Unlimited Google review slider templates (not offered by most free alternatives)
Download Google Places reviews to your database
Template creation for posts, pages, and widgets
Use shortcode, template function, or a widget to display reviews
Customizable display (includes date display options, "time since," etc.)
Hide reviews you don't want displayed
Social media pages support
Review sorting
Word count restriction settings
Advanced slider controls (autoplay, slide animation, hide or display arrows, etc.)
Custom CSS available
Row display settings
The plugin also offers simpler features, like choices for a grid or slider display. If you want to try it out, you can use the free Lite version and move on to the reasonably priced pro version.
Pricing: $39 for the pro version; free version also available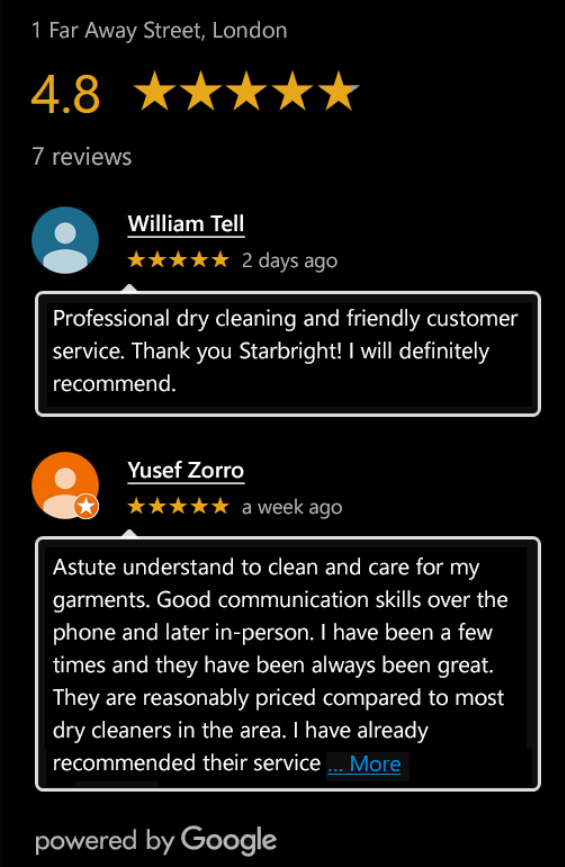 As a comprehensive plugin with little to complain about, Reviews and Rating – Google My Business is a good choice for a wide range of businesses. It comes with many of the most sought-after features, but stands out with:
Responsive design
250 design themes
14 color schemes
Demo mode
Load compressed CSS (optional)
These options offer users a lot of artistic freedom and customization. However, we noticed a relative lack of reviews compared to other similarly comprehensive plugins. Despite that, it could be well worth it to try the free plugin.
Pricing: Free
Widget for Google Reviews is a tool for displaying Google business reviews on a WordPress website. It comes with a free version and a paid "Business" version. The free plugin includes multiple widgets and Google Places, which some other free plugins do not. However, beyond that, the free version doesn't offer anything that stands out much. This makes it a good option if you want a simple plugin for a very small business.
The Business version of the plugin offers:
All reviews displayed with automatic updates
Popup "flash" themes
Connecting Google locations through a single login
Mixing reviews from Google, Yelp, and Facebook
More layouts (grid, slider, float, embed)
Better sorting and organizational ability
Pricing: $85 per year for the premium version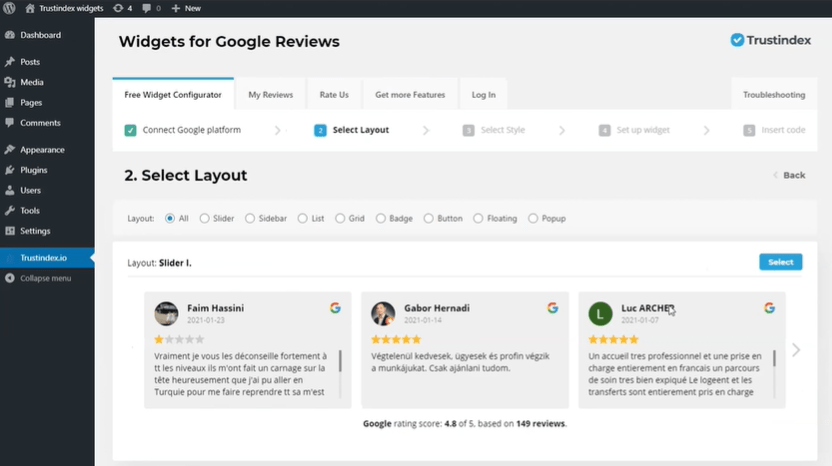 Widgets for Google Reviews is a free plugin that advertises its speed and ease of use. It comes with pre-designed widgets and enables you to make your own. Compared to the other options, it's actually somewhat comprehensive for a free Google reviews plugin:
10 reviews in up to 40 widget layouts
25+ pre-made designs
Review filtering settings
Shortcode integration
Fast compared to alternatives
Despite the well-rounded, free offer, customers report issues like bugs and poor support, making the plugin unusable in some cases. While not very common, users complain that updates can be clunky and cause unexpected interruptions.
Pricing: Free
Lastly, WP Customer Reviews enables users to set up specific pages on their site to receive testimonials with a review button. From there, reviews are moderated by you, so you choose which ones are displayed.
Many users complain the plugin is hard to use due to poor support and bugginess. However, it does offer a slightly different approach to the Google Review WordPress Plugin market.
Pricing: Free
Conclusion: Get started with the best Google Review WordPress Plugin today
Testimonials are one of the best tools to turn leads into buyers. They also work wonders for your site's SEO. The number of reviews doesn't need to be high (though that can help too!). You can just download a plugin and display your best reviews to:
Rank higher in the search results
Increase traffic
Generate new leads and get new conversions
Make customers more comfortable with your brand
Improve your brand reputation
If you're looking for the best plugin to display Google reviews, we've got some great features for you to use. This is what your Google reviews look like on a website using WP Review Slider Pro:
Overall, WP Review Slider Pro is reasonably priced for its comprehensive suite of features and excellent customer support.
Here are what customers are saying:
"Would recommend, great plugin! Easy to create, customize & display testimonials on my site."
"Thanks a mil to Josh for the amazingly quick support on the issue I had. Even though the issue was not with his plugin but my theme, he assisted me. Thank you a thousand times over. The plugin is simple, easy to set up and very straightforward."
You can get started with WP Review Slider today!