Want to increase sales?
Well, there's nothing better for eCommerce sales than great customer reviews. At least 77% of potential buyers read reviews when researching businesses. But how you use your customer reviews also matters. That's where a WooCommerce product review plugin can make all the difference.
WooCommerce product review plugins offer two important benefits:
Optimizing the reviews section of your WooCommerce store
Displaying your WooCommerce reviews on your own website
This functionality is important. Your ability to migrate star ratings and comments and repurpose them elsewhere is especially powerful. Potential customers shouldn't have to miss your social proof simply because they went to your website instead of your store.
There are many WooCommerce product review plugins available. This article will:
Explain in more detail the value that these plugins offer
Cover the top five WooCommerce review plugins
Share some best practices and strategies to maximize their effectiveness

Why should you use a WordPress plugin?
Of course, you can already display reviews in a WooCommerce store with the platform's default features. But you won't get advanced product rating features such as:
Review ordering
Review filtering
Uploading attachments (photos, videos)
Custom review reminders
Enabling other users to comment on existing reviews
Import reviews to social media or your other websites
Without a plugin, you could perhaps achieve these outcomes with some coding. By default, reviews appear below the listed product. But in trying to move them (or apply any of the above functionality), you risk coding errors. This could even break your site!
Here are the best WooCommerce review plugins which make it easy for coders and non-coders alike to display reviews anywhere on their site.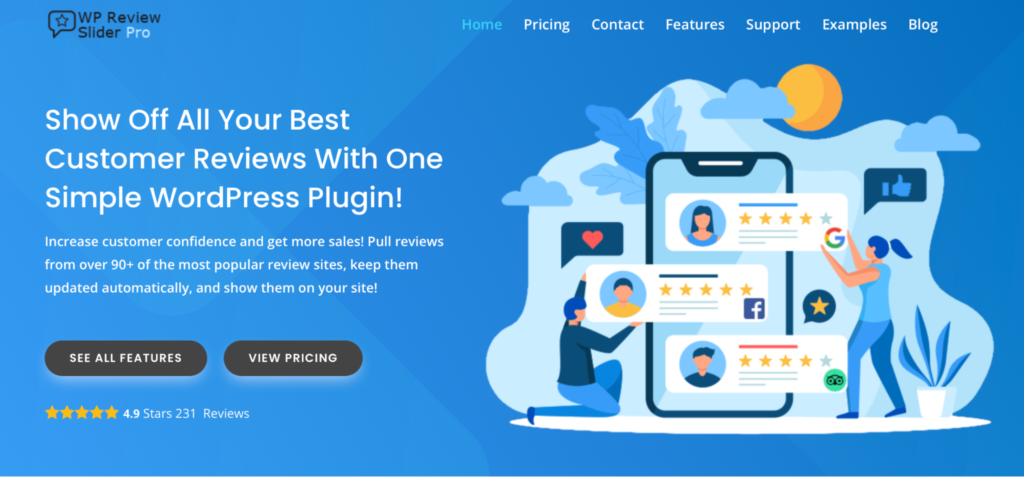 WP Review Slider Pro is a multi-purpose WooCommerce review plugin. It enables you to import reviews to and from several important platforms. 
WooCommerce compatibility: You can display any review received for any product in your WooCommerce store anywhere on your website. You just need to sync your store to your WooCommerce reviews.
Customization: You can customize the appearance of your product reviews with 11 quality templates and CSS customization. You can also display them as sliders, grids, or floats.
Automatic Review Updates: Your displayed reviews are automatically updated with your latest WooCommerce reviews. You set the parameters for which reviews will be displayed on your site (review filtering).
Import Reviews: You can import product reviews from over 90 other sites (like Amazon, Expedia, Facebook) and display them on your WooCommerce store. That means you can take social media, rating sites, and other review sources and compile the best ones on WooCommerce.
Analytics: The plugin features reviews over time for analyzing trends. You can use the analytics showcasing graphs to monitor recent changes to customer feedback.
Get More Reviews: You can use a custom review form to gather more information than you would normally get from each customer. This can be set up as a button or popup form. To get the most out of this feature, you can also:

Display the form fields that you need and cut out the rest.
Add Google reCAPTCHA.
Add real social media buttons if the review meets your minimum review qualifiers.
Customer Reviews for WooCommerce offers several features that aim to make it easier for happy customers to leave reviews. It also offers some of the functionality discussed above under "Why should you use a plugin?"
Key features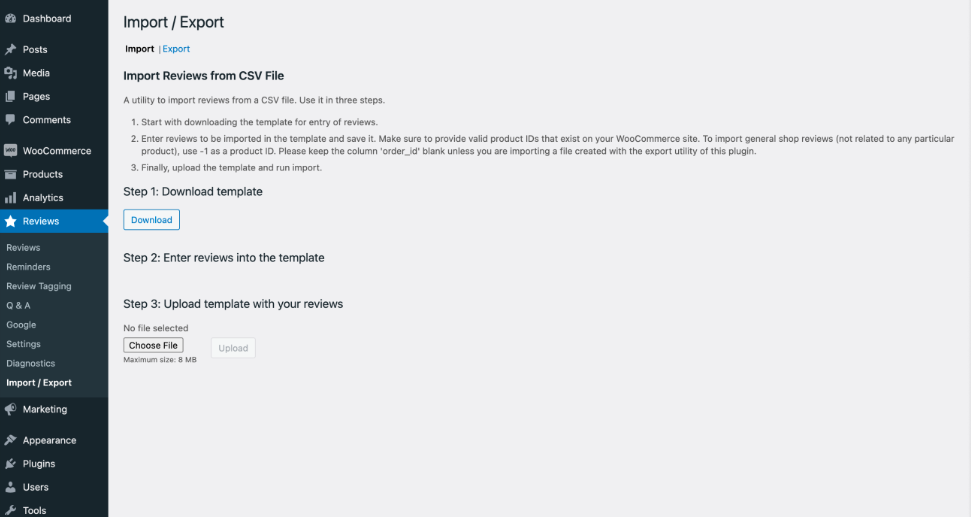 Ask for reviews: You can invite verified customers to review your product. There are manual and automated invitation options you can set.
Coupons: Leaving a review takes some time, and sometimes customers need a little push. Offering a coupon for their time helps encourage more reviews.
Integrations: Customer Reviews for WooCommerce integrates your WooCommerce reviews with social media reviews. You can share the best reviews on Facebook. You can also import reviews from other sites into your WooCommerce store.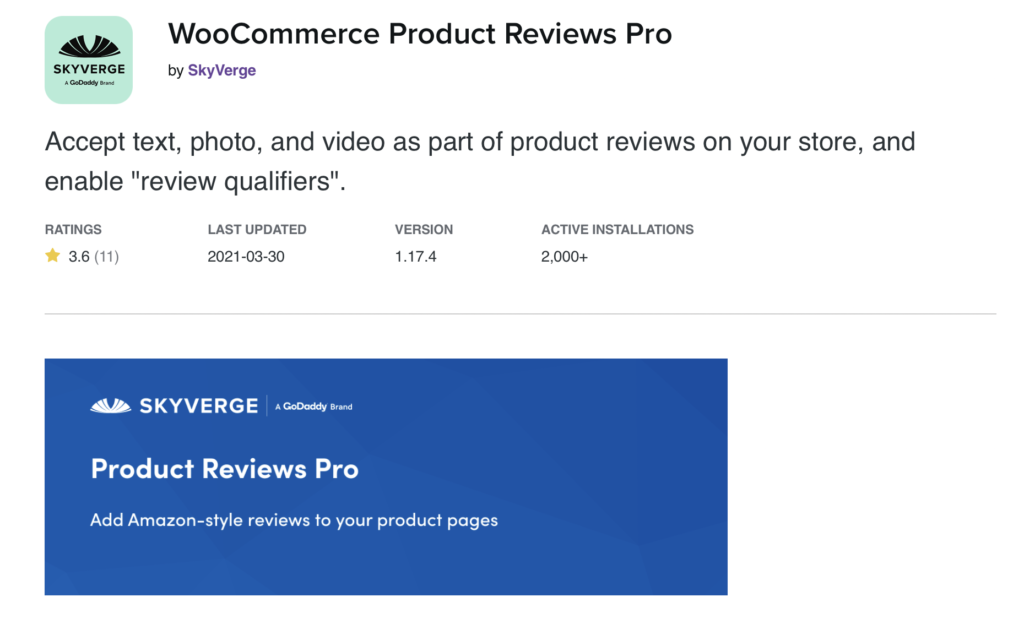 WooCommerce Product Reviews Pro uses several prompts to encourage meaningful feedback from customers. It also enables formats that WooCommerce does not, such as videos and images.
Key features
Review Qualifiers: Review qualifiers are custom prompts for specific information and product feedback.
Review Attachments: User reviews can include photos and videos, allowing for more meaningful and complete reviews.
Review Feedback: Users can upvote or downvote other user reviews. Other users can then see what the wider customer base thinks of each review's content.
Users Can Filter: Users browsing the review section can filter reviews by rating.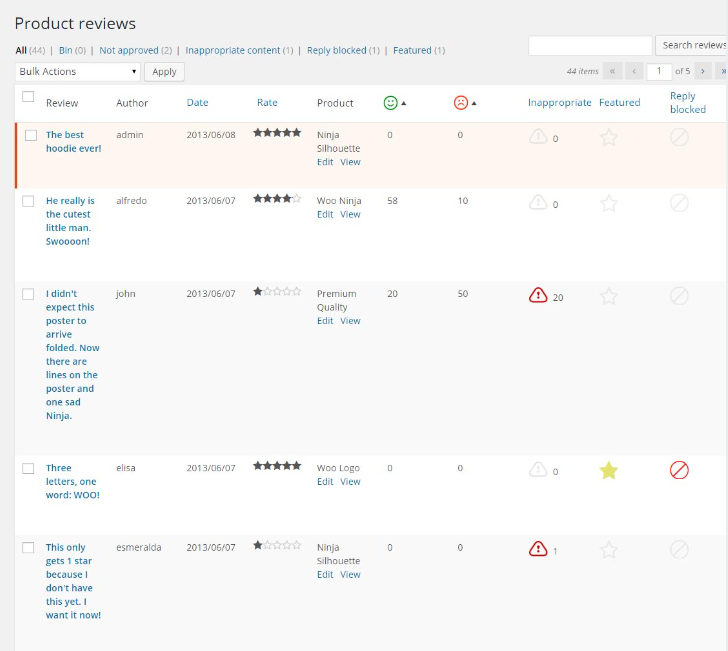 YITH WooCommerce Advanced Reviews offers a comprehensive review optimization package. The features encompass the display of reviews and data collection to improve how reviews help your business and your customer relationships.
Key features
Display Reviews Anywhere: By using a shortcode, you can display your reviews wherever you want them.
Google Review Snippets: The plugin is integrated with Google's review snippets, meaning your results can also appear on Google search pages.
Customization: You can customize the appearance of review bars and edit which formats users can submit reviews with, such as videos, images, votes on reviews, and other attachments.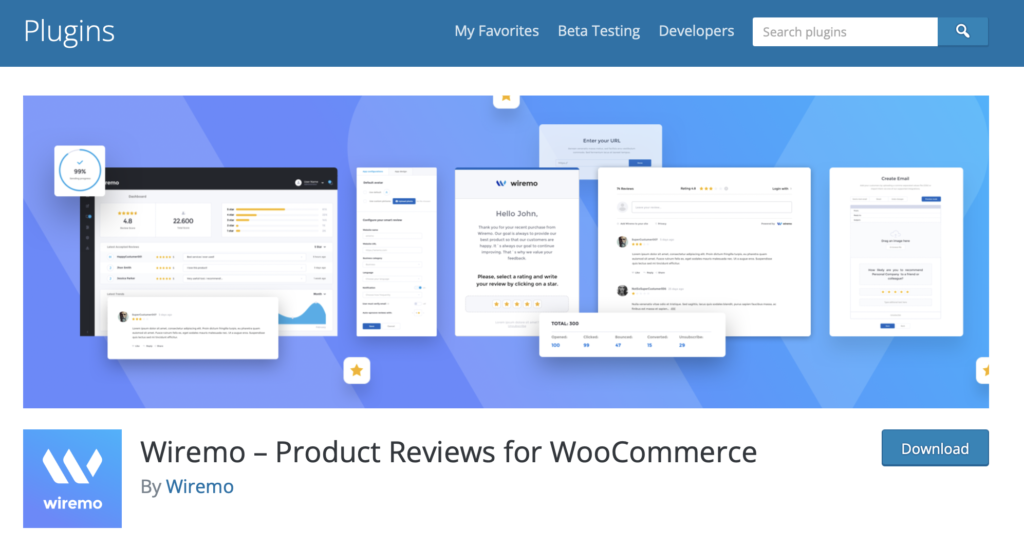 Wiremo offers several features for collecting, optimizing, and leveraging your reviews. You can use this plugin to import reviews from other platforms and use their integrations to display your reviews prominently on your other pages.
Key features
Import Reviews: WooCommerce Reviews Plugin by Wiremo enables you to import reviews from other platforms, including Shopify, judge.me, and Rivyo.
Social Media Integrations: You can also take advantage of integrations with Facebook, Google, and Twitter.
Email Features: Enable automatic emails to reach out to new customers immediately to foster repeat business and collect more reviews early on.
Pop–ups: A pop-up trigger can be enabled to encourage customers to leave reviews before leaving your store in exchange for a discount code.
Top strategy tips for WooCommerce product reviews
The good news is that simply using a reviews plugin can improve customers' trust and your conversion rate. Product pages, websites, and social media pages can be bolstered by these simple features and the functionality they offer. But you can make the most out of your reviews by also using the best practices for a complete review system.
Ask for reviews
When you ask customers for a review, most customers will consider leaving a review for a positive experience. Most plugins will offer this feature. For the best results, consider whether automated prompts are appropriate for your products, or whether you should be reaching out to customers manually. Sometimes using both may be appropriate.
Customers are more likely to leave reviews when they've had an outstanding experience. But you can encourage more reviews overall by offering coupons (discount codes). This can:
Incentivize leaving a review, making the customer think harder about your product
Leave them with a reminder (the coupon) to come back to your online store
This powerful combination is a strong incentive for repeat business.
Customized logic forms
Customized logic forms can be used to collect more reviews anywhere on your site. This expands review opportunities beyond your product pages.
This is one of our favorite WP Review Slider Pro features. You don't need any front-end coding experience–it's all provided within the plugin!
Review monitoring
Wherever possible, use your product review plugin's monitoring features. For example, WP Review Slider Pro enables you to monitor your reviews by setting up custom email notifications. You can set an alert to inform you when you get a low rating, enabling you to respond to customer concerns faster.
Conversely, you can use this same feature to alert you of new five-star reviews. This way, you can manually reach out and react to your happiest customers.
Reply to reviews
This is a default WooCommerce function, but you should always make a point of replying to product reviews. Responding to reviews (positive or negative) puts a human being behind a faceless product. This increases trust and can make potential customers more likely to make a purchase.
Verified icons
Add verified icons to your reviews to show other potential buyers that your reviews come from real customers. From your end, it's very easy to quickly determine whether a review is from a real customer.
Use the filtering options
Filtering settings can be used to make it easy for potential customers to engage with your reviews. Sometimes customers want to browse through the best and worst reviews individually. Giving them this freedom can help improve trust and encourage users to engage with your review interfaces.
Conclusions
WooCommerce product review plugins enable you to make the most out of your reviews. In addition, they help you acquire the great reviews you're looking for in the first place.
WooCommerce doesn't offer much review functionality, as it only offers the most basic review features within the platform. But you can choose from the best review plugins to unlock the full power that social proof can offer your business.
Using any of the review plugins we've outlined will help you get more conversions. But we recommend WP Review Slider Pro. It offers all the most important features and allows you to migrate reviews across more than 90 platforms.
Critically, the plugin automates your review process while giving you the power to monitor every new review and update! Download WP Review Slider Pro to optimize your review process and get more conversions.