When shopping online, product reviews are one of the most important factors that influence decision-making.
According to Power Reviews, 95% of online shoppers consult customer reviews. And nearly 1 in 4 (24%) of those consult customer reviews in every purchase they make. And for online shoppers aged 18 to 44, the number jumps to 30%.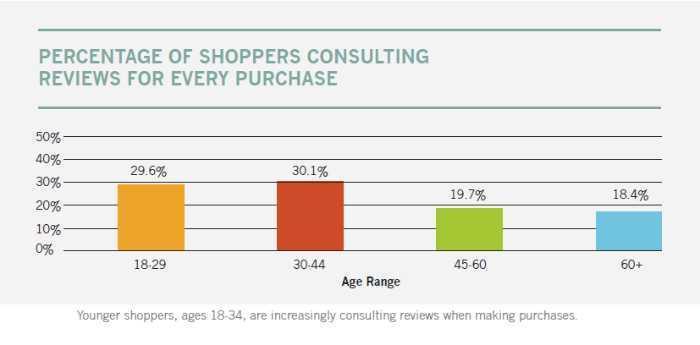 So, if you have a WooCommerce store, it's important to showcase product reviews prominently on your site.
It's easy to add product reviews, but you need to make sure you're doing it in an effective and user-friendly way. Consider how people will be browsing your products and whether they'll have enough information at a glance. You'll also want to ensure the reviews are easy to submit and manage.
There are several different ways to set up and display product reviews on WooCommerce. In this article, we'll go over the steps involved in setting up and displaying reviews on your WooCommerce site.
Why Should You Display Product Reviews on WooCommerce?
A recommendation from another online shopper greatly influences a potential customer.
WooCommerce product reviews provide a way for your customers to give their recommendations to other potential customers. And, when done well, they can be a powerful marketing tool for your online store.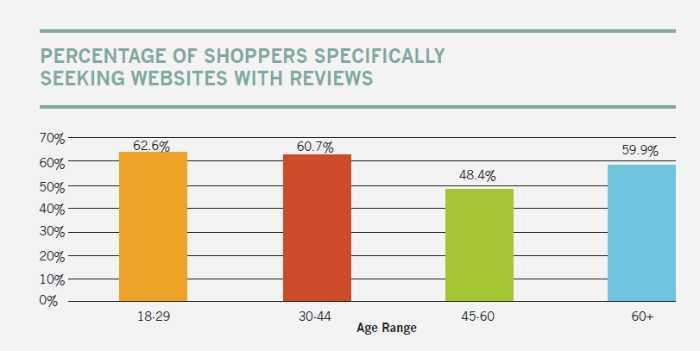 You can also showcase reviews in your cart abandonment emails. This can be a great way to turn a potential customer into an actual one.
There are a few benefits to displaying product reviews on your WooCommerce site:
1. They Can Increase Conversion Rates
Product reviews increase customers' trust in your e-commerce store. According to Reevoo, 50 or more product reviews increase conversion rates by 4.6%.
At the risk of stating the obvious, more reviews equal more conversions and sales, regardless of product type.
—Power Reviews
2. They Improve SEO
Product reviews can help improve your SEO in a few different ways. First, they provide fresh content for your site, which can help you rank higher in search results. This content will be unique as it will differ from the usual product descriptions and specifications.
Second, they help increase your site's click-through rate (CTR). The CTR measures how often people who see your site in the search results click on it. When well formatted, product reviews can produce very rich snippets that can increase click-throughs. Search engines will rank you better for it!
3. They Can Boost Social Media Engagement
You can use reviews to drive social media engagement if you have a blog or product page. For example, you could highlight a customer's review in a tweet or on Facebook. This can help increase your site's traffic and social media followers.
4. They Can Help You Gather Feedback
Customer reviews can be a great way to get feedback about your products. You can use this feedback to improve your products and make them even more appealing to potential customers.
In addition to feedback, product reviews can also provide valuable insights into how people are using your products. This information can help you make decisions about future product development.
5. It Can Help Customers Understand the Product Better
Product reviews can help potential customers understand your product better. This is because they provide real-world information about how the product is used and what people think about it.
This makes the customers better equipped to decide whether or not to buy the product. And, if they do decide to buy it, they're more likely to be satisfied with their purchase.
6. Reviews Provide Social Proof
People are more likely to buy a product if they see that others have bought it and liked it. This is because reviews provide social proof.
Social proof is a psychological phenomenon where people assume that the actions of others reflect the correct way to behave in a given situation.
In other words, it must be good if other people are buying a product. And, if many people are buying it, it must be really good.
Product reviews are a great way to increase social proof and, as a result, increase sales.
Should you display only positive reviews, or should you display negative reviews and risk not getting the customer?
The answer is both.
But how you handle them is important. Showing only positive reviews will seem fake, and you risk losing customers when they find out the truth. On the other hand, if you only show negative reviews, it will damage your store's reputation.
The best way to increase trust is by being transparent and showing both positive and negative reviews. This way, potential customers can see that you're not trying to hide anything and that you're confident in your products.
82% of customers look for negative reviews to determine the brand's authenticity.
Why Product Reviews Are Better Than General Brand Reviews
While brand reviews are certainly valuable, they don't provide the same level of detail as product reviews. This is because brand reviews tend to be more general.
Product reviews, on the other hand, provide specific information about a particular product. This can be extremely useful for potential customers who are trying to decide whether or not to buy that product.
They give potential buyers insight into how the product works in real-time, its quality likeliness, and customer satisfaction. Product reviews with details and photos can considerably improve conversions.
How Can You Showcase Product Reviews on WooCommerce?
If you're running a WooCommerce store, there are a few different ways to showcase product reviews. Here are some of the most popular methods:
Method 1: Using Shortcodes
The first method is to use shortcodes. Shortcodes are WordPress-specific code that allows you to do various things with your content. For example, you can use code to insert videos and images. Or for other features like creating a button.
In this case, you can use a shortcode to insert a product review into any post or page on your site.
To do this, start by creating a new text editor file. Then write the code. This code allows you to pull reviews from WooCommerce. Then, copy and paste that shortcode into the post or page where you want the review to appear.
However, it's important to note that this method only works using the WordPress block editor. This method also has a lot of disadvantages:
It's difficult to set up
Shortcodes can be hard to remember
They can be confusing for non-technical users
This method is not very flexible
Because of these disadvantages, we don't recommend using shortcodes to showcase product reviews on WooCommerce.
Method 2: Using a Plugin
The second method is to use a plugin. Plugins are software that you can install on WordPress to add new features to your site.
Using a plugin is the best method because:
It's easy to set up
You can control where the reviews appear
It's flexible and can be customized to have a conversion-optimized frontend view
It doesn't require any code
There are a lot of relevant features available
You can use a few different plugins to showcase product reviews. We'll review the best WooCommerce plugin for reviews – WP Review Slider Pro.
WP Review Slider Pro
WP Review Slider Pro is a WordPress plugin allowing you to showcase your WooCommerce site's product reviews.

There are many reasons it is worth the price, especially as competitors are priced much higher and don't come with all the features required. WP Review Slider Pro is one of the market's most popular WooCommerce review plugins and it's extremely easy to use and set up.
⭐⭐⭐⭐⭐
Currently using the WP Review Slider Pro – Excellent Little Plug-in!
Allows me to Link to my Facebook Reviews, Select which ones I'd like to show as well as being able to custom the options, such as showing the date, the stars, as well as being able to choose colors that match my Website Branding.
The Customer Service is also excellent – Quick, helpful responses to questions – 5 Stars! read less
WP Review Slider Pro's key features:
It enables you to showcase product reviews from 90+ platforms like Amazon, Facebook, Airbnb, IMDB, eBay, etc.
You can customize how you display reviews – in sliders, grids, or floats using built-in templates
Through the plugin's in-built review analytical tool, you can identify trends, common complaints/favorites, etc
The plugin also has the functionality to create customized review-capture forms that can be added behind a button or a popup form. You can customize the form fields displayed, add Google reCAPTCHA and use conditional logic to display social media buttons only if the review is above a certain rating (this ensures that anyone leaving a negative review isn't given a push to share on social media)
WP Review Slider Pro also lets you directly import reviews from review platforms, add reviews manually, sync WooCommerce reviews, and set up auto-update to showcase the latest reviews
Steps to Display Product Reviews Using WP Review Slider Pro
WP Review Slider Pro is a powerful tool that has all you need to display product reviews powerfully. Here are the steps to do so.
1. Install and Activate WP Review Slider Pro
As a business person, you want a plugin that will be easy to set up and use without requiring any coding knowledge. That's why we recommend using WP Review Slider Pro. However, you will need to complete some setup steps before you can start displaying reviews.
Upload wp-facebook-reviews folder to the /wp-content/plugins/ directory. Then activate the plugin through the 'Plugins' menu in WordPress.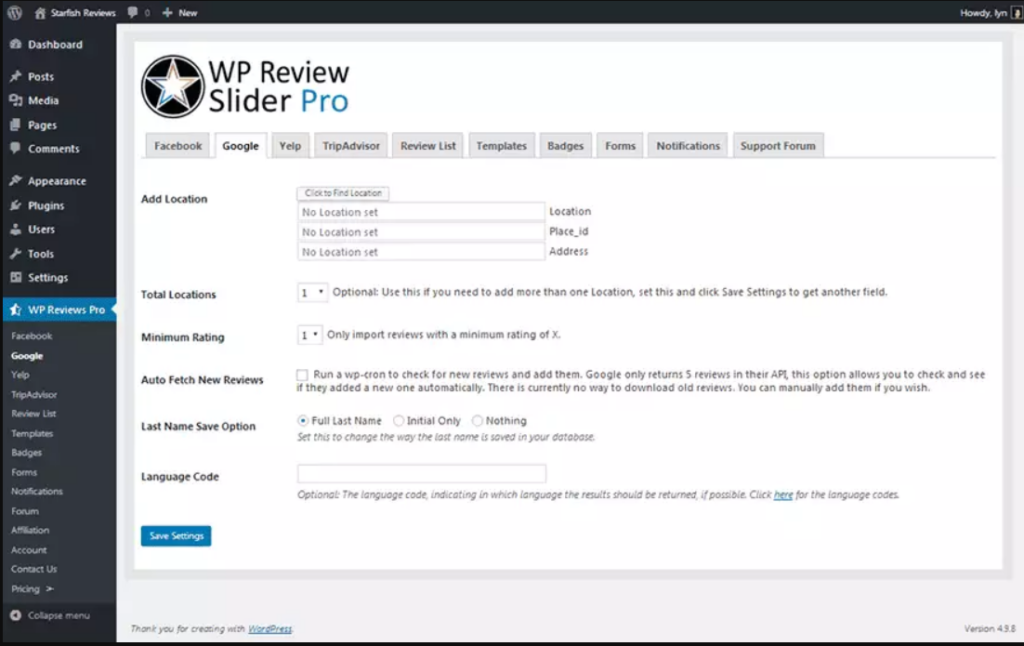 2. Importing Reviews From Facebook
After installing, it's time to import your reviews. WP Review Slider Pro makes this process easy and uses the official Facebook and Twitter APIs to download reviews.
Remember: You can import reviews from multiple platforms, including Amazon, Facebook, Airbnb, IMDB, eBay, etc.
Click on "Get Access Code Here". You will get a pop up to Log in with Facebook. Make sure your browser is not blocking the third-party javascript from Facebook.
Next, copy and paste your secret access code into the plugin on your site and click "Save Settings".
To import from Facebook, simply "Retrieve Reviews". The plugin will then pull in all of the reviews from that page. You can only import reviews from pages that you are the admin of.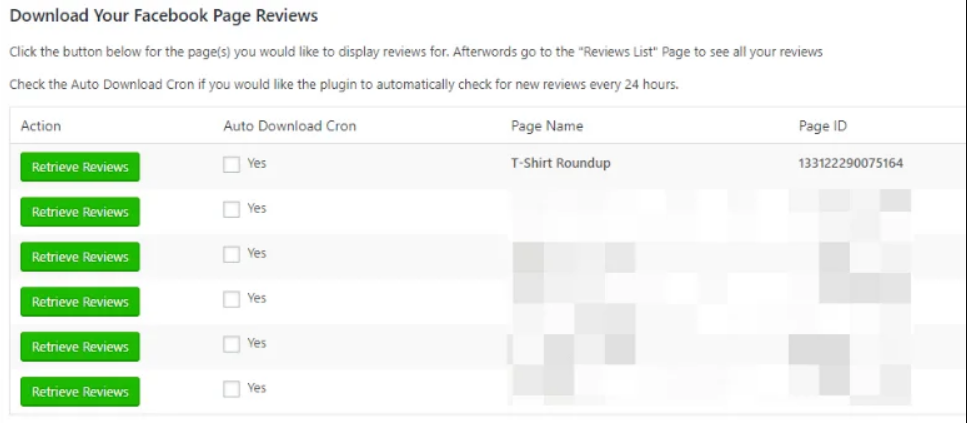 Click on "Auto Download Cron" option to automatically import new reviews.
3. Importing Reviews From Google
In this step, you can import reviews from a business of your choice. To import reviews from Google, select the Click to Find Location button. The plugin automatically auto-fills the Location and Place_id. You can also enter your desired Location and Place_id manually.
You are also able to pull product reviews from multiple locations.

In the Minimum Rating section, specify the minimum rating. Also, if you want to auto-fetch new reviews automatically, click on the Auto Fetch Reviews section.

Finally, click Retrieve Reviews to download the reviews. The plugin saves the reviews to your WordPress database.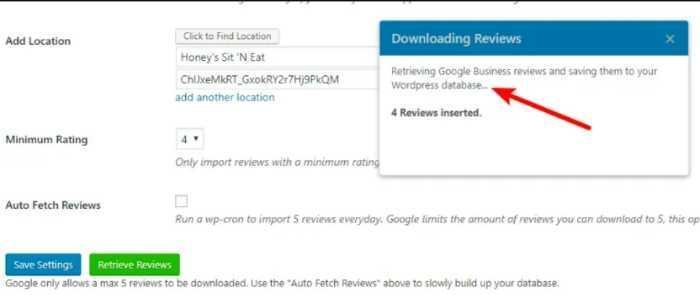 4. Creating Reviews Manually
If you don't want to or can't import reviews from a third-party platform, you can always create them manually.
To do this, simply go to the Get Reviews tab and click Add New.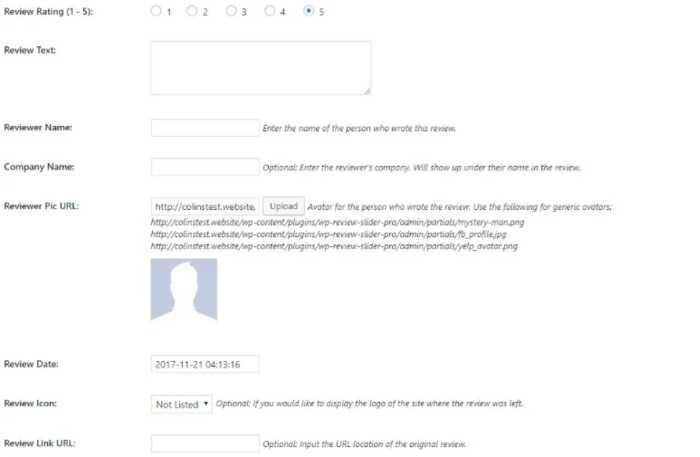 From here, you can enter the details of the review, including the reviewer name, rating, and content. You can also add an image and a link to the review.
5. View Your Imported Reviews
After importing all your reviews, you can view them on the "Reviews List" tab.
On the left, you have icons to hide or delete a review. There is also an edit icon. However, you can only edit minor details of the reviews. You can't edit the text or rating for the imported reviews.
6. Displaying the Reviews on Your WooCommerce Site
Now that your reviews are imported or created, it's time to display them on your WooCommerce site.
WP Review Slider Pro makes this process easy. Simply go to the Templates tab to create a review template.
In the Templates tab, you can configure:
Template style settings – this is how you want to display your reviews
The number of reviews you want to display
Filter settings – these are reviews you want to display
Pagination options
You can also add custom CSS, choose whether you want to display the latest review etc.
This is what your finished review slider would look like:
We recommend that you create multiple review templates. This way, you can display different types of reviews in different places on your WooCommerce site.
Best Practices to Get More and Better Product Reviews
You can do a few things to encourage your customers to write product reviews and ensure those reviews are high quality.
1. Follow Up With Customers After Purchase
Thanking your customer for their purchase is always a good idea. But following up with them a few days after they receive the product gives you a chance to see if they're happy with it and, if not, deal with any issues before they write a review.
If they are happy with the product, consider asking them to leave a review. You can even offer an incentive, like a discount on their next purchase, for leaving a review. For example, 10% off or free shipping on their next purchase, entry into a lucky draw where they can win prizes, etc.
2. Make It Easy to Leave a Review
Make sure it's easy for your customers to leave a review. They're less likely to bother if they have to search for how to do it.
One way to make it easy is to include instructions on how to leave a review with the product. You can also include a link to your review page in your follow-up emails.
3. Respond to All Reviews, Good and Bad
When you get a review, respond to it. Thank the customer for their feedback and let them know you take their suggestions seriously.
Even if the review is negative, thank the customer for their feedback and let them know you take their suggestions seriously. This shows other potential customers that you're interested in making things right.
4. Focus On Quality Over Quantity
It's better to have a few high-quality reviews than many low-quality ones. So, focus on getting reviews from your best customers.
You can also use WP Review Slider Pro to filter out low-quality reviews. This ensures that only the best reviews are displayed on your site.
5. Use Aggregate Ratings
In addition to product reviews, you can also use aggregate ratings. These are ratings calculated based on all the reviews for a product.
Aggregate ratings are a good way to give potential customers an overview of what people think about a product. They're also a good way to encourage people to leave reviews since they can see that their reviews will impact the rating.
6. Encourage Customers to Leave Photos and Videos
In addition to text reviews, you can also encourage customers to leave photos and videos. These can be especially helpful for products that are difficult to describe in words, like clothes or furniture.
Grow Your E-commerce Store With WP Review Slider Pro
Numbers don't lie. Increase your conversion rate numbers and grow your e-commerce store by leveraging WP Review Slider Pro.
It makes it easy to import reviews, create review templates, and display them on your site. It also filters out low-quality reviews so only the best ones are displayed. This saves you time and ensures that your customers see the best reviews for your products.
Try WP Review Slider Pro today and see the difference it makes for your WooCommerce site.