Amazon is one of the top channels eCommerce businesses use for selling their products. By adding them to the platform, sellers can tap into the company's massive reach and achieve higher visibility. But there's more; uploading products to Amazon can help sellers collect customer reviews that serve as excellent social proof and make sure people know they are dealing with a trustworthy business.
Recent studies have shown that 93% of customers read online reviews before making a purchase. Even more surprising, 91% of 18-34-year-olds trust them more than personal recommendations from people they know. There is, however, a problem. Amazon reviews live on Amazon! So if buyers land on your WooCommerce store, they won't see them at all. That's why it's essential to embed your Amazon reviews directly into your WooCommerce listings. Product and business reviews will also help with your SEO. Reviews usually have long-tail keywords and can lead to more social shares, making it easier for search engines to gauge your website authority.
In today's post, we will see exactly how you can effectively connect your Amazon product reviews and your WooCommerce listings. We will also discuss the best amazon reviews WordPress plugins for the job and explain what makes them a suitable choice for your eCommerce site. So, let's get to it!
How Adding Amazon Reviews to WooCommerce Products Works
If you look at the default installation of WooCommerce, you will notice the plugin doesn't include any native integration that would allow you to bring Amazon reviews into your WooCommerce store products. If you want to add them, you must add a specialized Amazon reviews WordPress plugin.
Luckily, there are a few options available for the task. This article will show how these plugins work, how much they cost, and what features set them apart from their competitors. Remember that most plugins that enable this type of integration are really easy to set up; in most cases, you just need to follow a simple three-step process. So, let's look at what's required to get started with an Amazon reviews WordPress plugin.
How to Import and Display your Amazon Reviews in WooCommerce in Three Easy Steps
It takes most eCommerce sites three steps to bring Amazon reviews to a store via WooCommerce Amazon reviews plugins. The process works more or less the same way for all the plugins we will cover. Here's how.
Step #1: Get a WooCommerce Amazon Reviews Plugin
The first thing to consider is that there are a few different plugins that allow you to embed Amazon reviews into your WordPress website. They all offer various benefits and come in different price ranges. And, in some cases, they have some limitations it's worth keeping in mind (for example, some only allow you to show limited reviews, only support one or two sites such as Google or Etsy, or cannot be customized to include your own branding and styles). 
Below, we have selected the five best WordPress plugins for Amazon reviews and listed their main advantages (and disadvantages) so you can find the one that is the most suitable for your eCommerce site.
1. WP Review Slider Pro
Our first choice for a powerful and flexible Amazon reviews WordPress plugin is WP Review Slider Pro. This tool allows you to display reviews on your site in a variety of appealing formats. What's best about it is that you don't have to limit your reviews to Amazon ones. In fact, WP Review Slider Pro supports over 90 different platforms and includes several robust features to assist you in managing and optimizing your feedback. You can, for instance:
Display social proof for your products or services by adding reviews from platforms like Amazon, Facebook, Airbnb, IMDB, eBay, Yelp, and dozens of others.
Showcase reviews in customizable formats, such as sliders, grids, and floats, using built-in aesthetic templates or writing your own custom CSS, which means that WP Review Slider Pro works for both beginners and coders!
Create personalized floating badges and use shortcodes to display them as a pop-up or slide-out on your product pages.
Keep track and monitor your reviews over time using analytics tools, which include display graphs and charts of everything your customers are saying about your brand.
Get detailed feedback from your eCommerce store users by creating personalized review forms to collect more reviews.
"Fantastic reviews plugin Extremely useful, very easy to set up and the support from the developer OS unrivaled – had a CSS conflict with my visual editor and the Josh I as able to resolve it withun two emails, although the problem was the visual editor, not the reviews plugin. Every single email that I've sent was replied without hours if not minutes. Can't be happier – other plugins don't offer the same level of support and break the functionality into several different plugins, trying to extort more money from the customer." – Bill Bones. 1/25/2018.
We recommend using WP Review Slider Pro if you want to include not just Amazon reviews but anything customers are saying about you in any of the +90 platforms supported by the tool. The plugin also supports schema and structure and has excellent customization options and analytic tools to help your store grow – making it the best choice when looking for an efficient, affordable Amazon WordPress review plugin.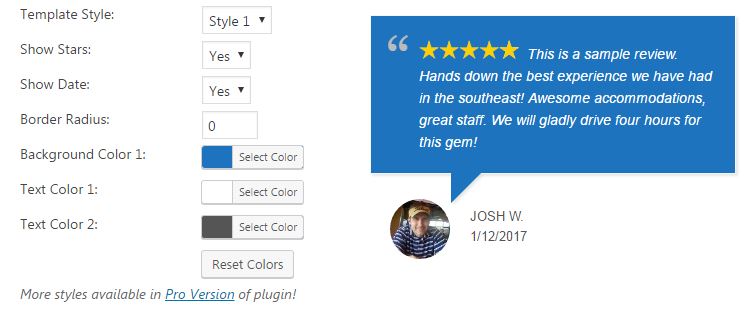 2. Elfsight WordPress Amazon Reviews
The Elfsight WordPress Amazon Reviews plugin lets you embed your Amazon reviews directly into your WooCommerce store. Where this tool stands out is with its filtering and display options, which are quite advanced. With this plugin, you can:
Use three types of filters to display reviews by type, exclude certain parameters, and decide the quantity you want to show.
Choose from multiple layouts such as List, Grid, Masonry, and Slider.
Customize some elements of the interface, such as the name of the author and their photo, the recommendation text, the date the review was written or shared, as well as an Amazon icon, and the star rating.
The pro version unlocks higher usage limits. 
The main advantage of Elfsight Amazon Reviews plugin is that it allows you to show the best or most meaningful comments and reviews and arrange them as you see fit. For example, you can display just the positive feedback or the latest reviews. It's worth noting, however, that Elfsight's plugin only supports Amazon reviews (and not reviews coming from other sites). The Lite version (free) includes just one site, 200 views per app, and has no installation service or support from the plugin creators.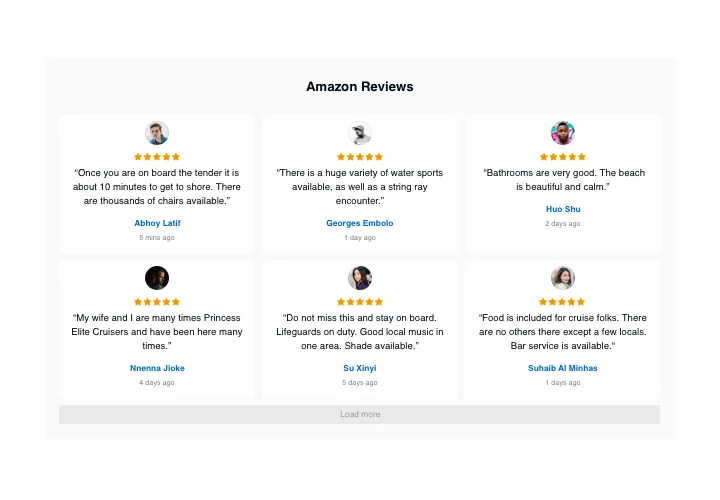 3. Trustindex Widgets for Amazon Reviews
The WordPress plugin Widgets for Amazon Reviews is a small tool developed by SaaS solution Trustindex. Its goal is to allow store owners to embed reviews directly from a host of platforms, such as Amazon, Yelp, Airbnb, and more, on your WooCommerce website. The free version of this WordPress plugin enables you to showcase up to 10 unique reviews on your eCommerce store. With this widget plugin, you can:
Include 40+ Widget layouts and review filtering options.
Keep all reviews using their own WordPress database and import or export the entries as needed.
The plugin supports any page builder like Gutenberg, Elementor, Page Origin, Beaver Builder, WPBakery, and Divi.
The pro version of the plugin (which you can get as part of the SaaS solution) unlocks more features, like displaying reviews from other platforms like Google, Facebook, Yelp, Amazon, Tripadvisor, Booking.com, Airbnb, and Hotels.com.
Trustindex Widgets for Amazon Reviews is a lightweight plugin that allows you to easily include Amazon reviews into your eCommerce site. The free version, however, is quite limited. For each website, you can only show ten reviews. If you upgrade to the Pro version, you will gain more customization features, including an option to hide a review or mark it as spam, review shortening, statistics, and other functionality.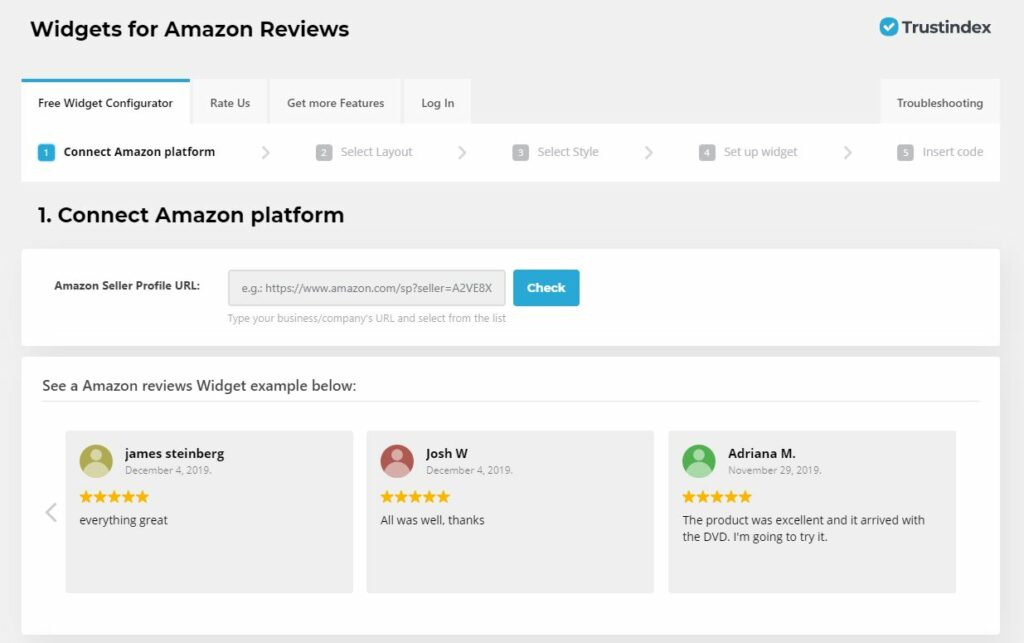 4. Just Review's Amazon Reviews
Just Review's Amazon Reviews is a widget from the Just Reviews widget family that lets you collect and embed reviews from a host of platforms like Amazon and place them on your WooCommerce website. The plugin supports 18 Amazon markets and numerous social media platforms and includes a few widgets to display them as testimonials, counters, badges, and stars. Just Review's Amazon Reviews allows you to:
Implement a specific Amazon review section on your website or store.
Add review counters to present your average rating and the number of reviews on any service to visitors on your website.
The plugin supports the creation of a subpage or "wall of love" where all the reviews and testimonials, as well as review counters, can be conveniently gathered and kept updated.
Just Review is a practical Amazon reviews WordPress plugin that can collect and display testimonials and feedback. The free version supports up to 100 reviews for each site but only from Google and Facebook and in a badge format. Paid plans allow for more reviews and connectors and include extra widgets such as testimonials, counters, best reviews on top, filters, and others.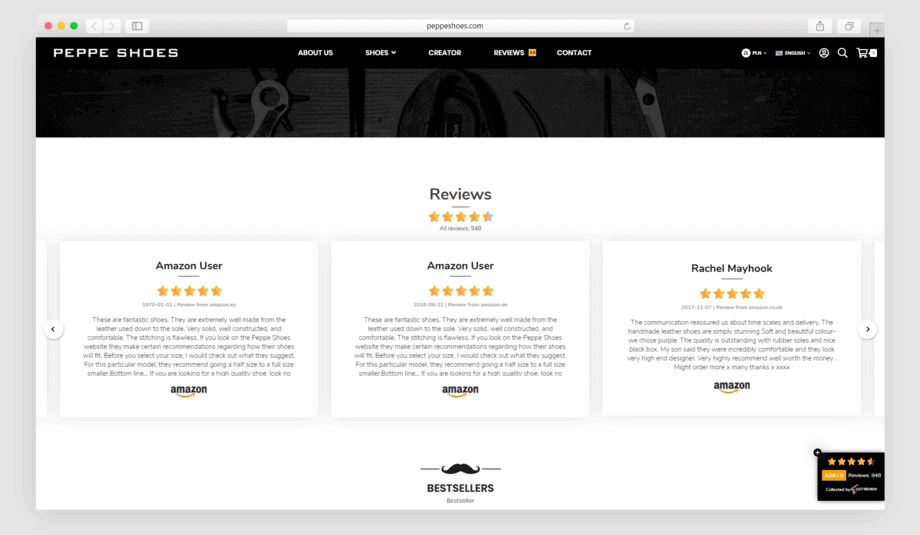 5. AliExpress and Amazon REVIEWS by irivyou
The AliExpress and Amazon REVIEWS plugin allows you to, as its name hints, Import reviews from AliExpress and Amazon to WooCommerce. You can also edit some of the details and import/export reviews easily. With this plugin, you can:
Import reviews from Amazon, including images, review content, rating, author name, the country where the review originated, and product specifications.
Customize all the feedback details before importing.
Filter reviews by images and text, add manual reviews from scratch, and more.
One of the most significant advantages of the AliExpress and Amazon REVIEWS plugin is that it allows you to customize the information you want to display. For example, you can add and remove keywords from your reviews and hide or show elements within them. This makes this a flexible tool, albeit limited to just two product-selling platforms.
If you're looking for a powerful Amazon reviews WordPress plugin, we recommend you look at WP Review Slider Pro. This tool beats all the others. First, it gives you the best value for your money with all the features required to manage and optimize your reviews. And second, it is easy to use and is highly rated by coders and non-coders alike. With that in mind, let's move on to the next step and understand how setting things up works.
Step #2: Connect your WooCommerce Store with your Amazon Profile
If you chose WP Review Slider Pro as your preferred Amazon reviews WordPress plugin, it is time to start configuring things so you can bring your best reviews to your site. The process is quite straightforward. 
The first thing you will need to do is to connect your WooCommerce store to your Amazon profile. You can do this using the plugin's settings directly. The goal is for both these tools to communicate seamlessly, so WP Review Slider Pro can automatically import your Amazon reviews to your WooCommerce store any time you want to update your site.
It's worth keeping in mind that one of the biggest advantages of this plugin is that you can aggregate review data from different sites – and not just Amazon. This is quite important if your products are receiving reviews in multiple channels. For the process itself, you can add reviews using the "Get Reviews" tool and choose which ones to include by filtering through the "R-Type" column. Each review will include (when available) an image, a rating, a title and description, a date, the number of words, and the type of review.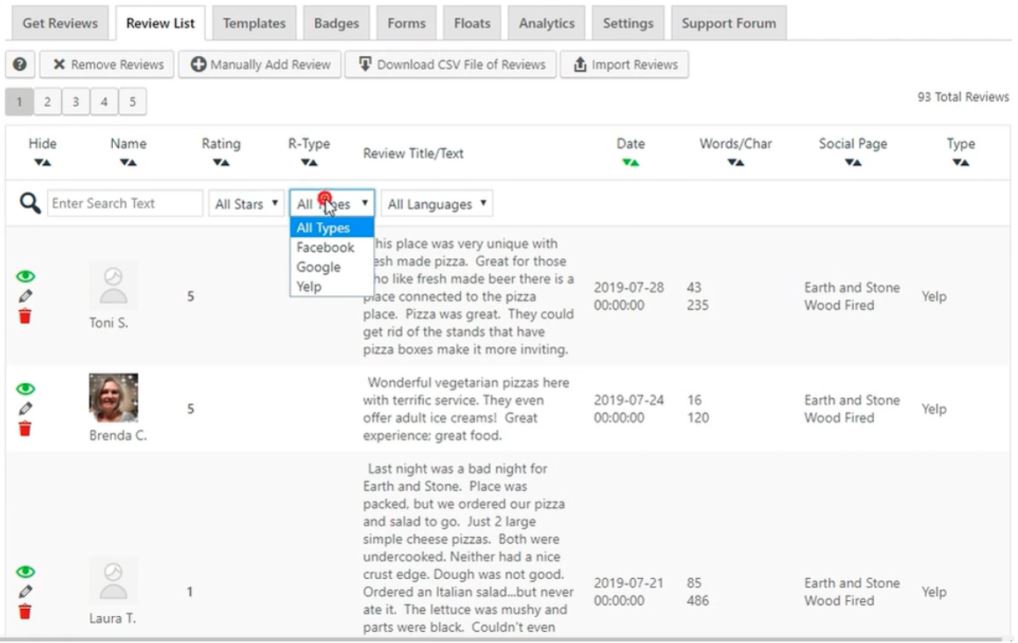 Step #3: Style Your Reviews Widget
Most of the plugins we have covered come with a few built-in templates and styling options you can use for creating your own slick review widgets. However, WP Review Slider Pro offers the best-designed templates with easy customizability, making it an extremely versatile tool that can work with your branding and create a more memorable experience for your visitors.
Every business has different requirements when it comes to how they will want to display their reviews. With WP Review Slider Pro, you can choose from eleven beautiful templates or create and customize them to your preferences. For example, you can change the colors, the date format, the border-radius, and turn the stars on or off. You can even use your own icons (such as hearts or thumb-ups) and add custom CSS to fully control your Amazon review template.
Here are some examples of how you can quickly customize the look and feel of your reviews within WP Review Slider Pro: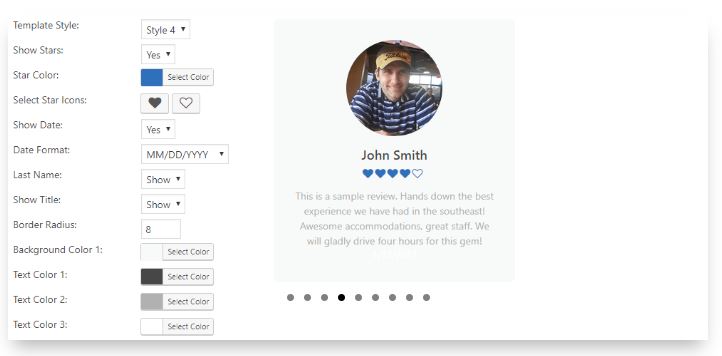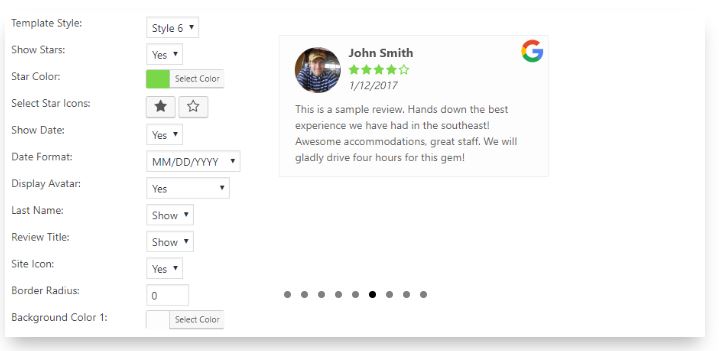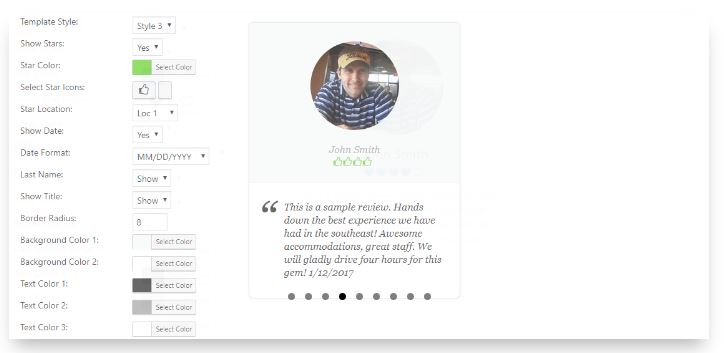 Conclusion
If you are in the eCommerce business, you will always want to make sure you use all channels where people are talking about your products. One of the most important places where your offerings gather vital reviews is Amazon – although there are many other sites worth considering, such as Google Shopping, Etsy, or eBay.
Many eCommerce stores are built using WooCommerce and employ other plugins to support additional functionality. If you are looking for an Amazon reviews WordPress plugin, it's always a good idea to focus on those that work not just with this platform but with the other sites where your products might be gathering useful reviews. Otherwise, you might require numerous plugins to cover all these channels, making your site cumbersome and slow to load.
This is why one of the best things you can do when picking a WooCommerce-friendly plugin to display your reviews is to ensure it can fetch and display reviews and testimonials from several different channels. And, because each store is unique, it's worth considering those plugins that also allow you to customize the way you present the reviews. If you want an all-in-one solution, WP Review Slider Pro allows you to import feedback about your products from all the platforms you sell on.
"One of the most useful and comprehensive WordPress plugins I have purchased. I was looking through so many plugins to get this functionality but they didn't have everything I needed. This plugin has an end to end solution for capturing reviews at an incredible value. Couldn't be happier with my purchase!" – Jason B. Web Designer, Jb3designs. 3/06/2019.

"I tried a couple of Google review plugins incl. the highest ranking one currently on WP, but this is by far the best, so easy to set up and displays a decent number of reviews. Works perfectly with Divi, my theme of choice. Tempted to go for the Pro version now to include Facebook reviews. Thanks LJ Apps." – Essjay88. 1/09/2022.
Do you want to learn more? See everything WP Review Slider Pro has to offer.