Getting a five-star rating always creates a good feeling. You work hard for good customer reviews! So wouldn't it make sense for those reviews to be displayed proudly?
Customer reviews not only serve as social proof, but they also offer SEO benefits. Customers expect that if a business offers excellent products, it would advertise them well. Google also knows this, and rewards your website for featuring legitimate reviews from trusted platforms. That's how testimonials:
Help customers make decisions
Build trust in your brand
Improve your website's visibility
Increase sales
But how can you apply social proof from five-star ratings in the best way possible?
As is often the case if you use WordPress, the most popular CMS, there are WordPress plugins for this exact task!
In this article, we are going to go over the seven best WordPress rating plugins.

Why use a WordPress rating plugin?
First of all, a good plugin is far superior to manual work with code. If you mess up with your code, you could even crash your site!
A WordPress rating plugin also maximizes the usefulness of your user reviews. Whether it be a Google review, Yelp review, or on any other applicable platform, these plugins help you:
Customize the appearance of the reviews on your website
Connect with your customers and give them the ability to leave valuable feedback
Improve your products and services
Rank higher on the search engines
Use a widget to manage your reviews system
Facilitating reviews on your site improves trust. It lets customers know you care, and shows them what other customers have to say about your business while also showing up on your SERP. You can even see them pop up in a "FAQ" format. Customizable review badges and sliders also just look good!
Additionally, you should consider how much value you'll gain from such little extra work. With a simple download and installation followed by some customization, you can make the most impact with your ratings.
The best way to display star ratings on your site is automatically through a plugin. Many plugins have a free version for you to try out, and you can upgrade to a premium version for better functionality.
Top seven rating plugins for your WordPress website
Each rating WordPress plugin has different features, as well as unique limitations. Let's jump right into the seven best options for your site.
WP Review Slider is a WordPress rating plugin enabling you to pull reviews and ratings from over 90 platforms. The number of applicable platforms alone sets this plugin apart from others, which often just pull from Google, Yelp, and Facebook. WP Review Slider also Pro pulls from Airbnb, IMDB, eBay, and more. This makes it a useful option for businesses in a wider range of industries.
WP Review Slider offers attractive review formats and customization. You can use customized floating badges, pop ups, and sliders. The level of customization is immense, including fonts, text size, colors, borders and more so you can display your reviews in a way that matches with your site's aesthetic.
The premium version of WP Review Slider Pro offers advanced features that facilitate ongoing improvement. Review analytics features come with graphs and charts (such as the one above) for your reviews.
You can also manually add reviews, sync with reviews on your WooCommerce store, and set auto-update settings to showcase your most recent reviews. All of this functionality comes at the cost of just $29 per year.
Pricing: $29 per year
The Site Reviews WordPress plugin enables visitors to submit one- to five-star reviews directly on your site. They work similarly to how sites like Yelp collect reviews but on your own site.
Site Reviews comes with standard features such as blocks, shortcodes, and review widgets. But you can also manually pin your best reviews so they are featured most prominently on your site. You also manually approve new submissions for placement on your homepage, and only registered users can submit reviews while logged in. This ensures only customers can provide testimonials.
The only real drawback here is the plugin's steep price, which doesn't buy you the advanced features offered by WP Review Slider Pro. For $89, you don't get forms, analytics, or other advanced features.
Pricing: $89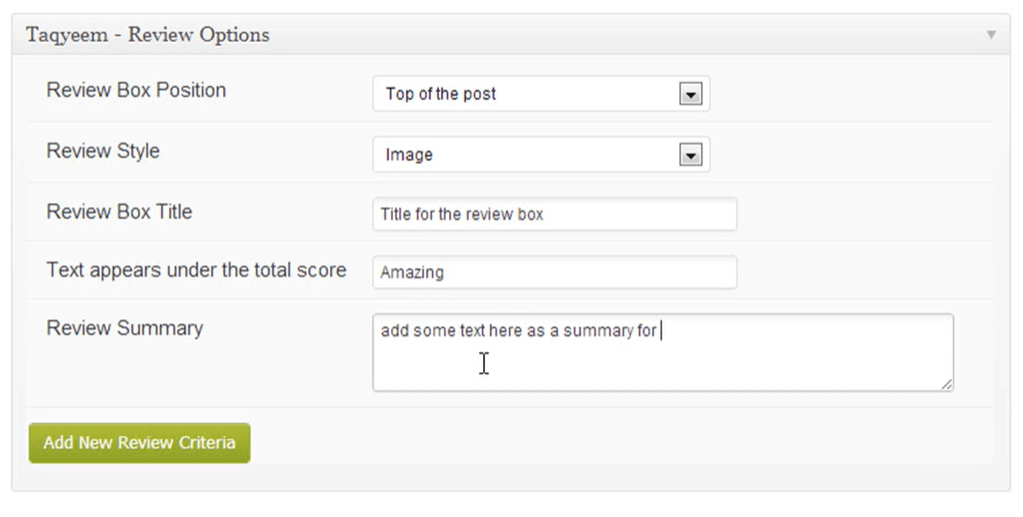 Taqyeem is a review and rating WordPress plugin. It was built with customization in mind, including settings for images, colors, fonts, and style. However, it also includes the filtering features that hand you control over which reviews are featured on your homepage.
In terms of customization, Taqyeem offers:
Unlimited colors
Review criteria filtering
Over 500 Google Web fonts
Schema SEO microdata
Percentage, points, or star rating
Localization support
Taqyeem also builds business reviews infrastructure into your site, turning your site into a "Yelp" of its own.
While the level of customization supported is impressive and the pricing is very reasonable, Taqyeem doesn't offer the advanced features (analytics, etc.) that help businesses scale.
Pricing: $29
Yasr is another rating WordPress plugin with a focus on customization options. It's on the pricey side, at just under $48 per year for a single site. But it comes with many pre-built themes and customization options.
Visual aspects such as the star rating can be fully customized. You have several good pre-built options, but you can also import your own images.
Pricing: starts at $47.88 per year (one site)
WP Customer Reviews offers some more unique functionality compared to other entries. It offers extra spam protection, caching, and submission moderation. It's also multi-site, multi-user compatible. Beyond that, it offers the regular features you would expect from a WordPress rating plugin:
Rating filtering
Schema formatting
Shortcodes
Review types
Custom fields
Despite its benefits, WP Customer Reviews seems to have a lot of negative reviews itself. Many surround its complex setup. However, it is a completely free plugin.
Pricing: Free
This review plugin is specifically built for WooCommerce, the large eCommerce platform powered by WordPress.
The plugin was designed for the needs of eCommerce businesses, with a focus on sales, SEO, engagement, and customer loyalty. Their schema markup is up to date to ensure you keep a competitive spot on the SERP.
While it is a competitive option for WooCommerce users, some reviews suggest a lack of support. However, overall, it's a mostly well-received plugin.
Pricing: $49 per year; Free version available
WP Review Pro comes with the basic WordPress review plugin features plus some extra customization and functionality. They offer 16 templates you can tailor to your brand. It would take too much space to list all the customizations they offer. However, they ensure compatibility with your existing WordPress theme.
Despite this customization, WP Review Pro doesn't include important advanced features. There are also fewer platforms to draw reviews from when compared to WP Review Slider Pro, although they do offer a WooCommerce integration. It also includes one high price of $67 for unlimited sites. This makes it applicable only to businesses with more comprehensive needs (there are no single site packages).
Pricing: $67 (per year if you want updates beyond one year)
Tips for displaying ratings on your WordPress website
Of course, making the most out of your ratings requires taking proper advantage of rating WordPress plugins. You can also take advantage of some "pro tips" to maximize their effectiveness!
Place reviewers where there are most visible
The first step is placement. It's best to place your reviews where they are most visible, while being careful with the layout of the page. For example, if you place reviews above the fold, make sure there's no banner or popup covering them.
Monitor activity on your site
You must also remain aware of how your settings are affecting your site. For example, auto-updates are a great feature to have. But you should still monitor the activity on your site, ensuring you feature positive testimonials and there isn't any bugginess from your widget.
Use form logic
If you use forms, on the other hand, use form logic. One great example of this is using form logic so that if the reviewer is giving a low rating, they aren't immediately directed to share it on social media. That way, only the positive reviewers will be given a suggestion to share it for the world to see.
Conclusion: Get started with WP Review Slider Pro
Overall, WP Review Slider Pro checks all the boxes you're looking for in a WordPress rating plugin:
Reasonable cost
Zero coding required (not even HTML)
All basic features included
Advanced features including form logic and analytics with charts
Option to use custom CSS if you can!
This makes WP Review Slider Pro a great option for all kinds of businesses. SEO, social proof, and aesthetic customization to match your site are all available. It's also designed to be appropriate for scaling businesses as well. Small businesses can benefit from not needing any coding work done. But developers can also add their own custom CSS to enhance the functionality or customize the plugin to their liking.