Getting a five-star rating always creates a good feeling. You work hard for good customer reviews! So wouldn't it make sense for those reviews to be displayed proudly?
Customer reviews not only serve as social proof, but they also offer SEO benefits. Customers expect that if a business offers excellent products, it will be clearly advertised through reviews. Google also knows this, and rewards your website for featuring legitimate reviews from trusted platforms. That's why you should showcase testimonials on your website and make efforts to get more testimonials.
Showing ratings also help customers make purchase decisions faster and improve your website's visibility. In fact, one study found that 58% of people feel positive about choosing a local business with a high star rating!
So what's the easiest way to display social proof through five-star ratings?
As is often the case with WordPress, the most popular CMS, there are WordPress plugins for this exact task! In this article, we will go over the benefits of using WordPress rating plugins and explore the eight best WordPress rating plugins to help you identify the one best suited to your needs.

Why use a WordPress rating plugin?
The alternative to using a WordPress plugin for showcasing ratings and reviews is modifying and adding code to your WordPress core files. This has a lot of risks – the smallest mistake could lead to your site malfunctioning! That's why coding is only recommended if you're an experienced developer.

If you're wondering what a WordPress rating plugin can do for you – it has multiple benefits, including:
Better SEO visibility and rankings
Improved chances of featuring in Google's rich snippets
Establishing trust with potential customers
Customized and better rating management
Let's understand each of these benefits better:
Better SEO Visibility and Rankings
Displaying real customer reviews and ratings on your website increases your long-tail keyword traffic. Google also considers reviews and ratings from your Google Business profile, 3rd party rating platforms as well as your own website to determine your ranking. Displaying reviews and ratings from external platforms and customer feedback will greatly improve your SEO ranking and give you more visibility!
Improved chances of featuring in Google's rich snippets
Google's rich snippets are a type of SERP result which displays "rich" details about your website and business, like images, ratings, location, price range etc. A good WordPress rating plugin will enable you to add review schema markup in your website's code without having to actually code yourself. This markup data helps and encourages Google to create and display rich snippets for your website.
Establishing trust with potential customers
Displaying user-generated reviews and ratings from various platforms on your website is a great way to leverage social proof. It can help establish and build trust by letting potential customers know you are a legitimate business that cares about its customers and showing them what customers have to say about your products or services. It also helps encourage more testimonials from your existing customers!
Customized and better rating management
Plugins help you customize the appearance of the reviews on your website through customizable review badges, display formats, and filters. Not only does this make your reviews look good, but it also enables you to display reviews in the style best suited to your website design. WordPress rating plugins also enable you to manage your reviews better using bulk actions, analytics etc.
Additionally, you should consider how much value you'll gain from such little extra work. With a simple download and installation followed by some customization, you can make the most impact with your ratings. Many plugins even have a free version for you to try out, and you can upgrade to a premium version for better functionality.
What to look for in a WordPress Rating Plugin
Before we take a look at the top-rating plugins, it's important to know what to look for. Make sure to choose a plugin that has the following features:
An easy setup process and intuitive UI
Support for rich snippets
Integrations with multiple platforms for you to display reviews and ratings from
Customizable display of reviews (layouts, page positioning etc)
Support for customized rating display
Advanced features to make it worth the price, like review analytics, filtering, and multi-criteria rating
And, of course, make sure to check what customers have to say about the plugin and how it's been rated!
Top eight rating plugins for your WordPress website
Each rating WordPress plugin has different features, as well as unique limitations. Let's jump right into the eight best options for your site.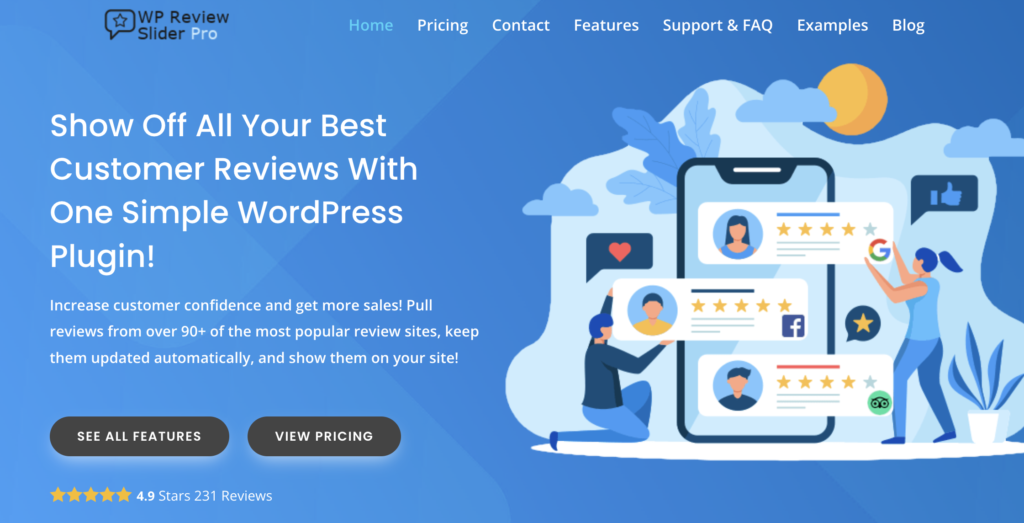 Top Features
Pull ratings and reviews from 90+ platforms:

The number of applicable platforms alone sets this plugin apart from others, which often pull from just Google, Yelp, and Facebook. WP Review Slider also Pro pulls from Airbnb, IMDB, eBay, TripAdvisor, Amazon and more. This makes it a useful option for businesses in a wider range of industries.


Display reviews in custom attractive formats:

WP Review Slider offers attractive review formats and customization. You can use customized floating badges, pop-ups, and sliders. The level of customization is immense, including fonts, text size, colors, borders for reviews, and icon options for displaying ratings in a way that matches your site's aesthetic.


Apply review schema for Google Rich Snippets:

With this plugin, you can easily add review and ratings schema markup for your reviews in a matter of seconds!
Recommended reading: Guide to Adding Review & Aggregate Rating Schema to Your WordPress Site
Pros and Cons
Compared to other plugins, WP Review Slider Pro really shines! Aside from the features listed above, it also offers review analytics features with graphs and charts (such as the one below) for your reviews.
You can also manually add reviews, sync with reviews on your WooCommerce store, and set auto-update settings to showcase your most recent reviews.
Pricing
All of this functionality comes at the cost of just $29 per year, which makes this plugin the most value-for-money! Check out all our pricing plans here.
Top Features

Easy rating submission: The Site Reviews WordPress plugin enables visitors to submit one- to five-star reviews directly on your site. They work similarly sites like Yelp that collect reviews but on your own site.

Display your best reviews from registered customers: Site Reviews comes with standard features such as blocks, shortcodes, and review widgets. But you can also manually pin your best reviews so they are featured most prominently on your site. You also manually approve new submissions for placement on your homepage, and only registered users can submit reviews while logged in. This ensures only customers can provide testimonials.
Pros and Cons
The only real drawback here is the plugin's steep price, which doesn't buy you the advanced features offered by WP Review Slider Pro. For $89, you don't get forms, analytics, or other advanced features.
Pricing: $89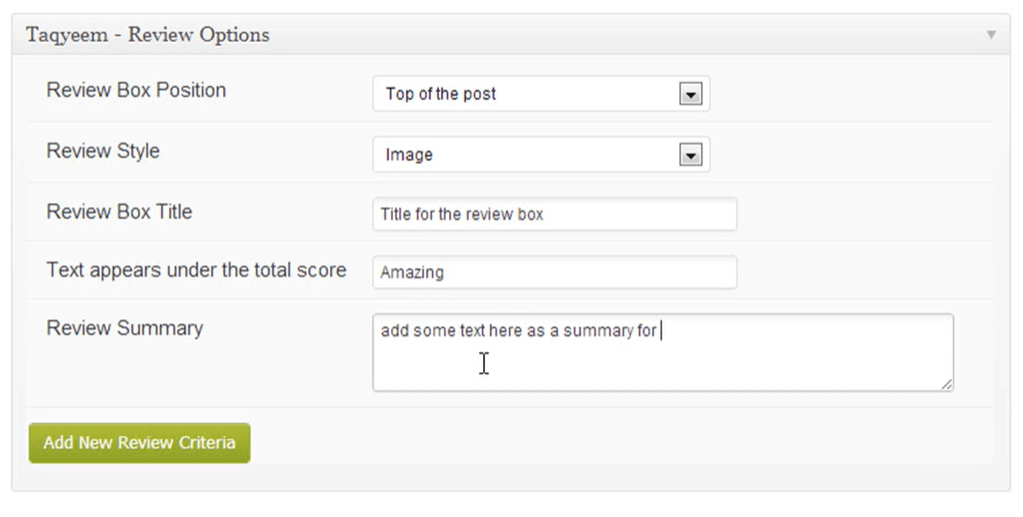 Top Features
Advanced customization options: Taqyeem was built with customization in mind, including settings for images, unlimited colors, 500+ Google Web fonts, and styles like percentage, points, or star rating.

Review Filtering: It also comes with filtering features that give you complete control over which reviews are featured on your homepage.

Additional features: Taqyeem also supports Schema SEO microdata and localization. Taqyeem also builds business reviews infrastructure into your site, turning your site into a "Yelp" of its own.
Pros and Cons
While the level of customization supported is impressive and the pricing is very reasonable, Taqyeem doesn't offer the advanced features (analytics, etc.) that help businesses scale.
Pricing: $29


Top Features
Customization options: Yasr is another rating WordPress plugin with a focus on customization options and comes with many pre-built themes and customization options, including visual aspects of the star rating.

Additional features: Yasr also offers interesting additional features like multi-criteria rating, which allows your customers to add ratings for aspects of a product, and rich snippet support too!
Pros and Cons
This plugin is on the pricier side compared to other options and doesn't nearly have as many features or ease of use.
Pricing
Yasr pricing plans start at $47.88 per year (one site).

Top Features
Standard rating features: Like most plugins on this list, WP Customer Reviews offers rating filtering, schema formatting, shortcodes, review types and custom fields for displaying reviews and ratings.

Unique features: WP Customer Reviews offers some more unique functionality compared to other entries. It offers extra spam protection, caching, and submission moderation. It's also multi-site, multi-user compatible.
Pros and Cons
While WP Customer Reviews does come with a list of unique features, it seems to have a lot of negative reviews itself. Many surround its complex setup. However, it is a completely free plugin!
Pricing: Free
Top Features
Built for WooCommerce: This review plugin is specifically built for WooCommerce, the large eCommerce platform powered by WordPress. It is designed for the needs of eCommerce businesses, with a focus on sales, SEO, engagement, and customer loyalty.

Schema markup features: Their schema markup is up to date to ensure you keep a competitive spot on the SERP.
Pros and Cons
While it is a competitive option for WooCommerce users, some reviews suggest a lack of support. However, overall, it's a mostly well-received plugin.
Pricing
The Pro version with most of the features starts at $49 per year; There is also a free version available.
Top Features
Customization options: WP Review Pro comes with the basic WordPress review plugin features plus some extra customization and functionality. They offer 16 templates you can tailor to your brand and ensure compatibility with your existing WordPress theme.
Support for rich snippets: This plugin supports 19 types of rich snippets for different types of products like books, games, movies etc.
Supports multiple types of ratings: You can display various types of ratings like stars, thumbs up, percentages, points etc.
Pros and Cons
Despite its customization features, WP Review Pro doesn't include important advanced features. There are also fewer platforms to draw reviews from when compared to other plugins, although it does offer a WooCommerce integration. It also includes one high price of $67 for unlimited sites. This makes it applicable only to businesses with more comprehensive needs (there are no single site-packages).
Pricing
The plugins is available starting at $67 (per year if you want updates beyond one year).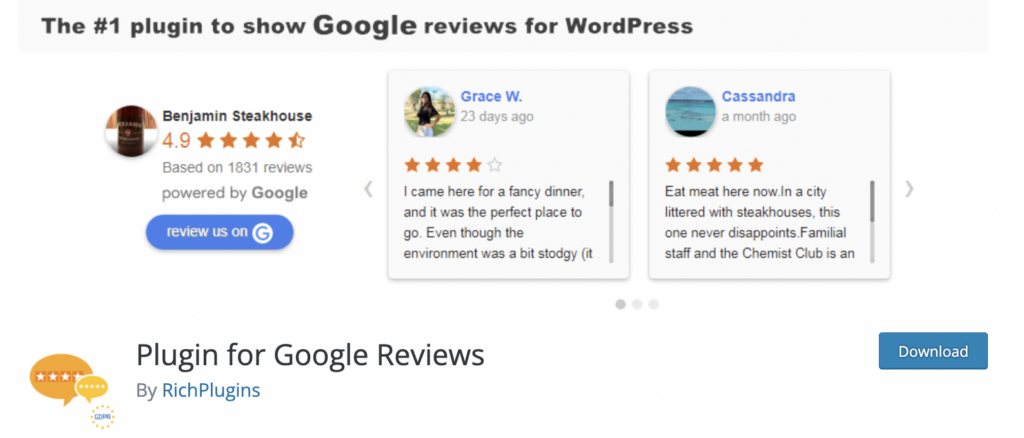 Top Features
Display Google reviews optimally: This plugin collates and displays your Google reviews on your website as a widget in your header, footer, or sidebar.
Supportive features for reviews and ratings: Plugin for Google Reviews also offers support for several languages, enables you to display reviews in formats like sliders, grids, and trust badges and pull reviews from Google, Yelp, and Facebook.
Pros and Cons
While it supports drastically fewer platforms than other plugins, this plugin works well for smaller companies looking to display a few reviews from Google or Yelp. Though it has a free version, most of its useful features, like sorting and filtering, custom layouts for rating and reviews, etc are only available in the paid version.
Pricing
This plugin has a free version, and its paid business version is priced at $85 per year.
Tips for displaying ratings on your WordPress website
Of course, making the most out of your ratings requires taking proper advantage of rating WordPress plugins. You can also take advantage of some "pro tips" to maximize their effectiveness!
Place reviewers where there are most visible
The first step is placement. It's best to place your reviews where they are most visible, while being careful with the page layout. For example, if you place reviews above the fold, make sure there's no banner or popup covering them.
Monitor activity on your site
You must also remain aware of how your settings are affecting your site. For example, auto-updates are a great feature to have. But you should still monitor the activity on your site, ensuring you feature positive testimonials and no bugginess from your widget.
Use form logic
If you use forms, on the other hand, use form logic. One great example of this is using form logic so that if the reviewer is giving a low rating, they aren't immediately directed to share it on social media. That way, only the positive reviewers will be given a suggestion to share it for the world to see.
Commonly Asked Questions
Which is the best free WordPress Rating Plugin? There are many rating plugins with free versions, like WP Customer Reviews, Customer Reviews for WooCommerce, and Plugin for Google Reviews. But for advanced features and reliable support, it's best to consider a plugin like WP Review Slider Pro.


Can I not use a plugin to get reviews on my WordPress website? As we discussed above, you can get reviews by creating forms and displaying them in custom formats on your website using code. But this can be difficult and risky for non-developers. A plugin will do a far better job, reduce risks, and also automates most of the process for you, making it easier for you to manage reviews!
Get started with WP Review Slider Pro
Overall, WP Review Slider Pro checks all the boxes you're looking for in a WordPress rating plugin:
Reasonable cost
Zero coding required (not even HTML)
All basic features included
Advanced features including form logic, analytics with charts and support for rich snippets
Option to use custom CSS if you can!
Moreover, WP Review Slider Pro enables you to display reviews from 90+ platforms making it a great option for all kinds of businesses to improve SEO, showcase social proof, and apply aesthetic customization. Take a look at a hair salon using the plugin to display Yelp Reviews:
It's also designed to be appropriate for scaling businesses as well. Small businesses can benefit from not needing any coding work done. But developers can also add their own custom CSS to enhance the functionality or customize the plugin to their liking.