Have you been wondering how to ask for a testimonial? Testimonials are a great way of building a connection with potential customers, improving your reputation and ultimately boosting your conversions. In fact, one study by Northwestern University's research center found that reviews increased conversion rates by 270%, with reviews from verified buyers having a higher impact on sales and establishing credibility.
Client testimonials show potential customers that other people have used your products and services successfully and found them really beneficial. Think of your testimonials as referrals for new customers. This builds trust in your business because of the endorsement from real customers.
Client testimonials should be used on your website, social media, and in your advertising to always put your best foot forward.
The easiest and best way to get testimonials for your business is to simply ask your loyal customers for their opinions and success stories. In this post, we'll explore the 5 most recommended ways to ask for testimonials by reaching out to your customers. This includes sending email campaigns, creating a review submission form, leveraging social media, adding a post-purchase ask, and asking for interviews.
We'll also show you the best way to display your testimonials on your website in an attractive and conversion-optimized format.
The benefits of testimonials
Emotions play a significant part in decision-making – and customer testimonials are a great way of creating an emotional connection with your audience. According to the theory of informational social influence, people will copy the actions of others and prefer emulating their behavior when they don't know how to proceed.
For example, if you aren't sure which web design agency you should use but see a number of people raving about a specific company, even if you've never heard of them before, you're far more likely to approach them for a quote than a company with no reviews. The very fact that others have complimented their service boosts your confidence in their ability.
One study on the conversion impact of user-generated content found that displaying reviews and ratings on a product page can increase conversion by 120.3%!
Testimonials, online reviews, and customer feedback are far more convincing than advertising as they're perceived to be from real customers. Testimonials can take multiple forms, e.g., a quote from a happy customer about their experience with a business or a detailed product review.
Here are a just few benefits of testimonials:
1. Testimonials provide assurance
Customers want to know that they're buying from a reliable and trustworthy brand. When you display customer testimonials, you can give them assurance about your brand and products.
A good testimonial can persuade apprehensive prospects that your product is a good buy and will help solve their problems or improve their lives. If you post testimonials on your website or social media pages, your bounce rate will improve, and more customers will engage with your brand, which has numerous other benefits for your business.
2. Testimonials provide social proof
Social proof is a form of social influence phenomenon where people look at others' behavior and copy it. In a marketing sense, it's commonly observed in reviews – potential customers look at current customers' experience and feedback on a product and are encouraged by it to make a purchase. People are more likely to buy from brands that have easily accessible social proof, like customer testimonials and reviews. They help build trust among customers who might not have heard of your brand before. According to a BrightLocal study, 98% of people read reviews for local businesses before making a purchase!
3. Testimonials increase conversions
When potential customers see positive reviews about your brand, they're more likely to purchase from you. In fact, an A/B test study by WikiJob showed a 34% increase in purchases due to the addition of testimonials. Customer testimonials also add context and social proof to your landing pages, marketing materials and posts, which boosts your domain authority on search engines.
By using great testimonials from satisfied customers, you'll boost your site performance and increase the visibility of your brand online.
4. User-generated product demos are really powerful
Detailed tutorials from your customers act as informative product demos. This gives site visitors insight into how to use your products in an organic format and provides real-world inspiration or additional creative applications you might not have thought of.
Applications of testimonials
There are countless ways of using quality testimonials, either on your site or off your site. Here are just a few ways you could leverage the power of testimonials in your business:
Place them on your homepage or sales pages for prospective clients to see
86% of visitors to your website want to see information about your product or service. By placing your testimonials on the homepage, you'll encourage visitors to explore your site or reach out for more information.
Use them in your email campaigns
You can easily embed or link to testimonials in your email campaigns to improve your response and open rates. You can even use these testimonial emails to encourage existing customers to leave a review of their own. You could also add them to your email signature to keep your testimonials front and center.
Share them on social media
Testimonials often work in the short quote form, which can be shared on Twitter, Facebook, Instagram, or LinkedIn. You can Retweet or share quotes you receive directly in your social media feeds or tag the customers that you're mentioning to extend your reach to their fans and followers as well.
Use testimonials in case studies and white papers
If you write whitepapers or publish case studies, testimonials can provide practical examples to illustrate your points. You can highlight important data points that customers have experienced thanks to your company.
Is it OK to ask for a testimonial?
The answer is simple – yes!
It's completely okay for you to ask customers for feedback and testimonials about your products or services. It shows them that you are interested in improving your products or services and makes them feel important and heard. Asking for a testimonial does not necessarily have to be awkward or pushy as long as you're mindful of the following:
Reach out only to customers who have made an actual purchase from you and have not shared any negative feedback so far.


You do not want to seem too eager or annoying – avoid contacting customers too many times or in any intrusive manner.

Be honest and upfront – don't beat around the bush or make promises you can't keep! Make sure you clearly communicate the intent behind your reaching out to a customer and avoid making any claims or offers in return that you cannot fulfill.
How do you ask for testimonials?
So, how do you ask for testimonials (and get customers to say yes)? The best way to get more testimonials for your business is to ask customers directly.
5 tips to help you ask for testimonials:
Ask for testimonials and feedback via email
Create a review submission form on your website
Leverage your social media
Ask your best customers for an interview
Post-Purchase Ask
Ask for testimonials and feedback via email
Email marketing is one of the most effective, cheapest, and easiest-to-implement methods you can use to generate more testimonials for your business. It is also a great way to reach out to customers proactively. You can even launch a wide-scale email campaign if you have a great database of existing customers! If you don't, then it's better to email your customers on a one-to-one basis.
Tips to increase your odds of getting a testimonial through email
Time it right: Reach out to customers right after they've had a chance to use your product or after they've achieved a goal through your product/service. You can also set a specific time, like three months after they've purchased your product, on your company anniversary, or set a standard time, like the end of the year or the end of the financial term.


Set up email automation: Emails can quickly become cumbersome and time-intensive. Maximize your time by using email automation tools to automate email sequences and email a large list of people while still keeping it personalized. You can also customize settings to send follow-up emails on conditions. For example, you can set up a custom automated email to send to customers if the previous email was opened, set up different email templates for different lists, and use custom fields for personalization. This will help you deliver the right message to the right customer and improve the number of testimonials you get.


Always analyze and optimize your emails: Most tools will give you the option to view your email open rates, click-through rates, and other data. You can use this information to improve your subject lines and email copy. You should also test and check your content – you can use tools like SendCheckIt for subject lines and run A/B testing to refine your email copy. This will optimize your conversion rates and improve the click-through your links/buttons in the email get.
Recommended email templates
You don't need to use a fancy, over-the-top, salesy email. Most customers nowadays prefer brands that relay authenticity and simplicity in their own voice and tone. Here are some types of email templates that work best:
Standard post-purchase template
This is typically a straightforward email that you send to customers sometime after they've made a purchase or availed of a service from your business. The time period could vary depending on the nature and usage of the product – you could send it after a day or even a week. This type of template would also include setting follow-up emails at intervals to non-responsive customers. For example:
Subject line (personalized): How was your (product name)?
Subject line (non-personalized): (customer name) Thank you for your purchase!
Hi (customer name ), we hope you're enjoying using (product name), OR you enjoyed your (service name).
We'd love to know your thoughts and feedback. How about sharing your experience with us? Just click this link, or hit reply and tell us what think.
We appreciate your feedback! Thank you for using (company name).
Casual and simple template
This works especially better if you want to build a good rapport and take on a friendly persona. To show customers that there's an actual person behind the email, you can make the content conversational and simple.
Subject line: (customer name), quick question?
Hey (customer name), how's it going?

This is (CEO's name) here, the CEO of (company name). Thank you so much for buying from us and supporting our growth!
How was your experience with us? I'd really appreciate it if you could take a few seconds to share your feedback – you could leave us a message here (link) or just reply to this email.
I read all messages and emails 🙂
Thanks for your time; cheers!
Incentive or offer-based template
This is a more straightforward email that shows a clear value in exchange for a testimonial to motivate customers to respond and share positive feedback. This could work well for you if used during a holiday or sale season.
Subject line: Share your thoughts and get (offer)
Hey (name), (festival greetings)!
We'd like to offer you an exclusive discount of X% on your next purchase!

There are no terms or minimum order requirements – just tell us what you liked about using (product or company name) here (link), and you'll be shown an exclusive deal code created just for you!
Got any questions? Hit me back, and I'll sort you out.
Happy Holidays,
(Name), Customer Support
Create a review submission form on your website
Adding a simple review submission form on your website can provide a range of benefits to both your business and your customers like
Better Accessibility: By having a review submission form on your website, you are providing customers with an accessible way to leave feedback. This reduces the effort required from the customer's end and makes it easier for them to leave a review!


Easy and effective review creation and management: A well-designed review submission form can make it easy for customers to leave feedback – which streamlines the process of getting more testimonials for you and stores all your reviews in one place. This helps you identify the best testimonials to display prominently and manage your reviews better.


Better control over your reviews: By asking clear and concise questions, you can help ensure that customers are able to provide meaningful feedback that can help improve your business and adapt a standard format for your reviews.
You can easily create a form using form plugins or testimonial plugins like WP Review Slider Pro (explained below), which enable complete review management for you.
Leverage your social media
Social media platforms are widely used by a large percentage of the population, making them a valuable resource for businesses seeking to increase their visibility. Make sure that you have an active social media presence on the platforms most popular with your audience. We recommend actively engaging with customers on these platforms and getting to know them better.
It might take some time, but you will eventually be able to identify customers who like your product and can then reach out to them for a testimonial. You can send a simple standard direct message or even tag them in a comment or tweet at them! This is a great way to encourage a positive persona of your brand and get organic user-generated content.
Ask your best customers for an interview
You might have customers who have made multiple purchases from you or worked with you closely on a big project. One way to get valuable testimonials and feedback is to ask these customers if they'd be open to being interviewed. This gives you access to talk to customers freely, understand your customers better, and understand their perception of your products and company.
You could personally interview your customers over a video conference or invite them to a call. If you don't want to make this too personal or don't have the capacity for video interviews, you can simply create a survey with detailed questions and ask customers to fill it out. To boost form completion and better answers, you can offer some kind of incentive in exchange for a testimonial.
Post-purchase ask
You could also create a simple popup or review tab that shows up after a customer has made a purchase – this is a great way to get reviews from verified customers! You can be strategic about this; for example, if you have a physical store, you could display a QR code at the till or exit that takes customers to a review form when scanned. For online purchases, you could request testimonials on your purchase confirmation page, product tutorial pages, or account page.
Setting up your testimonials
Setting up testimonials throughout your website isn't as complicated as you think, especially with WP Review Slider Pro, the best WordPress plugin for showcasing and managing testimonials and reviews on your website.
WP Review Slider Pro enables you to showcase reviews on your WordPress site in a number of different, attractive formats from multiple popular reviews and social media platforms. It's automated, so you don't have to spend hours manually pulling reviews from every site. (Don't worry – WP Review Slider Pro gives you the ability to set conditions so you don't display negative reviews on your site).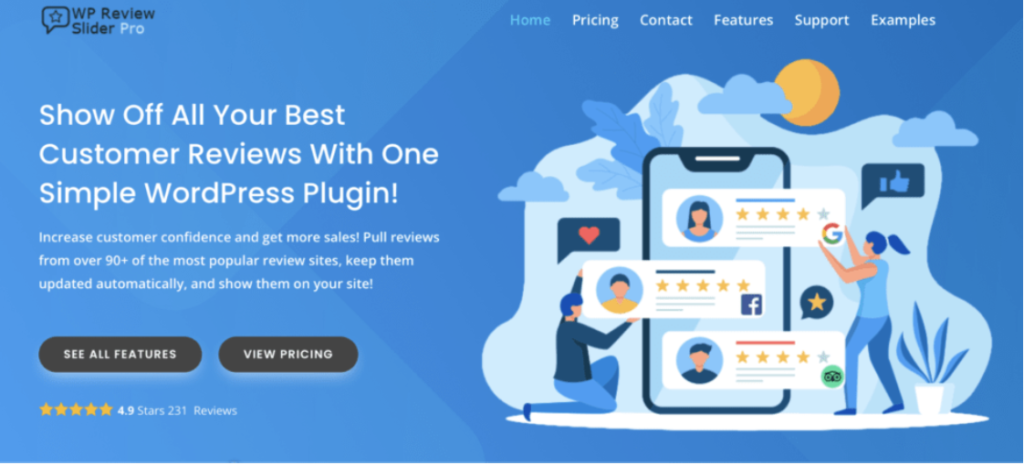 With WP Review Slider Pro, you can showcase social proof from more than 90 popular platforms, like Expedia, Amazon, Facebook, Airbnb, IMDB, Expedia and eBay, in formats like sliders, grids, or floats. You can choose from a selection of pre-built templates or use custom CSS if you know your way around computer code.
Setting up your testimonials using WP Review Slider Pro involves 3 simple steps.
1) Install and setup the plugin: You can easily download and install plugin like any other plugin from your WordPress Admin dashboard. Once installed, choose which platforms you want to display reviews from. If you want to display updated new reviews, select the "Auto Download Reviews" option.
2) Customize your testimonials display:
From the Templates tab within the WP Review Slider Pro dashboard, choose "Add New Reviews Template". Now you can choose from over 10 different template styles for your testimonial layout and edit display features like star color and size, border radius, font size, and so on.
Next, you can edit your General Settings. This includes the number of reviews you display at a time, the order of reviews (based on ratings), customer avatar style etc.
Choose whether you want to display your reviews in a Slider or Grid and set up your filter settings (by length, rating, review type etc).
3) Edit additional settings: From More Settings, turn on "Google Rich Snippet", choose whether to display your company details, and turn on caching for your review avatars.
While the most obvious benefit is putting your reviews front and center, there are other benefits too. You can use WP Review Slider Pro to analyze your reviews so that you can identify what people love (or hate) about your product or service. The analytical dashboard will collect and display all of the information you need to make better business decisions in easy-to-grasp graphs and charts.
Install WP Review Slider Pro today to gather even more testimonials and ensure that every positive testimonial you have worked in your favor!
Recommended reading: Are Fake Testimonials Illegal? Here's What You Need to Know