Have you been wondering how to ask for a testimonial? Testimonials are a great way of building a connection with potential customers, improving your reputation and ultimately boosting your conversions.
Client testimonials show potential customers that other people have used your products and services successfully and found them really beneficial. Think of your testimonials as referrals for new customers. This builds trust in your business because of the endorsement from real customers.
Client testimonials should be used on your website, social media, and in your advertising to always put your best foot forward.
The easiest and best way to get testimonials for your business is to simply ask your loyal customers for their opinions and success stories. In this post, we'll show you how to ask for testimonials by reaching out to your customers. Then we'll show you the best way to display your testimonials on your website in an attractive and conversion-optimized format.
The Benefits of Testimonials
Emotions play a significant part in decision-making – and customer testimonials are a great way of creating an emotional connection with your audience. According to the theory of informational social influence, people will copy the actions of others and prefer emulating their behavior when they don't know how to proceed.
For example, if you aren't sure which web design agency you should use but see a number of people raving about a specific company, even if you've never heard of them before, you're far more likely to approach them for a quote than a company with no reviews. The very fact that others have complimented their service boosts your confidence in their ability.
Testimonials, online reviews, and customer feedback are far more convincing than advertising because they are not paid for or edited by the company. Testimonials can take multiple forms, e.g., a quote from a happy customer about their experience with a business or a detailed product review.
Testimonials are also known as user-generated content that can be used as a form of social proof that helps convince customers to buy a specific product or service. Here are a just few benefits of testimonials:
1. Testimonials Provide Assurance
Customers want to know that they're buying from a reliable and trustworthy brand. When you display customer testimonials, you can give them assurance about your brand and products.
A good testimonial can persuade apprehensive prospects that your product is a good buy and will help solve their problems or improve their lives. If you post testimonials on your website or social media pages, your bounce rate will improve, and more customers will engage with your brand, which has numerous other benefits for your business.
2. Testimonials Provide Social Proof
Social proof is a form of social influence phenomenon where people look at others behavior and copy it. In a marketing sense, it's commonly observed in reviews – potential customers look at current customers' experience and feedback on a product and are encouraged by it to make a purchase. People are more likely to buy from brands that have easily accessible social proof, like customer testimonials and reviews. They help build trust among customers who might not have heard of your brand before. According to a BrightLocal study, 98% of people read reviews for local businesses, which boosts your engagement levels and builds confidence in your brand.
3. Testimonials Increase Conversions
When potential customers see positive reviews about your brand, they're more likely to purchase from you. In fact, an A/B test study by WikiJob showed a 34% increase in purchases due to the addition of testimonials. Customer testimonials also add context and social proof to your landing pages, marketing materials and posts, which boosts your domain authority on search engines.
By using great testimonials from satisfied customers, you'll boost your site performance and increase the visibility of your brand online.
4. User-Generated Product Demos Are Really Powerful
Detailed tutorials from your customers act as informative product demos. This gives site visitors insight into how to use your products in an organic format and provides real-world inspiration or additional creative applications you might not have thought of.
Applications of Testimonials
There are countless ways of using quality testimonials, either on your site or off your site. Here are just a few ways you could leverage the power of testimonials in your business:
Place them on your homepage or sales pages for prospective clients to see
86% of visitors to your website want to see information about your product or service. By placing your testimonials on the homepage, you'll encourage visitors to explore your site or reach out for more information.
Use them in your email campaigns
You can easily embed or link to testimonials in your email campaigns to improve your response and open rates. You can even use these testimonial emails to encourage existing customers to leave a review of their own. You could also add them to your email signature to keep your testimonials front and center.
Share them on social media
Testimonials often work in the short quote form, which can be shared on Twitter, Facebook, Instagram, or LinkedIn. You can Retweet or share quotes you receive directly in your social media feeds or tag the customers that you're mentioning to extend your reach to their fans and followers as well.
Use testimonials in case studies and white papers
If you write whitepapers or publish case studies, testimonials can provide practical examples to illustrate your points. You can highlight important data points that customers have experienced thanks to your company.
How Do You Ask For Testimonials?
So, how do you ask for testimonials (and get customers to say yes)? The best way to get more testimonials for your business is to ask customers directly. There are two methods you can use.
If you want to reach out to customers proactively, you can use email. You can even launch a wide-scale email campaign if you have a great database of existing customers! If you don't, then it's better to email your customers on a one-to-one basis. To increase your odds of getting a testimonial, reach out to customers right after they've had a chance to use your product or after they've achieved a goal through your product/service. You can also set a specific time, like three months after they've purchased your product, on your company anniversary, or set a standard time, like the end of the year or the end of the financial term.
For a more passive approach to collecting testimonials, you can simply add a form on your website to collect customer testimonials. With a customized form, you can use conditional logic to your advantage and get the feedback that you want in a standardized format. With WP Review Slider Pro for example, you can create a form where only reviewers giving more than 3 stars are directed to your social media.
Via Email
Email marketing is one of the most effective, cheapest, and easiest-to-implement methods you can use to generate more testimonials for your business.
You don't need to use a fancy, over-the-top, salesy email. Most customers nowadays prefer brands that relay authenticity and simplicity in their own voice and tone.
Consider your messaging carefully, though, taking your industry and audience into account. Fashion brands, for example, have higher competition, so you need to be more creative and casual and use visuals in an impactful way.
If your audience is price sensitive, you should try to offer something in exchange for providing the testimonial and mention it directly in your subject line, e.g., "Here's $50 off your next purchase!"
Here are a few additional tips you should consider when compiling your email template:
1. Make sure you have a clear "ask" and simple flow
Customers should easily be able to understand what you want from them at a glance. They also need to understand the effort and time it'd take them and what they would get in return. Consider offering incentives in exchange for a testimonial. Depending on your audience and the nature of your business, you could incentivize customers to leave reviews in exchange for discounts, free products/services, a backlink, company swag (hoodies, mugs, etc.), or free upgrades. If your customers are well-to-do working professionals, use a catchy subject line like "Two minutes could win a $200 discount". Keep the language formal and to the point.
2. Make it easy to share a testimonial
Give your customers multiple options and formats to create a testimonial. Supply a form with prompts, create a 1-minute video, invite them to a live interview or direct them to an Instagram or Facebook story. If you are in the services industry, you can direct them to Yelp or other popular platforms.
Popular alternatives to writing a testimonial include: a form with prompts, creating a 1-minute video, a live interview, posting an Instagram or Facebook story, etc. If you're asking customers to fill out a form to share their feedback (which can be used as a testimonial), make sure your form is optimized. Ask simple, relevant questions with a mix of open-ended and multiple-choice questions so customers don't feel overwhelmed. You want to ask questions that are insightful and help you understand what customers like about your product/service and push them to share what your product/service helped them achieve.
3. Personalize your email
Customers don't like being asked for favors in an impersonal, off-handed way. Use your customers' names and mention some of the purchases they've made to customize your emails even more. These small details will make customers feel more appreciated and promote a positive, human image of you and your business.
4. Set up email automation
Emails can quickly become cumbersome and time-intensive. Maximize your time by using email automation tools to set up automatic email sequences. This is the best way to email a large list of people while still keeping it personalized. You can also customize settings to send emails on conditions. For example, you can set up a different message to send to customers if the previous email was opened, set up different email templates for different lists and use custom fields for personalization. This will help you deliver the right message to the right customer and improve the number of testimonials you get.
Pro-tip: Always analyze and optimize your emails. Most tools will give you the option to view your email open rates and other data. You can use this information to improve your subject lines and test your email copy until you find the lines and approach that lead to the best conversion rates. You should also measure your click-through rate, which measures how many clicks your links/buttons in the email get.
Through your website
Your website is a great place to gather testimonials without much effort on your part. You could set up a form or request testimonials on your confirmation page, product tutorial pages, or account page. You can even set up a specific landing page just for gathering and collecting testimonials and feedback.
Setting Up Your Testimonials
Setting up testimonials throughout your website isn't as complicated as you think, especially with WP Review Slider Pro, the best WordPress plugin for showcasing and managing testimonials and reviews on your website.
WP Review Slider Pro enables you to showcase reviews on your WordPress site in a number of different, attractive formats from multiple popular reviews and social media platforms. It's automated, so you don't have to spend hours manually pulling reviews from every site. (Don't worry – WP Review Slider Pro gives you the ability to set conditions so you don't display negative reviews on your site).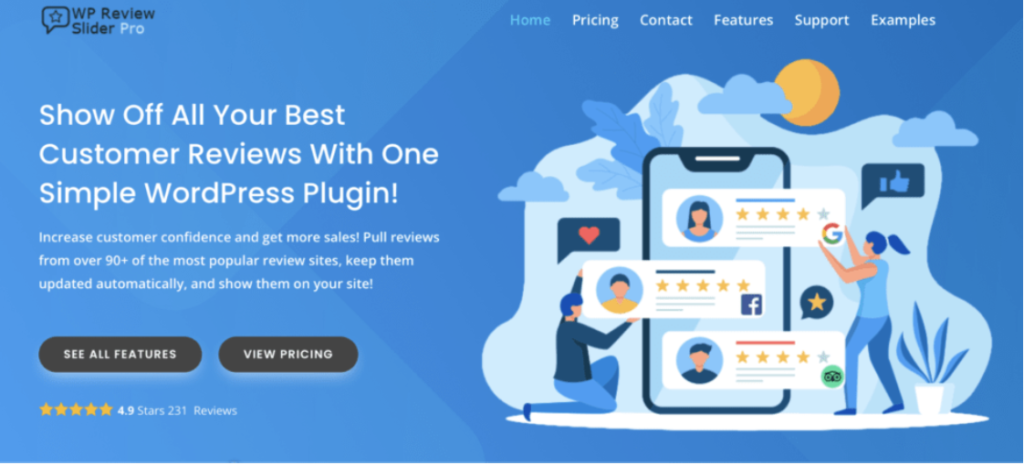 With WP Review Slider Pro, you can showcase social proof from more than 90 popular platforms, like Expedia, Amazon, Facebook, Airbnb, IMDB, Expedia and eBay, in formats like sliders, grids, or floats. You can choose from a selection of pre-built templates or use custom CSS if you know your way around computer code.
While the most obvious benefit is putting your reviews front and center, there are other benefits too. You can use WP Review Slider Pro to analyze your reviews so that you can identify what people love (or hate) about your product or service. The analytical dashboard will collect and display all of the information you need to make better business decisions in easy-to-grasp graphs and charts.
Install WP Review Slider Pro today to gather even more testimonials and ensure that every positive testimonial you have works in your favor!