Do you have a website or run an online shop where you want to convert more prospects into clients and increase your sales? Then you should definitely be using testimonials!
Testimonials are one of the best things you can do to establish credibility for your products and services. In fact, they have several proven advantages; for example, displaying testimonials can help convince potential customers to buy what you're offering because they come from an unbiased voice. Not just that, but they can also be used in many different ways; for instance, as social proof or as content for advertising campaigns.
In this article, we will tell you everything you need to know about using testimonials on your site and explore the top WordPress plugins that you can use to convert better and sell more.

Why Should You Use Testimonials?
Testimonials are an important part of a website and an essential component of a business strategy. As we mentioned above, they can help you increase conversions, improve customer satisfaction and increase sales. But that's not all!
Trustworthiness
When given two choices for a product, most people will pick the one for which they can read reviews. Testimonials are excellent for helping you build trust among potential customers and encourage them to buy from you because they signal to anyone reading that you are a real person offering real solutions.
SEO and Referrals
Testimonials are also an essential part of SEO, as they help you rank better in search engines. For example, instead of just writing them under a headline that reads "Testimonials," you can convert them into terms such as "Do customers like [Your Business or Product Name]?". Not to mention, they can fill your pages with rich keywords! Lastly, having your customers write what they liked about your offerings can make it easier for them to refer your services to others, too.
Free Marketing and Reusability
A single statement can go a long way, too! Once you've gathered a few display testimonials, you can use them not just on your WordPress website but also as part of bulletins, flyers, and social media posts. If you have your client's permission, you can even present and embed them as use cases.
Recommended reading: Should you use fake testimonials?
The Best WordPress Testimonial Plugins
There are many WordPress plugins that allow you to add testimonials to your website. They all come with varied features, such as easy customization options or more advanced settings for developers and designers. Below are the top ten options for adding WP customer reviews to your eCommerce site or personal blog and why.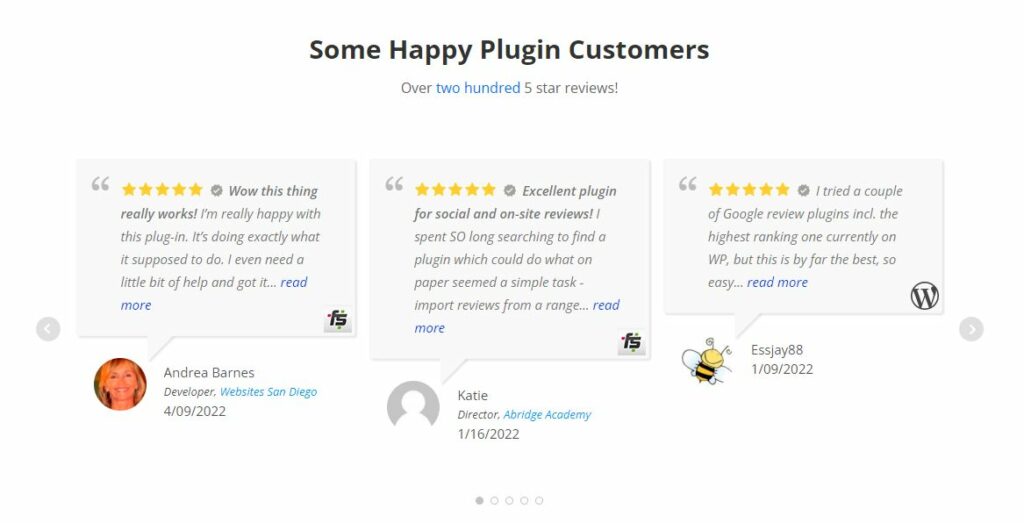 WP Review Slider Pro is possibly the most comprehensive WordPress plugin you can use to include testimonials on your website – and definitely one of the most popular ones! In fact, there are almost 10,000 sites actively using this tool today.
The WP Review Slider Pro plugin comes with all the features you will need to promote your products and services reviews, all at the most affordable price. This is why it is the better choice compared to other plugin options. Some of the main features include:
Displaying reviews from 90+ platforms like Amazon, Facebook, AirBnb, IMDB, eBay, and many more. You can import these automatically, filter them, and keep them up to date easily.
Pick attractive, customized formats for all your testimonials. For example, you can use sliders, grids, or floats, or display them as badges, pop-ups, and slide-outs. You can also use the platform's powerful built-in templates or write your own custom CSS. This means WP Review Slider Pro is built for beginners and coders alike!
Review analytics through graphs and charts, which can be utilized to identify trends, common complaints, and favorites and pinpoint your weak and strong points to make better-informed decisions.
Customized forms to capture more reviews and feedback that can be added behind a button or a popup form. You can also pick which form fields are shown, add Google reCAPTCHA, and apply form logic to only showcase social media buttons only if the review is above a certain rating.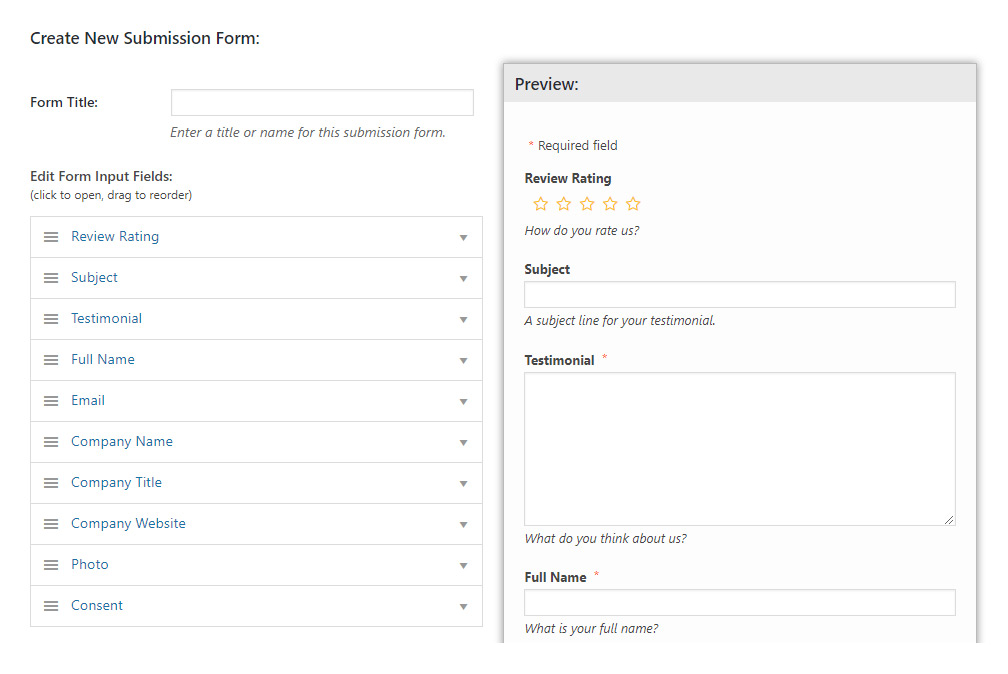 WP Review Slider Pro starts at $29 per year to access all features for one WordPress site.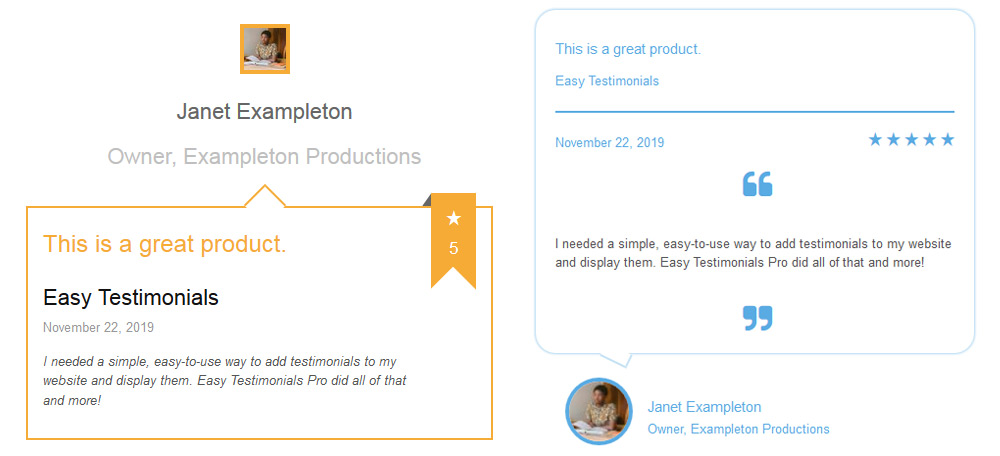 Easy Testimonials is a simple WordPress plugin that allows you to add custom blocks in the Gutenberg editor. This, in turn, lets you place testimonials in the sidebar, as a widget, or embedded in a page or post.
This tool is very straightforward and easy to use. It also includes some pre-built themes to showcase reviews, a carousel feature, and is fully responsive. Its main downside, however, is that there's no option to import from other sites.
There is a free plan for Easy Testimonials. If you want to access more advanced functionality, such as automatic review collection, form builders, and custom typographies and themes, you will need the Pro version, which costs $99 a year.
Strong Testimonials has one clear advantage: It inherits styling from your current theme, Which means you can show your reviews in a way that is consistent with your branding. Other features include a shortcode generator and some import capabilities, provided you use the Pro version.
Having said that, though, this plugin's main downside is that it offers limited customization. For instance, you can only change your elements using CSS, so you will need to be familiar with it if you want to personalize your reviews.
The paid version of Strong Testimonials costs $49 a year for up to three sites (basic functionality) or $69 (for more advanced features).
The WP Customer Reviews plugin allows you to set up a specific page on your blog to receive customer testimonials for your business/service. There's also an option to write reviews about a product yourself.
One of the advantages of this plugin is that you can moderate all submissions. The reviews are also displayed in an esthetic way and support schema microformat, and there's a stylesheet you can edit to customize the visualizations. However, many users have deemed this tool too complicated and not-user friendly.
WP Customer Reviews is a free plugin.
The Site Reviews plugin enables your visitors to submit a 1-5 star rating, similar to TripAdvisor or Yelp. The tool works with blocks, shortcodes, and widgets to display reviews, but unlike some of the other solutions here, it also has multilingual support. You can create review categories and assign testimonials to them, too.
Site Reviews can integrate with WooCommerce using an add-on. This plugin's biggest downside is a tendency to allow bot reviews. Some users have also reported things breaking after the latest updates.
Site Reviews Premium, which includes all free and paid add-ons and access to future developments, costs €89 a year for a single site license, €179 for up to three sites, and €289 for up to six sites.
With Thrive Ovation, you can transform any WordPress, Twitter, or Facebook comment into a testimonial. The tool also supports the ability to send automated messages to customers asking them for feedback.
Thrive Ovation offers a bird's eye view of all your reviews and supports a flexible tagging system to filter them more easily. The plugin's main con? It doesn't allow advanced customization. If you want to personalize the way the testimonials show, you will need to install a separate plugin.
Thrive Ovation costs $299 annually and includes nine WordPress plugins, a theme builder, and 24/7 support.
Real Testimonials allows you to customize and place reviews and quotes on your pages with a shortcode that can include images, review content, titles, names, and star ratings.
This plugin is considered more of a showcase plugin, meaning you can create blocks with various elements and capabilities. The free version supports basic customization options, and the Pro version adds taglines, videos, locations, and contact info. The downside? There are only five supported layouts and ten themes.
The Pro version of Real Testimonials costs from $39 for a single site and standard support to $139 a year for unlimited sites.
The Testimonial WordPress plugin has meta options to customize your reviews' color style, font size, image layout, and more. It also supports responsive design, and there's no limit to the number of testimonials you can add to your site.
The main disadvantage of this plugin is that it's relatively new, so it has somewhat limited function. Although the creators have stated they support a number of popular themes, there's still a lot of work that needs to take place before this becomes a solid solution for displaying customer reviews.
Testimonial Pro costs $14 for personal use (one website, six months of support, and updates) and $42 for businesses (unlimited websites and lifetime support).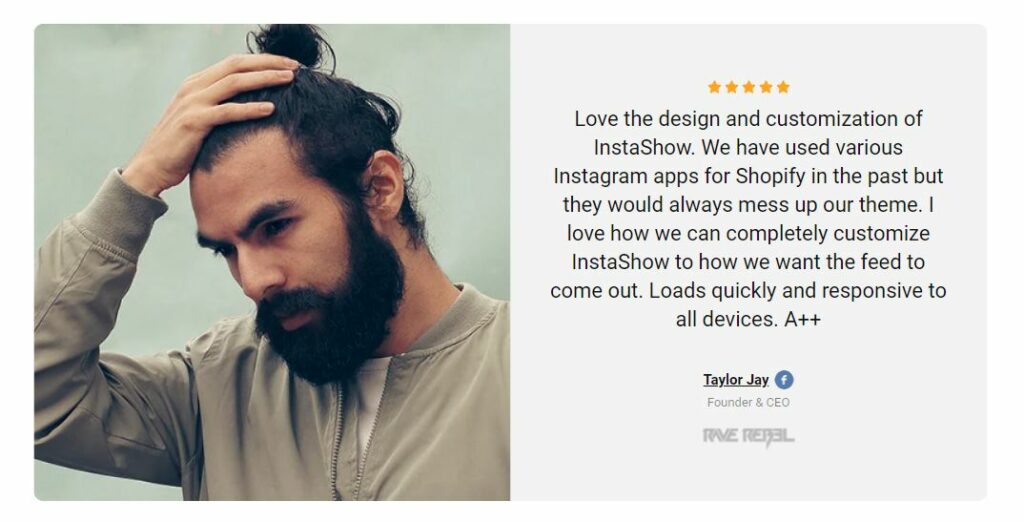 Elfsight Testimonials Slider offers multiple layouts like slider, grid, and more. It also comes with a live editor and six ready-to-use templates you can install on your site and modify to for your brand.
The plugin has good customer service and offers a demo for new users. However, Elfsight Testimonials Slider only supports manual input or reviews extracted from Instagram and Twitter posts. There are also no forms.
The plugin costs $5, $10, or $20 a month, depending on the number of views (5,000, 50,000, or unlimited) and widgets (3, 9, or 21). There's also a free version with Elfsight branding.
The YITH WooCommerce Customer Reviews plugin offers easy review section creation, complete management, and customization of reviews. You can optimize certain areas of your product page using review filters, counters, and other tools.
The main goal of this plugin is to increase the effectiveness of your existing WooCommerce reviews. This is why the tool focuses mostly on your products and what users say about them. Consequently, this solution does not include any import features other than Googe reviews.
YITH WooCommerce Customer Reviews costs £ 79.99 a year for the first year.
Conclusion
If you're looking for an easy-to-use yet comprehensive solution to display your products or services testimonials within WordPress, WP Review Slider Pro is the best option. Why? Well, because the plugin allows you to filter, import, showcase and manage testimonials, integrate with over 90 review platforms, and customize everything to the last detail!
WP Review Slider Pro is also really easy to install. All you need to do is download the plugin, activate it, and start looking for and sharing testimonials.
We've covered some free plugins in this list, but none offer the kind of advanced functionality WP Review Slider Pro can provide, such as the ability to browse and filter reviews from +90 sites, create automatic review submission forms, analyze your testimonials using graphs and charts, and using templates and badge shortcodes anywhere on your site. Don't believe us? Here's a step-by-step guide showing how easy it is to set up your reviews.
There's no more versatile solution than WP Review Slider Pro. In fact, it's useful for multiple platforms, such as Facebook reviews, TripAdvisor reviews, Google reviews, social proof, and embedded amazon reviews, just to name a few.
So, what are you waiting for? Start displaying social proof of your products and services and increase your search ranking today!