If you've been doing some online shopping, chances are you've come across some product testimonials that simply look too good to be true. Fake reviews are rampant, but are they actually illegal? And are there something you could consider using for your own business?
Adding testimonials to your website or shop offers several benefits. These statements can be a great way to increase conversions and improve sales, give your business social proof, and help customers understand your product better. However, there is more than one way to get people to talk about what you're offering and write genuine and interesting reviews.
In this article, we will explore how customer testimonials work, the difference between fake and paid ones, and the best way for you to get better product and service reviews to use throughout your website.
What Are Testimonials, and When Are They Fake?
Let's start with the basics. A testimonial is a statement made by someone who has used a product or service. It usually contains a mention of the thing itself and expresses the customer's satisfaction with it. Some examples of sites where customers share statements and endorsements include Yelp, Google, LinkedIn, and Amazon reviews.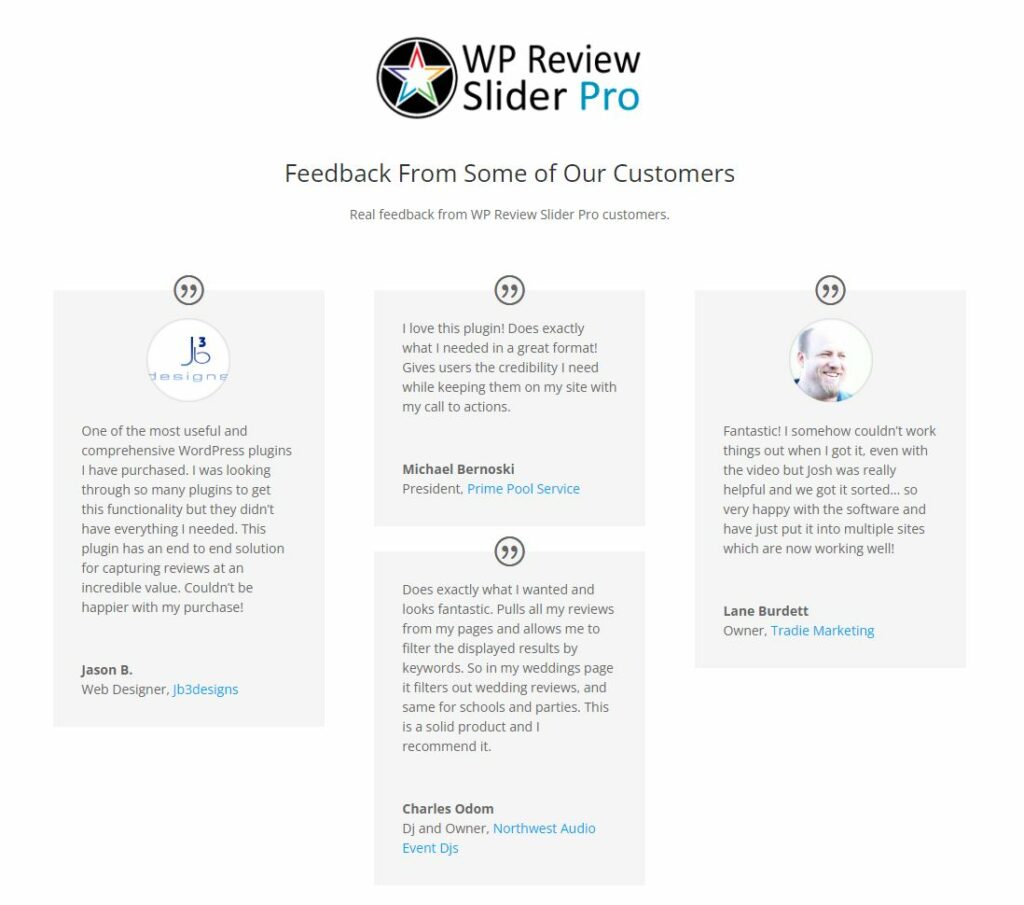 Testimonials are often used in marketing campaigns to endorse the product or service they describe. While there are many benefits to using genuine testimonials written by your customers after using the items, many businesses choose to instead use fake ones. This simply means that the statements shown are made by people who haven't actually used the product or service that is being advertised.
Why Are Fake Testimonials Used, and Do They Work?
Most fake testimonials will be created by companies who want to make their products look more appealing. They are also an excellent way to boost their social perception and reputation, so it's no surprise the practice has become quite widespread lately.
Whether fake testimonials work or not is a different story. Many people can tell when a review is not authentic, as it tends to only mention positive things about the product. Another hint is that most of these made-up statements don't usually link to a real user profile. This is what we think: For new products, fake online reviews can work in the short term to give you an initial revenue boost. For the long-term, however, there are risks you should be aware of, so you can be the judge.
How Are Fake Testimonials Created?
Creating fake testimonials is a pretty straightforward process, but you have a few options to get started. For instance:
Write the reviews yourself: If you're a business owner, the easiest way to "get" testimonials is to write them yourself. After all, you know your product or service better than anyone and can go into all the details and features you feel are worth promoting! If you do this, you'll probably want to write a positive review that can be posted under a different name.
Rewrite your competitor's reviews: Another widespread practice is to take testimonials from competitor sites and rewrite them so they focus on your products' functions instead. When doing this, you will want to highlight what makes yours better than the competitions.
Generate fake testimonials: Lastly, there are many websites online that are built specifically for generating fake testimonials (you can just search for "fake testimonial generator"). Typically, all you need to do is add in your product, and the programs will create a review using Artificial Intelligence. For example, here's a fake AI testimonial generated by the sites Writecream and Item Scribe:
The size, the fitting and the style of the little black dress is amazing!
-Lillian Wilson

My handbag has just arrived. It is soooo beautiful. Thank you for sending it so quickly. Looking forward now to the other stuff I ordered!
-Penelope GreenThanks ItemScribe! Your product descriptions are amazing and your service is wonderful.
-Sadie Jones
Are There Risks to Using Fake Testimonials?
While it may seem like creating and using fake testimonials is both an easy and helpful solution to boost your business, it is entirely possible for them to actually do more harm than good. Some of the reasons why we would generally recommend avoiding using fake testimonials include:
False expectations: Fake reviews can give customers a false impression of your brand. For instance, they might think your products or services are better than they actually are and then be dissatisfied with their purchase. This, in turn, would result in poor customer retention.
Damage to your brand: If a real customer is dissatisfied with their product because it does not match other people's reviews, this can put your business at risk. For example, if the customer actually writes a bad review on one of the most popular global platforms like TrustPilot.
Lost of reputation: If customers discover that you've been lying to them about your products or services, they will stop trusting you altogether! This will hurt your sales and growth as a brand and can have a long-lasting effect on your brand's reputation.
Are Fake Testimonials Illegal?
It's now time to ask the big question: Are fake testimonials actually illegal? The answer is not as straightforward as you might think. Fake reviews can get you into legal trouble – but only if you're caught using them without proper consent from the person making the statement.
For example, suppose you write a review about one of the products your store offers. If you use a real person's name to sign it, you could be charged with fraud. This could then result in hefty fines and penalties for your business and a serious loss of reputation if the person in question is someone that has a considerable following (such as an influencer).
Here are some other legal considerations to keep in mind when evaluating whether using fake testimonials on your site is a good idea:
In the US, the Bureau of Consumer Protection has the right to investigate possible "unfair or deceptive acts or practices" if they believe your business has engaged in them. To do this, the Bureau collects reports from consumers and conducts investigations. If you are found breaking the law, you can be sued. The most common reasons include aggressive practices and a duty not to trade fairly. In terms of fake reviews, these could fall under misleading actions and omissions – something definitely penalized.
In a similar line, the EU has the Unfair Commercial Practices Directive, which rules against unfair, misleading, or aggressive trading practices – in particular, when these include giving false information or leaving out important data in order to get more sales. If your reviews are fake and considered misleading, you can be found in breach of this legislation. Typically, this will be the case if your statements are seen as trying to influence people's choices or being part of an aggressive marketing campaign.
Some platforms are also actively pushing for more seller verification features. For example, Amazon and Trustpilot are both working against removing fake testimonials and reviews. In fact, in May this year, Trustpilot removed millions of fake reviews in what's considered one of the biggest online fraud crackdowns. Some companies were also taken to court for allegations of forged reviews. If they catch you using them today, you can be shown as "unverified" or even banned from the websites entirely.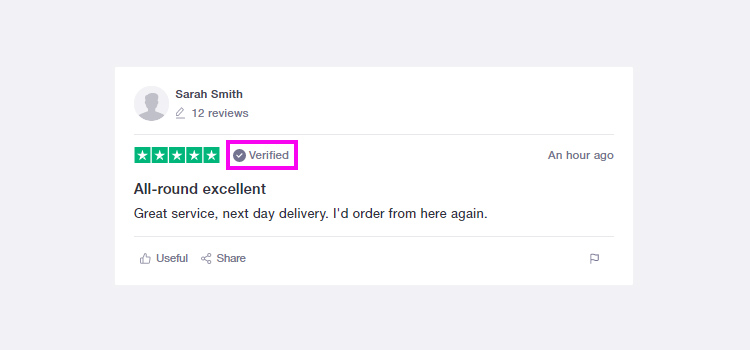 So, it's important to remember that there's always a risk in using fake testimonials. So, we recommend you tread carefully if you want to write your own reviews or get 'inspired' by those of your competitors. After all, most of us can tell when a testimonial sounds untrustworthy. Remember, your reputation is essential to the continuity of your business, so think carefully before assuming a risk.
What About Paid Testimonials? Are They Legal?
Technically, yes! You don't need to choose between authentic testimonials and entirely made-up ones. Sometimes, businesses pay people to write their opinion about a product or service.
For instance, many companies send free products to influencers in exchange for a video testimonial or a mention on their social media channels. As we mentioned, this is not illegal. However, there's one important consideration you should keep in mind: If the person recording the video and talking about your product has done a lot of testimonials or follows a specific or duplicated format, their audience will know it's been paid for!
In many cases, you can find similar requests on platforms like Facebook groups, Reddit subreddits, and freelancer sites like Fiverr or Upwork, where there are all sorts of listings offering to pay for reviews and video testimonials. Both these practices are pretty common and result in authentic, honest reviews. However, the fact that someone has been paid to use the product and leave a review can make them look slightly biased. Nevertheless, influencer marketing has proved to have a very high ROI, making businesses a minimum of $5.20 for each dollar spent this way!
So, What is the Best Way to Get More Testimonials and Leverage Them?
There are many ways to get genuine customer feedback for your business. Here are some ideas if you want people to start writing their honest opinion about what you're offering:
Run surveys using email campaigns and ask your existing happy customers whether they would like to share their experience using your products.
Ask for a review or feedback via SMS, a method many people find much easier to use.
Offer a discount on the next purchase to anyone that can write a nice review about items they've bought from you before.
Run a lucky draw and pick an attractive prize for your reviewers (depending on the platform you use, you might need to show you care by choosing the winner randomly).
All of these ideas can get you some great product reviews. However, there's an easier way to get and manage testimonials – use a plugin that was designed specifically to gather reviews from the most popular sites online.
Using WP Review Slider Pro To Automatically Pick Up Testimonials
One of the easiest ways to get testimonials into your WordPress site or shop is through WP Review Slider Pro. This plugin allows you to pull reviews from more than 90 of the most popular review sites, including Facebook, Google My Business, Amazon, TripAdvisor, TrustPilot, and many more. And, even better: You don't just gather them, but you can keep them updated automatically! Plus, WP Review Slider Pro makes it super easy to display them on any page on your site and to use various different formats such as sliders and floats.
The WP Review Slider Pro plugin also includes several advanced features, such as:
Advanced Customization: Choose where and how to display all your testimonials. You can use sliders, grids, floats, add your own CSS, and create a child theme to completely control your reviews.
Customer Forms: Create multiple forms to share with your visitors so they can submit testimonials directly from within your WooCommerce store.
Easy Import: You can also automatically import your best reviews from 90+ sites and sync with WooCommerce reviews, too.
Pick Your Own Badges: With WP Review Slider Pro, you can create your own cool badges to show your reviews in a style that matches your site, including picking icons, colors, borders, text, and more.
Here are some of the things people who have used the plugin have to say about their experience doing so:
"After looking for numerous solutions including entire testimonial platforms, WP Review Slider Pro won hands down. Easy installation, easy CSS customization and great support. Highly recommended".
Dan Nedelko – Owner, Honeypot Marketing




"A great tool to display positive customer reviews on client's sites; they worked hard to earn good reviews from customers, this helps them to show that positive experience to future customers quite well. The UI and integrations to major platforms is intuitive and just simply works. We'd use it again on future projects".
Daniel Sem – CEO, Inbound Horizons Inc.

"The Reviews from external Sources can be configured in a very easy way. Also for total beginners, it is not really a problem. The Plugin is running fine for a longer time without any problems. Would recommend it!"
User heiko80 – WordPress.org Reviews
Conclusion
There is little doubt that adding testimonials to your website is a great way to inform your visitors about your products and ensure customers trust your brand. Not to mention, they can also lead to increased conversions and sales.
Many business owners, either because they are new or they don't know how to ask for good reviews, choose instead to write fake ones. This comes not without some risk because people might quickly realize these opinions are not authentic – something that can damage your brand. In some countries, using unfair, misleading, or aggressive trading practices (and, particularly, impersonating someone to write a review) can also carry hefty penalties.
So, while fake testimonials can give you a small boost initially, they're ultimately unethical and can also be illegal. A viable alternative is paid testimonials, but this is probably not the best option for a small or recently-opened business.
If you want to focus your efforts on getting genuine, valuable feedback and testimonials to use on your website, you should consider using a plugin that can facilitate the task. WP Review Slider Pro can help you gather and display reviews from over 90 popular sites and showcase them in grids, sliders, and much more. Get the plugin today and start filling your website with real testimonials from satisfied customers.