Customer Feedback Management (CFM) is crucial in today's competitive business environment. Gathering customer feedback is essential to prevent your brand from suffering. If you don't, you can easily amass negative reviews and testimonials online that make your business look bad and put off potential customers.
Gathering and analyzing customer feedback and triaging actionable insights is challenging. How do you do it? How do you make sense of any information gathered?
The good news is we have a complete guide to help you: throughout this article, we'll provide tips, tools, and best practices for mastering CFM and helping you collect, analyze, and act on valuable insights to drive growth and customer satisfaction.
Read on to learn more!
Understanding Customer Feedback Management
Customer Feedback Management is the process of gathering customer feedback and analyzing the data you receive. This information is then used to improve the customer experience and encourage business growth. CFM can take many forms, and we strongly suggest you use as many as possible to get enough valuable data to inform how you improve your business.
What types of customer feedback management exist?
The main forms of customer feedback management include:
Feedback surveys
Reviews
Social media comments
Customer support interactions
Net Promoter Score (NPS) surveys
Feature requests
In-app ratings
Feature requests
Bug reports
The exact methods you use will depend on your business and the information you're trying to extract.
What is the main goal of CFM?
Primarily, the goal of customer feedback management is to gather the following customer insights:
Customer needs
Customer preferences
Customer pain points
Customer expectations
Customer experience
You take these actionable insights and use them to make more calculated and informed business decisions. Effectively, it's a way of helping you understand more about your business in relation to customers. What are the biggest customer concerns? What's impacting your customer churn rate? Ironically, negative feedback is often more useful than positive feedback here. Take the negativity to learn how to improve your product/services and build stronger customer relationships.
CFM isn't just about collecting customer feedback, though – it's about learning how to analyze it correctly. You need to interpret the data and identify patterns or trends that direct you toward areas of improvement. This is why you need customer feedback management tools or software to help with the process.
To truly see the benefits of CFM, you must constantly look at data from touchpoints throughout the customer journey and analyze your key metrics continuously to make your business a better place for customers.
The importance of CFM for business growth
As mentioned above, gathering feedback is important to learn about overall customer satisfaction. You gain key bits of information to help fuel the decision-making process in your business. As a result, you can then make smarter decisions that benefit the customer and improve customer retention rates and can encourage new growth through more sales. You create a business that inspires customer loyalty, so people keep coming back for more.
At the same time, positive feedback is reflected in great review scores, leading more new customers to come knocking at your door. Research shows that 49% of customers trust reviews as much as personal recommendations, so they're more likely to use a business with positive reviews. CFM helps you create a feedback loop where your customers help you make a better business that then encourages new customers to come around, making you more money!
Moreover, CFM also helps businesses to do the following:
Identify new market opportunities to boost revenue, like unmet customer needs or emerging trends
Develop new products/services to meet unmet needs or align with those emerging trends
Differentiate themselves from rivals by improving the customer experience
Increase brand awareness
Boost the amount of positive feedback out there, which enhances your brand's reputation
Without a robust CFM strategy, your business runs the risk of losing customers. How? Because your rivals are gathering customer feedback and using it to improve their processes. They're creating better customer experiences and are able to respond to customers' needs/preferences more effectively. At the same time, you're missing out on valuable data that can help uncover new growth opportunities within your business, so it starts to stagnate.
The best way to stay on top of CFM and create a winning strategy is by using customer review tools, like WP Review Slider Pro. WP Review Slider Pro is a review plugin for WordPress and WooCommerce websites, that gives you instant access to the feedback management process, whereby you can gain important insights for informed decision-making. It has lots of capabilities to make CFM easier – and we'll talk more about them throughout this guide.
Key components of effective feedback management
To produce effective feedback management, you need to know the essential elements that make up the process. Here are the five main components you need to focus on:
Clear objectives
Multichannel approach
Analyzing and categorizing feedback
Sharing feedback data
Taking action and creating a feedback loop
Clear objectives
Customer feedback management is pointless without knowing your goals. Set SMART goals (Specific, Measurable, Achievable, Relevant, and Time-Bound) to know what you want to achieve throughout the feedback management process. This will help you uncover the right metrics to track.
Multichannel approach
The more data you have, the better. Take a multichannel approach by collecting customer feedback from various sources – such as email, social media, surveys, and other CRM routes. This tells you far more about customer satisfaction than just tracking one channel.
WP Review Slider Pro automatically collects and updates reviews from over 90 websites. So, you get automatic comprehensive feedback across loads of channels instantly!
Analyzing and categorizing feedback
You need to categorize feedback based on the information it provides. For instance, have categories for negative feedback, positive feedback, and so on. Within each category, you have more categories, like feedback relating to specific products or customer service. You then need to analyze this data to spot patterns or trends that indicate particular areas for improvement or optimization.
For example, after analyzing customer feedback you may notice a trend where people aren't happy with your response time. Now you know this, you can make changes to correct this and improve the customer experience.
WP Review Slider Pro has a built-in review analytics feature that provides a birds-eye view of all reviews across multiple platforms. It can automatically pick out certain phrases or words and tell you what people like or dislike, indicating your strong and weak spots.
Sharing feedback data
Once you have all the data you need, it's time to share it. Hold meetings with your team and showcase what you discovered and what it means. Use the data to come up with possible solutions and brainstorm.
Talk to stakeholders and other people involved in big decision-making processes and show them what needs to be done to improve your business based on customer feedback.
Taking action and creating a feedback loop
Finally, you must act on feedback to continuously improve products, services, and your business in general. There must be a feedback loop where you gather customer opinions, learn how to improve, and then see what they think about the improvements, and so on.
With WP Review Slider Pro, you can facilitate this process through features like front-end review submission forms and customizable review filters. In essence, you make it easier for customers to submit reviews, and you can customize the forms to help you generate more data.
As an example, your review forms can have boxes that customers can tick for things like "Speedy customer service" or "Were you satisfied with your experience on our website?". Small custom elements like this make feedback more specific and help you target areas that might be weaker than others.
Types of customer feedback and collection methods
If you cast your mind back a few sections ago, you'll remember that we briefly listed some of the customer feedback types and ways to collect data. Now, we'll dive into things in more detail to help you pick the best approach for your business.
Utilizing a multichannel approach for feedback collection
Taking a multichannel approach helps you reach a wider audience, as some customers may leave feedback in one way, but not in others. It helps you gather more diverse feedback across your customer base, too – so that you generate feedback from new and repeat customers alike.
The main ways to gather customer feedback across different channels are:
Email surveys: Sending out surveys via emails help you target specific customer segments. The nature of an email survey also lets it be more detailed, so you get very specific and in-depth feedback from customers. Most businesses opt for the NPS model (Net Promoter Score) or CSAT (Customer Satisfaction Score) to see how satisfied customers are via email surveys.

The NPS model is typically used as a customer loyalty metric. It asks customers to rate their likelihood of recommending a business/product/service to other people on a scale of 0-10. Higher scores show customers are happy with your business and will recommend it to others, meaning they're also more likely to return themselves. As an example, when someone purchases a product, send out an NPS survey asking them on a scale of 0-10 how likely they are to recommend your business based on their experience on your website.

CSAT is another metric whereby you ask customers to give a satisfaction rating of 1-5. The higher the score, the more satisfied they are. Again, it's smart to send CSAT surveys after people purchase products from your site. Ask them questions about the website experience, ordering, payment processing, and so on.
Social media: Use social media to gather feedback through comments, direct messages, and polls. Look at what people say in the comments under your posts – is it largely positive or negative? Engage with them to get more information.

Polls are a brilliant customer feedback tool as you can ask questions relating to your business and the customer experience, seeing how your followers respond.
Website surveys and feedback forms: Adding surveys or feedback forms to your website helps you collect information while people are browsing. Again, WP Review Slider Pro helps with its front-end review submission forms. You can create forms that ask customers to leave reviews or click a simple thumbs-up or down button to show how they feel about a particular product or service.

There's an example of this below, which you could put underneath a product, or it could pop up after someone makes a purchase. It's a simple way to generate fast feedback that's either positive or negative.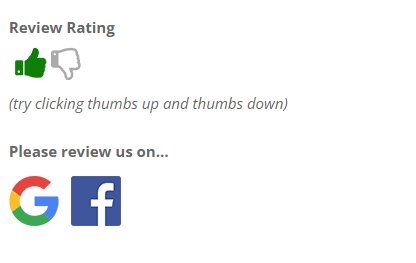 In-app surveys and feedback: If you have mobile apps or software, implement surveys to collect feedback from users. Focus more on the user experience here by getting bug reports and feedback about how the app can be improved.
Customer support interactions: When engaging in customer support interactions, get feedback from people. This includes asking for opinions via live chat, over the phone, or through emails.
What are the best practices for implementing a multichannel feedback collection strategy?
Ensure consistency across all channels in branding and messaging
Personalize communication to increase response rates
Monitor and analyze feedback regularly from all channels to spot trends and improvement areas
Address negative feedback and respond to it professionally and quickly – negative feedback is the most important type of feedback as it tells you how to get better!
WP Review Slider Pro is easily the best way to streamline feedback collection. It has a feature that automatically pulls reviews for your business across 90 different websites and can be integrated with WooCommerce. It also empowers you to generate more feedback via your website with front-end review submission forms that can be customized to suit your needs.
Introducing WP Review Slider Pro: a comprehensive solution for CFM
WP Review Slider Pro is by far and away the best WP feedback plugin available for WordPress website owners. It offers a complete solution for businesses looking to gather feedback and analyze it. The main purpose is to take reviews and testimonials from numerous online sources and add them to your website. This does a fantastic job of displaying reviews to consumers, building trust, and encouraging more purchases.
However, there are also a lot of other features that make it perfect for customer feedback management – let's take a look!
Customizable templates, review filters, and WooCommerce integration
Businesses can use 11 professional templates to create review sliders, summary badges, and submission forms. These help you display reviews and feedback on your website consistently, improving the professional feel of your brand. The feature also gives your site social proof that draws the user's attention and makes them feel confident in your business.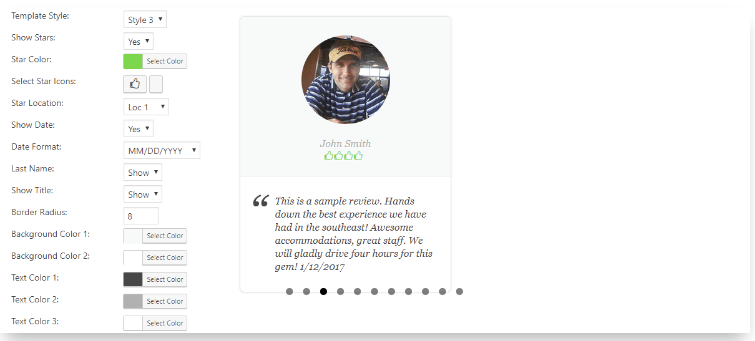 Review filters are extremely powerful as they help you choose the reviews to show on your site. You can filter them based on criteria like star rating, source of the review, length of the review, and so on. In practice, this allows you to only display reviews that are four or five stars, perfectly promoting your business. Alternatively, you could filter the reviews so that only Google Reviews are shown. This is helpful as 59% of buyers say they focus on Google Reviews over any others.
With WooCommerce integration, you can seamlessly sync product reviews from your eCommerce site and add summary review sliders on the homepage. Implementing review sliders – as depicted below – can encourage conversions as it adds more trust to your brand and shows people that your products are clearly well received.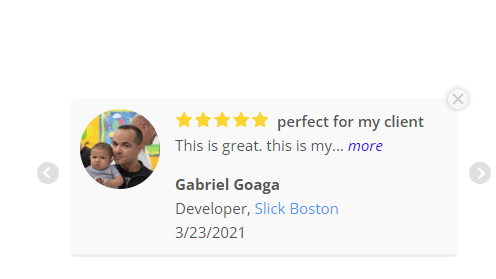 Review analytics and front-end review submission forms
Gathering reviews is only one part of the CFM process – you need to find valuable insights, too. The review analytics feature from WP Review Slider Pro lets you do exactly that. It gathers information from reviews and helps you identify weak spots or areas of improvement. This empowers you to make data-driven decisions that enhance your business and improve the customer experience.
What's more, the information is provided to you in clear ways. The graph shown below gives a visual indication of whether reviews are trending up or down. You can also see the word cloud that shows the language used in your reviews and what people tend to be saying. It gives you valuable insights into what the main positive or negative points are.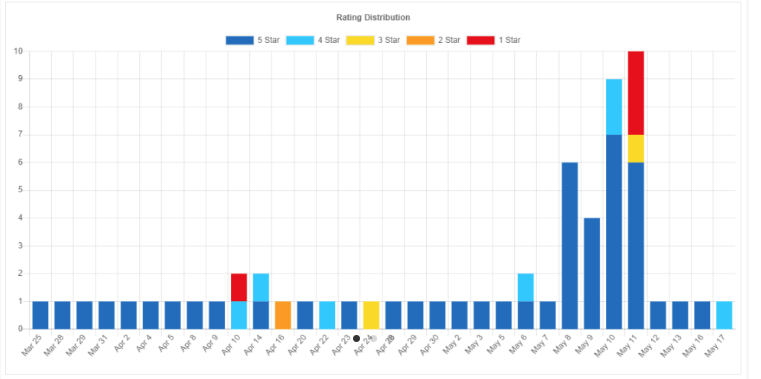 We have touched upon this before, but the submission form feature of WP Review Slider Pro is essential for gathering extra customer feedback. You can create your own forms with specific fields encouraging customers to provide feedback on certain areas of your business, products, or services. Combined with review analytics, this gives you all the data you need to improve your offerings based on customer experiences.
Actionable tips for responding to customer feedback
Responding to customer feedback is critical. It's all about providing the best customer service experience. 68% of consumers say they are willing to pay more for products or services when the brand offers a great experience.
With that in mind, here are the best practices to follow when responding to feedback:
Acknowledge and thank customers: Always express gratitude to customers when they leave feedback. It shows them that they're valued and appreciated. In turn, this may encourage them to keep coming back as they feel like an important part of your business, rather than just another customer.
Respond promptly: Response times are vital for businesses. 90% of customers rate an "immediate" response as essential or very important. It shows that you care and value your customers. Make sure to prioritize negative reviews to demonstrate you're committed to addressing concerns and improving the customer experience.
Be empathetic and understanding: Approach negative feedback with empathy and understanding. Listen to the customer's concerns/annoyances and tell them you're sorry and you understand why they're upset. For one, it helps to calm them down. Secondly, it enables you to make better decisions when addressing the problem. Listen to why they're annoyed, then provide solutions that counter this.
Offer solutions and follow-up: After providing initial solutions, always follow up to make sure everything is okay. Check that the customer is satisfied and see if there is anything else you can do to make their experience better. It's a good way to 100% close the issue and move on.
Learn from feedback and adapt: Don't be annoyed by negative feedback. Learn from it and adapt your business to ensure the same feedback doesn't rear its head again. This should be a continuous process to help you constantly improve your operations.
Share feedback with relevant teams: Communicate customer feedback with your teams and explain what it means. This is particularly important when negative feedback targets one area of your business. For instance, if a lot of people mention how bad your customer service is, you may need to look at resourcing within that specific team.
Monitor trends and patterns: Finally, analyze customer feedback to find trends and patterns. This is beneficial as it helps you see where you're always going wrong – or where you can get ahead of the game. As such, future business decisions and strategies are made with more knowledge.
Remember, it is so important to always develop effective strategies for engaging with customers, addressing their concerns, and continuously improving your offerings based on valuable insights. If you don't utilize CFM correctly, your business will be doomed to fail.
Create a strong customer feedback loop with WP Review Slider Pro
Customer Feedback Management is necessary to grow your business and have an understanding of customer satisfaction and customer loyalty. It helps you learn more about your customers and how you can improve your business to inspire more loyalty while generating lots of new customers.
Don't forget the five key components of effective feedback management:
Set clear objectives
Take a multichannel approach
Analyze and categorize feedback
Share feedback data
Take action and create a feedback loop
The second component is arguably the most critical as it lets you pull feedback from so many sources, meaning you get a better overview of where you stand. WP Review Slider Pro is the best tool to use for CFM: it allows you to create a strong customer feedback loop by generating reviews, collecting them from all over the internet, and analyzing customer feedback. Ultimately, this drives growth and boosts your customer satisfaction rate.

Why wait? Get started with WP Review Slider Pro today!