If you own your own business, you'll know just how vital gathering user feedback is. Feedback ensures you understand every aspect of your services so you can improve on what you deliver, take stock of your services, and react to what your customer base wants and needs.
43.1% of all websites on the web use WordPress, with many of them being businesses that need instant feedback from customer data. Using a plugin can be an easy way to gather feedback from your customers in a professional and organized way.
In this article, we're going to show you everything a plugin must do for you when you are aiming to gather customer feedback and provide the 9 best WordPress plugins so you can start collecting valuable data to help level up your business!
What Are WP Feedback Plugins?
WordPress is a content management system with no built-in tools, which is why the right selection of plugins is pivotal to adding extra functionality to your WordPress website. WordPress feedback plugins are tools that allow users to leave feedback, whether this is in the form of reviews, forms, suggestions, a star rating, or whatever you feel you need to gain insight into your services.
Using a feedback plugin can provide many benefits for a business. When a new business is looking for ways to immediately improve its service, gaining feedback and criticism from its customers, no matter how candid it may be, can be the dose of reality as it needs to improve its services and make informed decisions about whether their business and website are fit for purpose. A feedback plugin can be useful for businesses of different sizes and statures; for example, a store needs to understand if its latest product is connecting with its core customer base, and if it is not, why?
A new range of sneakers may not click with customers of a certain age range due to its color scheme on an eCommerce store, or a restaurant may want opinions on its range of dishes, or a business may want to know how likely a user is to recommend their service to a friend. Whatever the goal, a WordPress feedback plugin is a very useful tool to level up your website for customer feedback, product or service reviews, or to prompt users to fill out a survey.
What Should You Look for in a WP Feedback Plugin?
Now we know what a feedback plugin is, let's dive deeper into what you should look for in a good WordPress plugin to gather user feedback from your users. A great WordPress plugin should always have the following elements:
Customization: A good WordPress plugin, no matter its functionality, should always have options for customization so you can tailor it to your needs and fit with your brand. Website owners should be able to change the look and feel of their site to better link in with the overall color scheme, layout, and so forth. Being able to use a plugin to create customizable widgets wherever you want them, such as on specific product pages or payment pages, will ensure you don't just have control over where things go but work to improve the user experience and, in turn, the customer journey. A feedback plugin should never seem like it doesn't belong on a webpage, which is why customizability is so important!
Ease of use: User experience takes into account how easy a website is to use. You want to gather as much feedback from your users as possible, so it stands to reason that your feedback plugin should be as easy to use as possible! If you want feedback from customers, the feedback form should be easy to understand and intuitive to use. As tempting as it is to use a feedback form for multiple methods of feedback, a form that is complicated or confusing might prevent users from leaving their feedback, so you will potentially never understand what you can improve upon!
Notification options: Real-time feedback tools are meant to help you deliver better service instantly. A good feedback plugin should offer various notification options, such as email notifications when feedback is submitted, notifications within the WordPress dashboard, and help you respond to feedback in a timely manner. Every business should have a 24/7 mindset, and being notified when you receive feedback means you can put the wheels in motion to action this feedback ASAP!
Reporting and analytics: Every business should understand which of its services or products are working most effectively and which are the least effective. Analytics tools and detailed reporting should be part of a great feedback plugin, including data on the number of feedback submissions, the types of feedback received, and any trends or patterns that emerge. Understanding the places for improvement begins with the information that can help you identify the essential areas which the right plugins can help you achieve.
Compatibility with different types of feedback: When you are looking for a good feedback plugin, it should be compatible with different types of feedback, including surveys, questionnaires, polls, and product reviews, so that you can gather different types of feedback and insights from your customers. Gaining a comprehensive understanding of your customers should involve providing them with the type of feedback they are most comfortable with.
The 9 Best WP Feedback Plugins in 2023
Now, we are going to take a look at 9 of the best WordPress feedback plugins for 2023. Each one has a wide range of benefits for your website to give you the feedback you need to boost your business.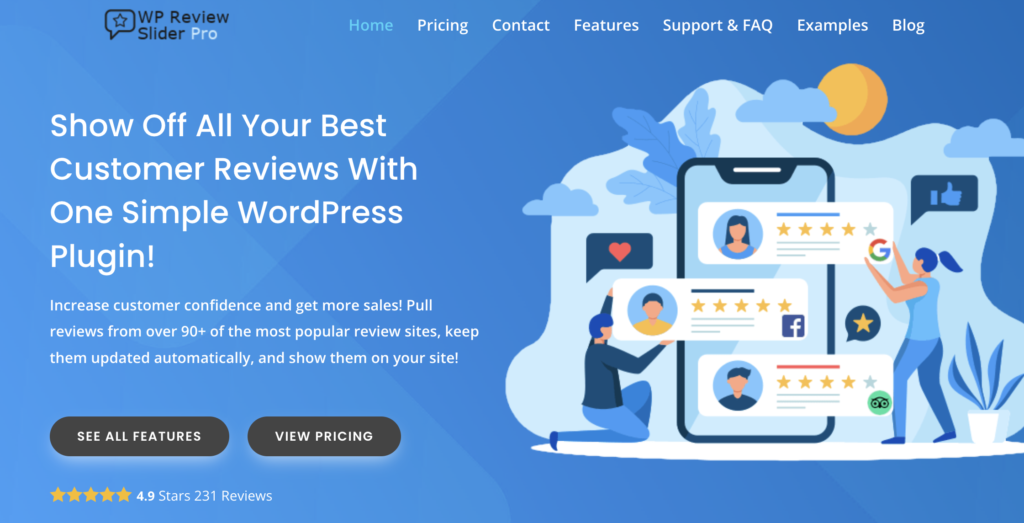 WP Review Slider Pro is one of the best all-rounder plugins for WordPress for users looking to gather and display feedback and reviews and offers a range of features and benefits for businesses of every size.
With WP Review Slider Pro, you have access to an unlimited number of submission forms for different parts of your site, which is great for collecting feedback about your service or product and displaying them in a stylish slider or in list form, as well as the option to create a template or badge shortcode on your site to show off testimonials.
You can create an unlimited number of templates and badges for your website, which can help make your products and testimonials look more official. You can also customize the logic of the widget, hide the form behind a button, create an automatic pop-up form, display only the form fields you actually need, and many more options to ensure you are showcasing your products properly.
You can create customized forms on the website directly, which captures more reviews, and includes the ability to customize which form fields to display, form logic to only showcase social media buttons if the review is above a certain rating, and the use of Google RECAPTCHA to authorize legitimate feedback and reviews.
WP Review Slider Pro, in comparison to a lot of plugins on this list, has a greater level of customization, including what to display (such as stars and date), how to display it (which icon to display instead of a star, or colors to match your branding). With 11 templates to choose from (and the offer to add one for you), you have a variety of options to create the ideal layout.
Advanced users can use custom CSS or a child theme to completely control the look and feel of the forms, if they want to.
Pricing is $29 a year for one website, $59 a year for five WordPress sites, and $149 a year for 50. And with money-back guarantees and personal support, it is a plugin that is worth every penny.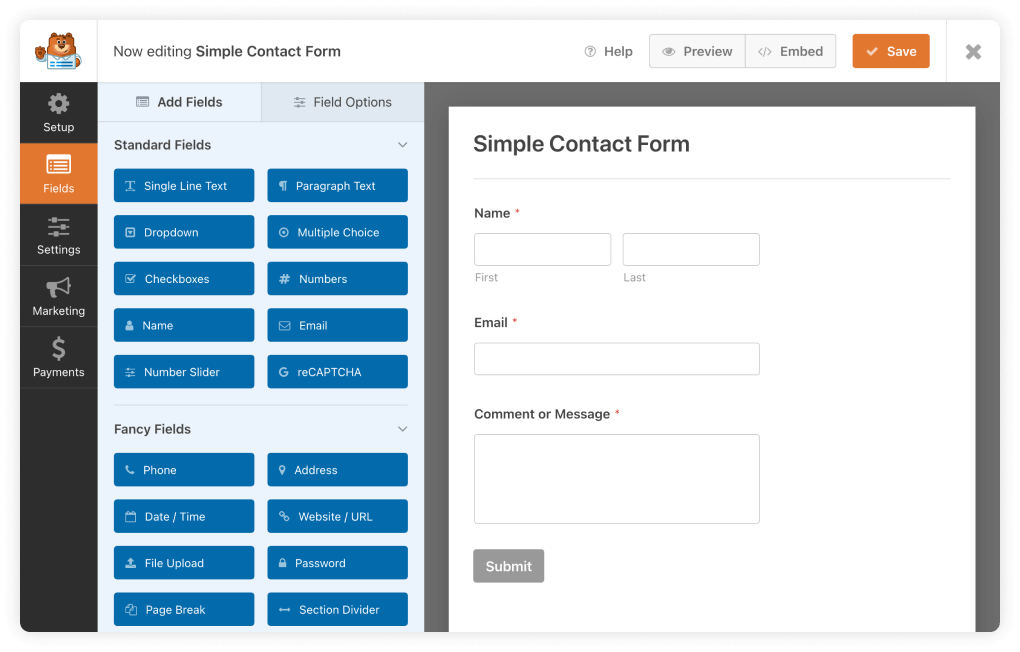 WPForms claims to be a beginner-friendly WordPress form, allowing you the ability to create a form in a matter of minutes. There are a number of pre-built form templates to choose from, like:
Blank forms.
Poll and survey form.
Conversational Forms™.
A great choice for businesses just starting out, WPForms provide different payment tiers. If you are looking for a cost-friendly plan, it is $49.50 for a single-site license, but you can upgrade to the Plus plan, which covers three websites. Additionally, the Pro package gives you access to every add-on over five websites and priority support for 12 months for $199.50, and finally, the Elite plan for unlimited sites costs $299.50. Despite it being great for beginners, the higher price for the comprehensive plans can be a problem for those who want all the features.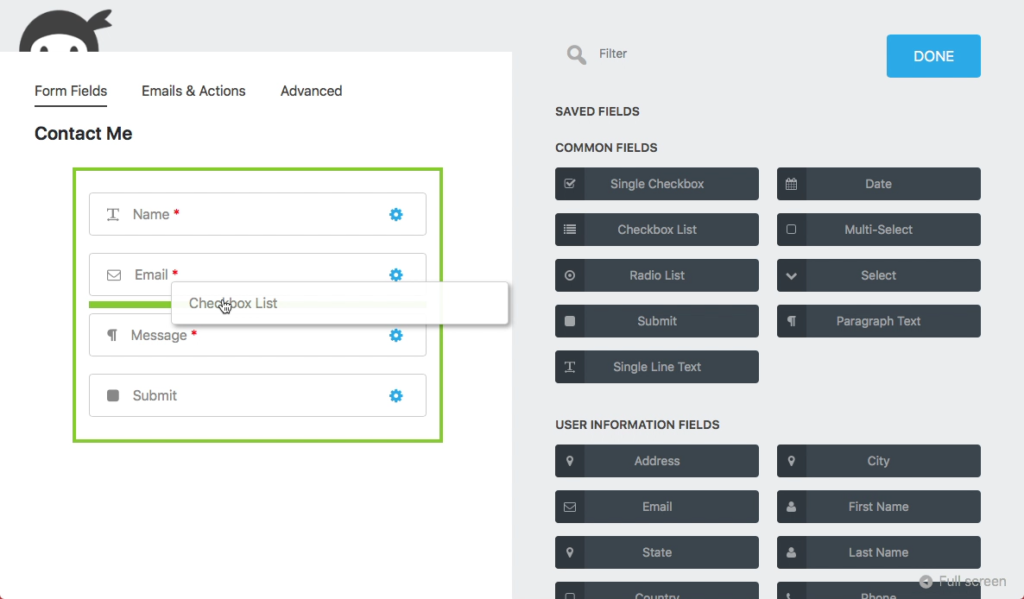 Ninja Forms is a flexible WordPress form builder that is easy to use for beginners and also comes with advanced tools for developers. Features include:
16 templates to choose from.
"Developer mode" gets you access to more advanced settings and tools.
The drag-and-drop editor makes easy work of rearranging and adding new form fields.
With four different pricing tiers on offer, you can opt for Personal/Basic, which comes with great features for $49 a year, or at the other end, the Elite/Agency tier covers every current and future update, which is $599 per year. The premium version can be costly depending on your needs, but the silver lining here comes in the shape of unlimited forms and submissions.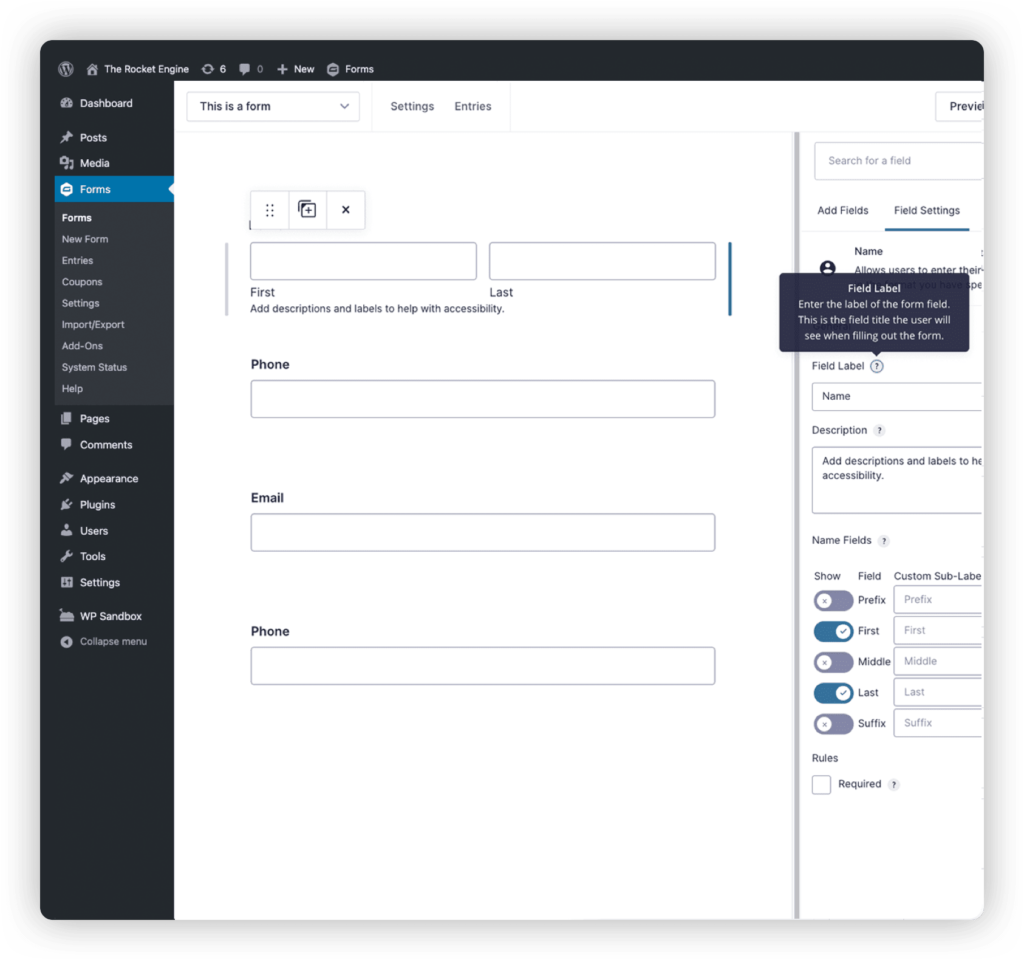 Gravity Forms does not just provide contact forms, but its real draw comes from creating advanced types of forms and data capture setups. For customer feedback, Gravity Forms can create:
Surveys and polls that allow you to analyze individual or aggregate responses from inside the WordPress dashboard.
Quizzes, where you can grade users' responses.
Multi-page forms.
And a lot more.
A great tool for businesses that know what they want, Gravity Forms provides three different pricing plans, which give you access to different numbers of official add-ons. You can have 17+ add-ons on the Basic license ($59 per year), and the Elite license grants access to 46+ add-ons ($259 per year).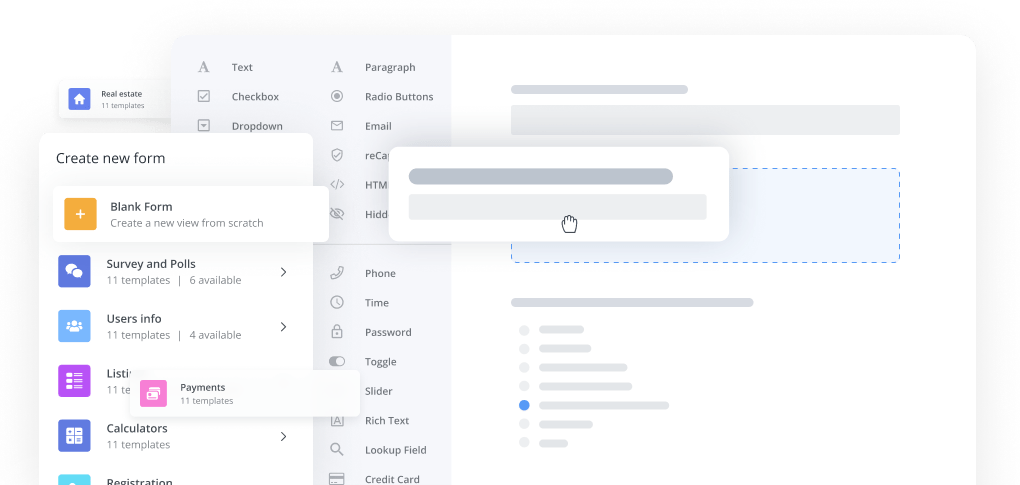 Formidable Forms works as a feedback plugin and a reviews plugin, making it easier to manage your web forms in one convenient location.
Easy to use drag and drop form builder.
Mobile responsive.
Email notifications.
It can help you collect feedback and any type of customer data you need. It is a simple tool that is great for small businesses finding their feet. The free version lacks any customization options, but as paid plans start from $79 a year, companies can find a payment plan that suits them. But, as with many plugins, the more features you want, the more you need to pay!
Installed on over 50,000 online stores, Customer Reviews for WooCommerce is an enhanced plugin that can help businesses in a number of areas:
Create a one-page review form where customers can review multiple items with aggregated review forms.
Quick and easy functionality with a responsive email template and custom colors.
Customers can vote on past reviews.
Can automatically generate coupons for ongoing customer reviews using built-in variables.
It is a great tool for businesses that already use WooCommerce for their online store, but those who do not use this platform may not benefit from its features.

Fluent Forms is a mobile responsive plugin with no coding skills required, ensuring you can create a customizable form in minutes.
Numerous templates, including a feedback form and survey form.
Over 3,000 integrations.
Many form templates, including star rating feedback.
Pricing starts at $59 for one site, going up to $199 for unlimited domains, making it suitable for small and large businesses. Great for small businesses with little to no coding experience; however, you only get the benefits from customizability if you opt for the premium version.
FormCrafts is a simple drag-and-drop form builder to make contact forms, quizzes, and much more.
Support for scoring and conditional logic, allowing users to create detailed quizzes.
Detailed field insights on each response.
Multiple layers of customization are available.
Email notifications.
With three different payment plans, $39, $59, or $99 per month, users can find a plan that suits them, but some have pointed out a lack of integration and flexibility with some form types.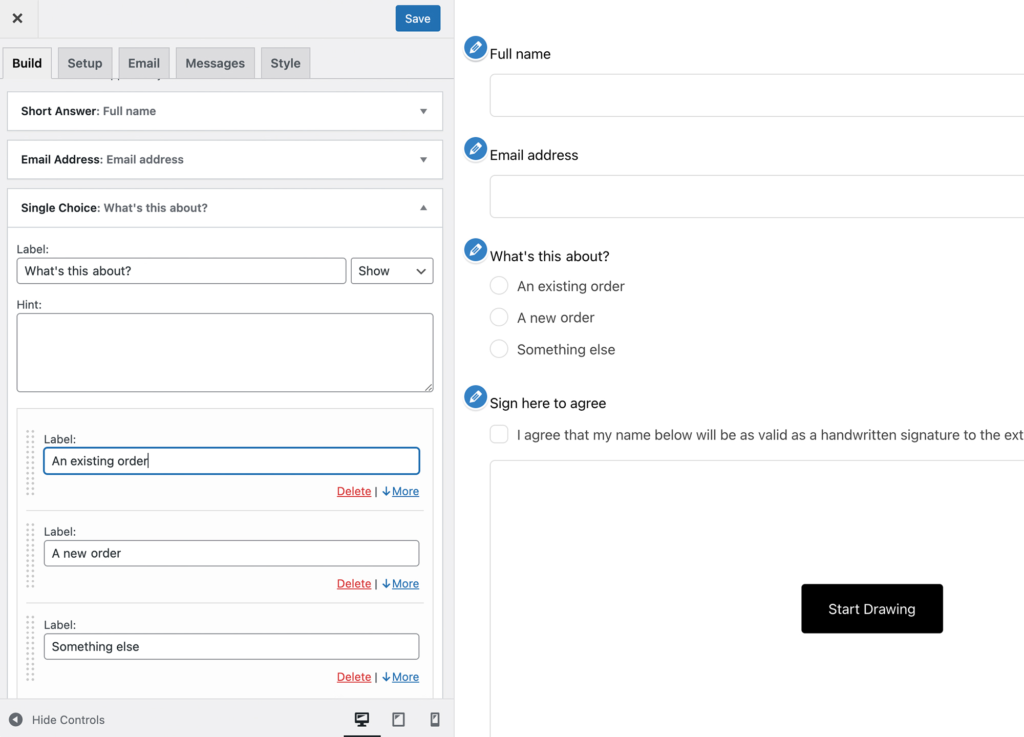 HappyForms promotes itself as one of the easiest-to-use plugins out there. After the developers behind it studied over 1,000,000 professionals, this plugin is touted as a major solution for most businesses. Features include:
Drag and drop functionality to create client feedback forms, survey forms, and much more.
Free support in addition to its HappyForms help starter guide to set up quickly.
The dual form feature allows multiple forms on one page with a customizable layout.
Supports anti-spam integration to stop robotic spamming website activity.
A simple and effective solution for most websites, pricing covers three different tiers, with the lowest starting at $79.00.
Conclusion
Gathering user feedback is such an important part of evolving and improving business outcomes. While so many businesses rely on marketing tools to promote themselves, getting feedback from the people that use your products is a simple but effective way to gain an understanding of what really works. Keeping your customers involved is such a basic method to keep your business thriving and evolving, but is almost a forgotten art.
Using a WordPress feedback plugin makes getting feedback very easy as it allows you to connect with customers, gather their thoughts and opinions, and pull together all of the various strands of data so you can make informed business decisions that benefit your customers and you.
As there are many plugins out there, choosing the right one for your needs demands a tool that covers as many different disciplines as possible. WP Review Slider Pro is the best plugin for any business owner looking to level up their WordPress site, with fantastic features for customization, pop-up forms, review analytics, and much more! Try out WP Review Slider Pro today and get a greater insight into every aspect of your customer base.