Want to get more feedback and reviews for your website?
Feedback and reviews can help you understand what to improve in your product or service and serve as social proof. Moreover, positive engagement with customers can encourage leads to make a purchase: one study found that 82% of people trust the voice of customers more than messages that come from a brand.

In this post, we will explore how to add a feedback form to your WordPress site and how to use it effectively. You'll also learn which tools and plugins are best for the job.
Why Should You Use a Feedback Form on Your Website?
A static or pop-up feedback form is one of the best ways to collect customer feedback. You can use it for various purposes, such as:
Understanding customer needs and preferences better so that you can improve your products and services accordingly.
Gathering data for market research purposes to develop new products or services.
Collecting data about customer satisfaction with existing products or services to improve them.
Showcasing social proof to potential customers through user-generated content can help improve conversions.
Feedback forms can also double up as contact form plugins to help customers get in touch with you.
How Can You Add a Feedback Form to Your WordPress Website?
WordPress is a widely used CMS that powers over 40% of all websites. Though it has a lot of advanced functionality, it doesn't have the exact function for adding a feedback form. You can allow customers to leave reviews, but that doesn't serve the purpose of a feedback form. Alternate methods include changing your functions.php file and using a shortcode or a plugin to add a feedback form.

We recommend using a WP feedback plugin because of its ease of use and helpful features like notifications, analytics, and easy management of WP customer reviews and feedback.
Top WordPress Feedback Form Plugins
Many WordPress plugins and widgets let you generate feedback. You can use them in different ways, such as creating feedback forms, managing different types of reviews (like star ratings and word reviews), and displaying reviews from multiple platforms on your WP site. We even have a guide to the best WP feedback plugins where we explain what you should look for and compare their features to help identify the one that's best for you.
Overall, we recommend using WP Review Slider Pro as it's got all the features you'd need for creating user feedback forms, maximizing form submission, and optimizing your review management.
The following section lists the top 3 plugins and what makes WP Review Slider Pro the best.
WP Slider Pro is the best all-in-one WordPress plugin for reviews and feedback management because of its extensive features, ease of use, and value for money. Some of the great features include:
Easy creation of unlimited submission forms – perfect for collecting feedback and displaying them in stylish formats. You can easily customize forms with custom form fields, a review gate feature where logic can be used to only showcase social media buttons if the review is above a certain rating, and use Google RECAPTCHA to ensure legitimate feedback and reviews.
Display reviews and feedback from over 90+ platforms like Amazon, TripAdvisor, Facebook, and more – it has all the integrations you need!
Apply review filters that allow for filtering based on the length of the review, the rating it is given, etc.
Create badges to show off your social proof with customizable colors, borders, icons, and more.
Use custom CSS or child themes to control forms' appearance.
Get unlimited templates and badges which help testimonials look more official.
Pricing starts from $29/year for a single WordPress website, but you can easily add more by changing your subscription.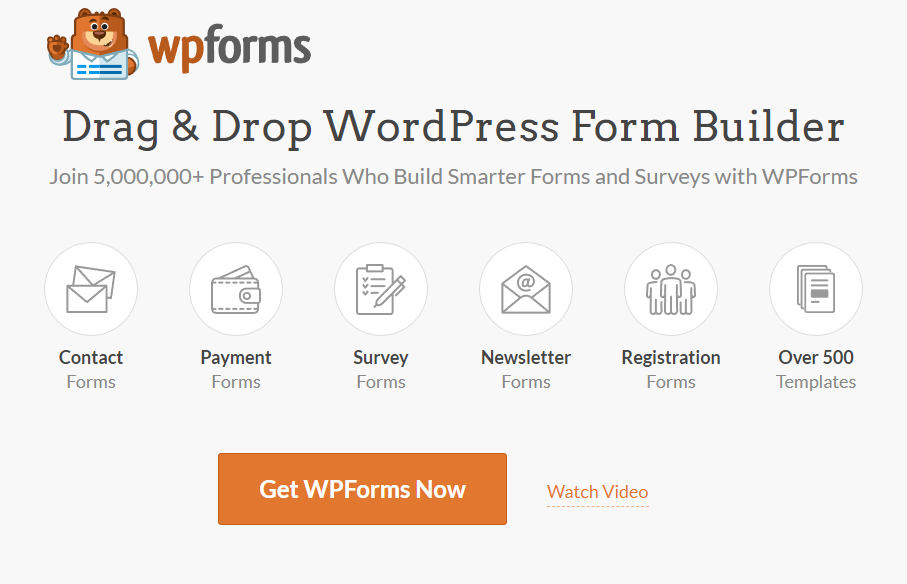 WP Forms is a drag-and-drop form builder that lets you build personalized forms for collecting feedback. It's a good solution if you're looking for a form builder to create multiple forms like subscription forms, lead-gen forms, registration forms (with payments), and so on.

However, while it's capable when building feedback forms, it doesn't have any features for review management or displaying reviews, so if you're looking only to create personalized forms, this may be the solution for you.

It also has limited form fields and features in the free version. You'll need to upgrade to premium if you want more advanced options, such as file upload or conditional logic.
Lastly, WPForms can negatively affect site performance. The tool stores all form entries on your WP database, potentially slowing down your site loading speed.

Finally, Customer Reviews is a type of form plugin that makes it easier for happy customers to leave reviews. Two of its key benefits are that it lets you send automated personalized email reminders to customers after their transaction, prompting them to review your service or product, and integrates with an external service to verify reviews.
While the plugin has a free version, many features you might need are only available with the "pro" version. So while it looks similar to the WPRSP plugin, it isn't as good when displaying reviews in attractive formats or showcasing reviews from other platforms.
If you want to learn more about how various feedback plugins compare, see our article for further reading and other options you should consider.
Adding a customer feedback form on WordPress using WP Review Slider Pro
The following is a step-by-step process for how to use WP Review Slider Pro to create a form.
Set up WP Review Slider Pro by downloading the plugin.
Go to your WP Dashboard and click Plugins >> Add New. Then click Upload Plugin and select the .zip file you just downloaded.
Click Install Now and then Activate Plugin.
Go to Settings >> WP Review Slider Pro. Here you'll find the global options settings for the plugin, changing how it displays throughout your site. Settings include comment form integration, restricted ratings, allowing unhelpful feedback, and adding a total rating to thumbnails. Once you've finished editing settings, click Save changes.
Go to Settings >> Styling. This menu lets you select the global options for review styling and colors. (You can also edit them on a post-by-post basis). Once you finish click Save changes.
Create a feedback form from the "Forms" page with a customized template – we also have 11 templates that you can choose from! Every aspect of the template is customizable.
You can edit the style, star color, star location, whether you want to show the data, the data format, whether you want to show an avatar, and if you want to include the reviewer's last name. You also edit the color of the text and background. Changing the forms via the "Forms" tab in the WP dashboard gives you access to even more settings.
When you click the tab, you will see your list of created forms. Click "Edit" to bring up more options. Here you can:
Edit the title of the form
Edit the form input fields (including their name and whether you want to display them)
Choose whether you want to include any required fields
Edit the header HTML you will use
Choose the conditional logic you want to include (such as only showing links when the rating is above three or four stars)
Add Google reCAPTCHA to ensure legitimate reviews (not bots or spam submissions)
Edit the button text (i.e., "Submit feedback")
Add your own custom CSS
Edit your success message (i.e., "Thank you for your feedback")
Choose whether to display a pop-up form whenever users load the relevant page
Edit auto submission (allowing reviews to appear before you approve them first)
Choose review icon images and link
Display reviews and feedback from multiple platforms in the format of your choice. These include list, grid, slider, or floating badge formats. The choice is yours!
WP Slider Pro offers a host of additional features, including review analytics, multi-language and multi-Location support, sync WooCommerce reviews, Google rich schema, and so on. These help you communicate with audiences globally, improve your SEO, and increase the total number of reviews you have supporting your brand by combining them with existing feedback.
Create a Feedback Form That Works
There are no hard-and-fast rules when it comes to effective online surveys, but there are some things worth keeping in mind while creating them:
Keep it short – people don't have much time or patience when filling out online forms! Keep your survey short and sweet by asking only essential questions which will help improve your business without wasting people's time or being too intrusive. Add multiple-choice questions where possible.
Make sure all fields are mandatory – this will ensure no critical information is left out.
Use appropriate formatting – make sure that all fields stand out from each other so that users don't get confused while filling out forms.
Use appropriate language – make sure that all fields are written clearly so that users understand what they're being asked.
Make sure there's no spam advertising – make sure that all fields are relevant so that users don't feel like they're being spammed or advertised at.
Consider showing options – one way to reduce form incompletion is to give your customers options to choose from a dropdown menu or multiple-choice options with a checkbox. This is especially useful when you're trying to understand how customers feel about features, your support, and your user experience.
Collecting feedback is essential because it lets you improve your products and services, boost your business intelligence, and understand where you're going wrong. It's also an opportunity to leverage "social proof," the idea that potential customers are much more likely to listen to their peers about the quality of your products compared to you.
WordPress doesn't offer a facility that lets you customize feedback forms exactly how you want from the WordPress dashboard. However, there are tools available, three of which we covered here.
Conclusion
The best feedback form tool for the job is WP Review Slider Pro. It helps businesses create effective feedback forms to collect valuable customer feedback, display reviews from multiple platforms, manage reviews end-to-end, and use review analytics to optimize websites. It's easy to use, displays relevant feedback from over 90 platforms, and lets you control precisely how you want it to look.
So what are you waiting for? Pricing for WP Review Slider Pro starts from just $29/year. Try it today and start collecting meaningful feedback from your customers to supercharge your business.