Testimonials are one of the most effective customer acquisition methods at your disposal. This is unsurprising, given that they enhance your credibility tenfold by helping you establish trust with potential customers.
After all, they no longer have to take your word for it when you tell them how great you are – they can hear it from other consumers instead. This is particularly important when you consider that 88% of consumers trust user reviews as much as personal recommendations. They can be a great way to generate positive conversations about your brand.
Testimonials can be featured throughout both your website and your marketing campaigns. For example, you can display testimonials on:
Your social media pages.
Your WordPress page(s).
Your product pages.
Your 'About Us' page.
Your blog(s).
Your testimonial page.
Your email campaigns.
Your ads, both digital and print – by adding the text over a featured image.
In this article, we'll explore how to add testimonials to your website in three easy steps – so that you can win over more customers and grow your business in 2023.

Why should you use testimonials?
A testimonial is a statement or quote from a customer (or client) that details their experience with your business, services, or products. As mentioned above, customer testimonials can establish a sense of credibility or trust by showing potential customers that others have had a positive experience with your brand. As such, featuring testimonials on your website can also boost sales.
According to a recent study, testimonials on sale pages increase conversions by 34%, proving how beneficial customer feedback is for brands looking to boost their profits. In fact, many people actively seek out reviews or recommendations before even considering buying a product, as they seek out 'social proof' – i.e., proof from others that they're spending their money wisely.
Strong testimonials are often considered a more authentic brand marketing method, as the words are taken directly from your customers instead of being developed by your internal marketing team. This often means that they are seen as more honest and trustworthy.
While WP Review Slider Pro is on hand to assist customers in embedding reviews from 90+ platforms onto their sites, you can see some compelling examples of testimonials of the plugin itself here.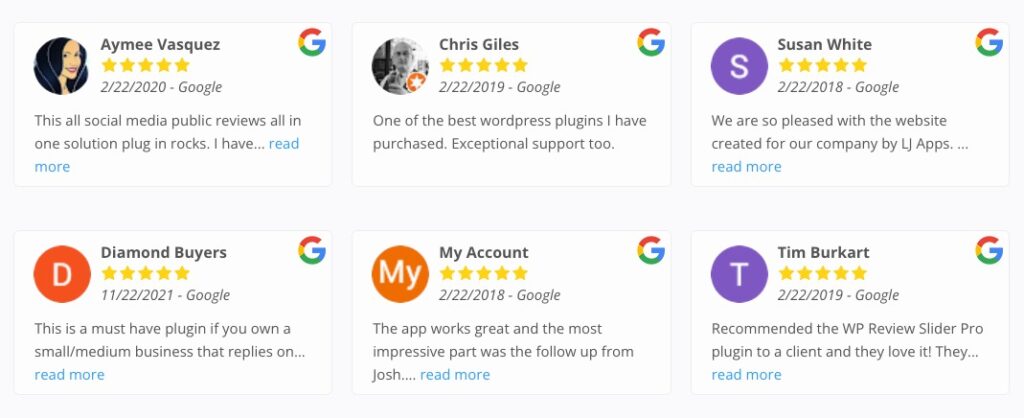 How to add testimonials to your WordPress site
You can feature WordPress testimonials on your company's wordpress site in several different ways: either manually, by using code, or by using a plugin like WP Review Slider Pro. Let's take a look at what each involves.
Manually adding testimonials
WooCommerce is a free eCommerce plugin for WordPress users. While designed to make it easier to sell products online, you can also use this plugin to feature reviews on your site, though the process is time-consuming.
To add reviews on WooCommerce, you need to navigate to 'Settings' through your WordPress dashboard (or page builder), select the specific product in question, and press 'enable reviews' and then the 'publish' button. Then, you can choose from various shortcodes to feature the reviews on your site without having to learn the complicated coding process yourself. For example, you can use a shortcode to embed review widgets at the bottom of your site. You can also choose from various review templates depending on how you want your site to look.
Adding reviews in this manner means that they can only be uploaded by "verified owners" (i.e., people who have actually purchased the products). However, this manual process must be repeated for every single product – which can quickly become laborious and time-consuming. Another downside of this method is that you cannot embed reviews from other platforms, such as Facebook or Google.
Adding testimonials with code
You can also add testimonials to your site through code, but this can prove to be a time-consuming task. In addition, unless you're an expert coder with a deep understanding of the process, you risk 'breaking' your website.
For example, you could cause certain pages to crash or accidentally delete important content. This could make the site inaccessible, turning customers away instead of reeling them in. As mentioned above, shortcodes can come in handy here, but if not used correctly, they can also damage the functionality of your site. If you are trialing this method, watch some online coding tutorials beforehand.
As both of the above methods have their faults, we'd recommend using a plugin. This way, you can embed reviews onto your website quickly and efficiently to win over your target audience.
Adding testimonials with WP Review Slider Pro
While several different testimonial WordPress plugins are available, we suggest using WP Review Slider Pro. This is because:
You can display strong testimonials from 90+ platforms, including Facebook, TripAdvisor, Twitter, and Zillow, amongst other leading platforms.
You can set WP Review Slider Pro to update automatically, meaning new reviews are added to your site as soon as they are uploaded. This means that your content remains fresh and up-to-date – which is crucial as most people will look for the most recent reviews before buying a product.
You can use set filters to streamline or determine which reviews end up on your site; for example, you may want to showcase reviews for certain products over others or for specific star ratings to be filtered out. This can be used to ensure that negative reviews don't end up on your landing page.
You can use WP Review Slider Pro to build customized forms that can be added behind a button, dropdown menu, or a popup form on your site with your chosen form fields, Google Recaptcha, and form logic. This way, you can easily add new reviews to your site.
You're given access to analytical graphs, charts, and data that identify trends and issues based on customer reviews and performance data, enabling you to make positive changes moving forward. For example, you'll be able to get to the root of any negative press before it damages your reputation.
WP Review Slider Pro is easy to use, set up, and more affordable than other alternatives – it saves you time, energy, and money too! This is particularly important in the current economic climate, with businesses looking to save as much money as possible.
3 Steps to Add Testimonials on Your WordPress Site Using WP Review Slider Pro
1. Install WP Review Slider Pro
WP Review Slider Pro is available from $29 a year, and different packages are available based on the nature of your business. To start, you must choose your preferred pricing option and purchase and download the plugin to your WordPress dashboard.
Once installed, you can quickly select which review platforms you'd like to feature on your site. As mentioned previously, there are 90+ platforms to choose from, many of which are industry-specific. For example, if you run a travel company, you can feature reviews from TripAdvisor, Airbnb, Expedia, and HostelWorld. Alternatively, you could choose to embed Google Reviews into your WordPress site and include badges to show that Google verifies the reviews.
2. Customize the display of your testimonials
You likely have a specific vision in mind for how your website looks, which is why WP Review Slider Pro has many different display options and templates to choose from. This way, you can ensure your reviews fit seamlessly into your site or WordPress theme without looking out of place.
You can display your reviews in slider, float, or grid formations, depending on what you like best. You can also customize the individual buttons, widgets, and icons to your liking. For example, if adding reviews to the sidebar, you can ensure they are bright, colorful, fit with your brand, and have a clear CTA for the browser to leave a review.
During this stage, you also have the option to add any relevant filters. For example, you may only want 4 or 5 stars reviews to be uploaded automatically as they present your business in the best light.
3. Request new testimonials
Finally, it's time to get more reviews! By using the custom forms, you can begin to build upon the number of testimonials you receive. This means you are automatically generating more content for your website, giving you the best chance of success moving forward. It also allows you to better connect with existing customers and grow your customer base – what's not to like?
Conclusion
You should feature more reviews on your WordPress site for many reasons. They can be used to attract the attention of potential customers while also improving your brand's overall reputation. After all, the more you showcase reviews with four or five-star ratings, the better picture you paint of your brand, products, or services as a whole.
However, managing a website is a challenging task, meaning it's vital that you seek out the easiest and most cost-effective way to embed reviews onto your site. WP Review Slider Pro is the best way to do so because it's so easy to set up and manage, whether you want to set up a testimonial slider or simple widgets.
Whether customizing reviews or featuring as many as possible on your site, the process could not be more straightforward when you use WP Review Slider Pro. Furthermore, you're also getting an incredibly fair price for the entire testimonial campaign – alongside the continuous support of a skilled developer.
If you'd like to find out more about adding testimonials to your website, get in touch with WP Review Slider today!