A good site needs good design, good copy, and good imagery. But what else can you do to increase your conversions? The secret is often as simple as good reviews displayed prominently on your website.
Reviews are one of the most important aspects of turning leads into converts. It's a simple way to turn testimonials into profit. After all, a business has no better salesperson than a satisfied customer!
Great reviews give you social proof, something everyone wants to see to be comfortable. "If other people loved this product, I should too," says the voice in their head, whether they realize it or not. This often provides the extra nudge visitors need to make a purchase. They also rely on reviews to find the positive and negative aspects of your products that aren't listed out in your descriptions.
So, how do you get those reviews on your site? If you use WordPress, like about 30% of all websites, you can easily just embed Google reviews into it.
In this post, we will show you how to embed Google reviews into your WordPress website.
Why should you display Google reviews on your WP site?
Google reviews are a critical part of digital marketing. If you embed Google reviews into your website, you get two main benefits:
Better SEO: search engines are in love with user-generated content! So, Google reviews turn into more traffic to your site. Once there, customers use reviews to make a more informed decision.

Better lead conversion: Reviews help customers make decisions. Customers understand that the testimonials of others will reveal things they won't see in product descriptions. This social proof helps them find out the experiences of others, not just the checklist of benefits they are looking for.
How can you embed Google reviews into WordPress?
You can embed Google reviews using code. However, this is only a suitable option if you have development experience and understand HTML. You will often need to do some troubleshooting too. Without HTML experience, the process will be slow and tedious, and you can even end up breaking your site!
The easiest way to embed Google reviews into WordPress is with a WordPress plugin. We recommend WP Review Slider Pro, the top Google reviews plugin.
WP Review Slider Pro strikes the right balance between reasonable cost, ease of use, and advanced features. It enables you to pull customer reviews from over 90 popular review sites, including social media. This is a vast improvement over the typical 3 most alternatives (Google, Facebook, and Yelp). You can then display your Google reviews prominently and attractively on your site (like the site below).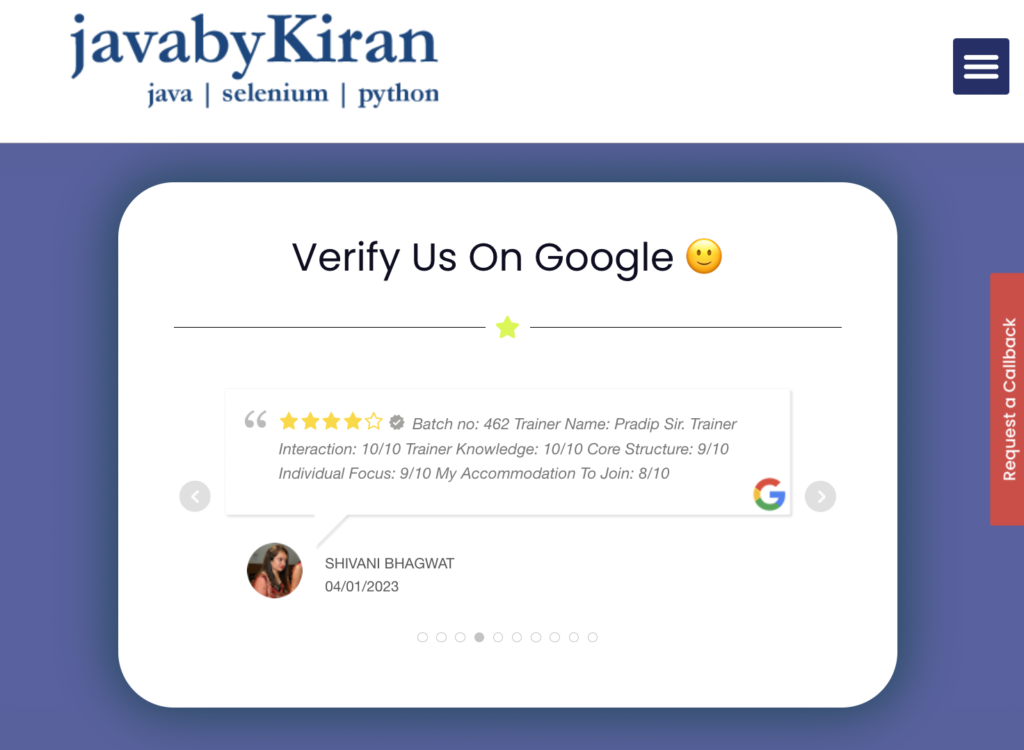 The plugin enables you to take full advantage of your existing social proof with:
Customizable templates
Google Slider review templates
Google Places reviews imported to your database
Google Maps import
A Google reviews widget
Template creation
Widget to display reviews
Many display settings (includes date display options, "time since," etc.)
Review hiding
Social media pages support
Advanced slider controls (autoplay, slide animation, hide or display arrows, etc.)
Row display settings
Customization for templates' layouts
The best part is you can use WP Review Slider Pro without any coding knowledge. It comes with all the customization options built-in. You can even set up email notifications for when new reviews are posted to help you keep up.
The plugin has many positive testimonials from users who experienced an increase in conversions…
"Earned me thousands! Showing reviews on my website had literally generated thousands of pounds worth of work. I'd recommend this as a pretty much essential plugin for any serious business website."

– Steven Mather
In addition to its exceptional functionality, there are even more comprehensive features that most other plugins don't offer:
Customizable forms (with Google reCAPTCHA and form logic)
Review analytics tools
Analytical display (clear charts and graphs)
Floating badges
Custom CSS available for beginners and coders
Automatic language detection
Manually add reviews, or set auto-update settings
Users get all this and more for the best possible price: $29 for a year.
At this rate, it's the most competitive plugin for Google reviews when you balance the cost against the exceptional functionality.

Steps to embed Google reviews into your WP site (short tutorial)
Step one: Download WP Review Slider
Download the plugin from wpreviewslider.com.
Step two: Install this plugin
Once you have the plugin downloaded, you will need to install the plugin. Installation is simple, as you will be guided through each step once the download is completed:
Find the zip file that you just downloaded.
Upload the the zip file using the Add Plugin page on the WordPress Dashboard.
Find and activate the plugin in the "plugins" menu in WordPress.
Find the WP Review Slider Pro menu item in your WordPress admin.
Step three: Retrieve Reviews
You must retrieve the reviews you will be using. You can either grab reviews directly from the review platforms you use or add them manually.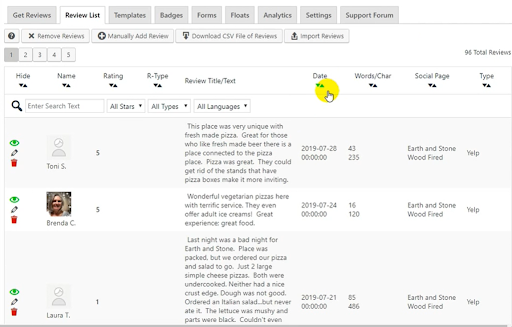 Step four: Edit Design & Set Filters
After you have your reviews, it's time to prepare your design. You can then move on to set up a review template or summary badge. Review templates can be sliders or grids, with additional customization and filters. This way you can show the reviews you want people to see, the way you want people to see them!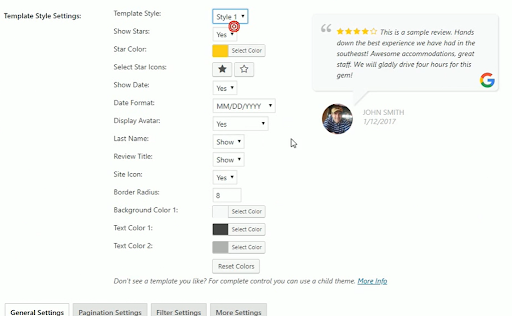 You can also organize your reviews as such:

Additional settings are available to add as much personalization as you need to your templates.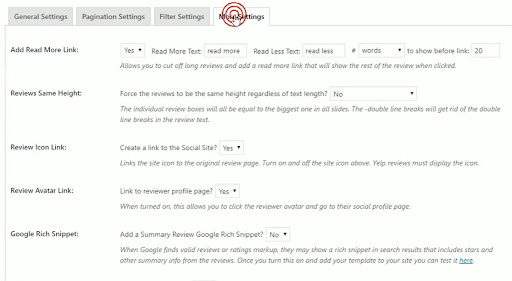 Step five: Add Template to WordPress
After you've designed your template and adjusted the settings to your liking, you need to add the template to your WordPress site. To do this, add the review template or badge shortcode on your site.
You can create as many templates as you like. There are no limitations!
Step six: Take it a step further with Advanced Features
If you want to take full advantage of the plugin, you can use these advanced features to maximize your results.
Floating Badges & Popups
Another option is to create a floating badge with a pop-up. Pop-ups are equally customizable, and will appear as such against your site as the background: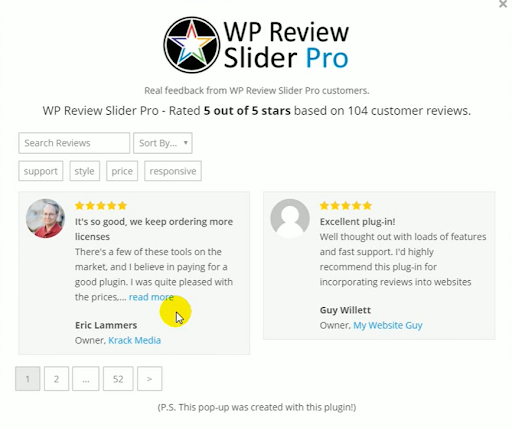 To get started, just click "Badges" in the plugin:

From here you can create new badge templates or import existing designs. You can customize your own badge using built-in tools.
Auto-updates
Another great feature is the auto-update for automatically displaying the most recent reviews. Of course, you can still adjust the settings so that not every new review is displayed prominently on your site!
Embedding Google Reviews – Best Practices
You can't have a complete online funnel without social proof. Embedding Google reviews into your WordPress site fills that role. But it also offers immense SEO benefits, making it a powerful tool that you can't afford to go without.
There are two best practices to optimize your Google reviews:
Ask your customers for feedback after each order. This helps you understand how customers really feel about your business. Some customers will leave great feedback that will help you improve your business over time. It also gives you ideas for updates, new products, and more. This is another way that Google reviews can lead to more sales.
Ensure that customers understand that their feedback matters to you. After all, they need to feel that it's worth it to take a minute to leave feedback in the first place.
If you use social media and other reviews properly, they should become an integral part of your business. Customer reviews help you get more leads, more traffic, and more sales. Then, they also help you improve your business for even greater effect.
For these reasons, you should use the WP Review Slider Pro WordPress plugin. It takes Yelp reviews, so it's good for restaurants too! To build trust in your eCommerce store, it takes WooCommerce reviews but can take reviews from over 90 platforms in total.
With all of these features and the plugin's overall ease of use, it's no wonder it has over 200 5-star ratings!
The plugin also comes with excellent customer support, so any questions or concerns you run into are handled professionally by the developer himself!
"One of the most useful and comprehensive WordPress plugins I have purchased I was looking through so many plugins to get this functionality but they didn't have everything I needed. This plugin has an end to end solution for capturing reviews at an incredible value. Couldn't be happier with my purchase"

-Jason B.