Integrating Facebook plugins with your WordPress site is a surefire way to boost overall user experience and site functionality. Facebook plugins allow you to connect your website to your Facebook page, allowing for more synergy between the two.
You have so many capabilities here; plugins can display your Facebook feed on your website, allow people to comment directly via their Facebook accounts, accept Facebook reviews, provide social call-to-actions – the list goes on.
If you want your blog to grow and bring in a wider audience, you must leverage the power of social media platforms like Facebook, and take advantage of their user bases to drive traffic back to your site. There are hundreds of widgets and Facebook plugins to look at, but some are much more valuable than others.
In this article, we've curated a list of the top nine WordPress Facebook plugins to supercharge your blog growth.
Let's get started!
Why integrating Facebook with WordPress is essential
Integrating Facebook with a WordPress website makes a whole load of sense. Some of the main benefits you'll see are:
Increased user engagement
Facebook integration can allow users to make comments on your website using their Facebook accounts. They don't have to create a new account to do so, which in turn can up user engagement on your posts. Likewise, some widgets allow users to share your posts to their Facebook feeds at the click of a button.

Showcase social proof
A great way to configure your site with social proof is by embedding Facebook reviews on it. People can leave reviews on your Facebook page, and they'll immediately show up on your website. This is a great way of demonstrating to users that you're trustworthy and credible: a 2019 study by Trustpilot showed that an average of sixty-six percent of customers said the presence of social proof increased their likelihood to purchase a product.
Improved audience reach and growth
As mentioned above, social sharing widgets can get your site on Facebook for millions of people to see. This expands your reach and lets you draw in new audiences. Driving more clicks to your website is crucial for SEO, as it shows you're a source worth visiting. In turn, this can boost your rank in search engines as well, further expanding your reach.
A seamless user experience
Improve the user experience for all visitors by allowing them to log in via socials and get sharing links at the click of a button. This also improves your experience too! You can log in with a Facebook account to keep everything in one place while also using WordPress plugins to auto-publish posts or take posts from your Facebook feed and display them on your site.
Save time as a website owner
Ultimately, all of the best Facebook plugins for WordPress will help you save time. You can schedule posts and get them sent to Facebook whenever you like. Some will even provide analytics to help you learn more about each post through Facebook Pixel and your unique tracking code. This allows you to spend less time doing things manually and more time focusing on the site itself.
Top 9 Facebook plugins for WordPress blog growth
This is what you're here for, so let's get stuck in.
#1 WP Review Slider Pro: best for showcasing Facebook reviews
WP Review Slider Pro is a fantastic plugin that lets you pull Facebook reviews and place them on your website. All you have to do is connect your Facebook account, and it will automatically grab the reviews for you. With a variety of templates to choose from, you can display the reviews however you like. They can be static badges on the page or appear as dynamic floating reviews that constantly change to display as many ratings as possible.
It's an incredibly easy-to-use plugin that drives blog growth by displaying social proof for all to see. You can even create review filters so only the best ones are shown. It instantly builds trust with users and demonstrates that you're excellent at what you do.
WP Review Slider Pro is compatible with all WordPress themes and setups, and prices start from just $29 per year for a single site license.
#2 Facebook Feed Pro: best for displaying Facebook feeds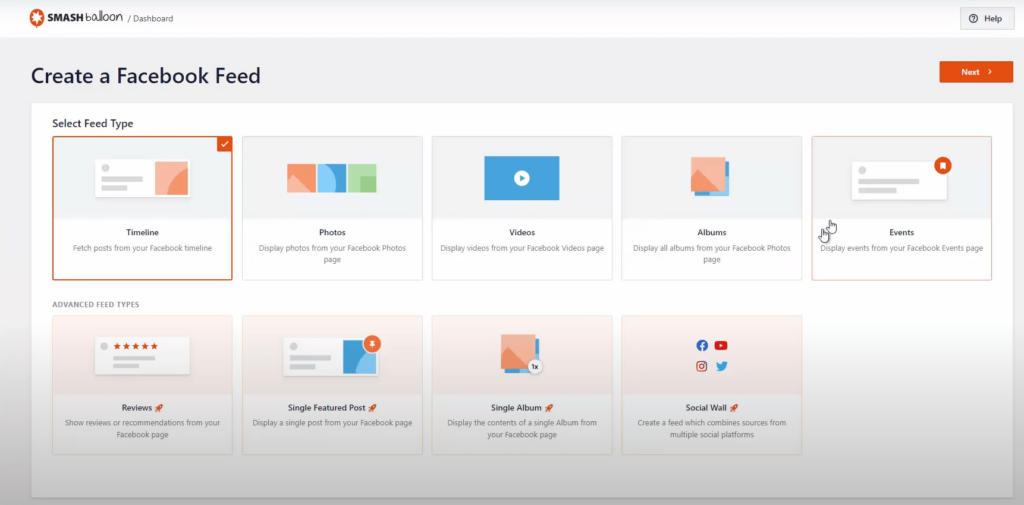 Facebook Feed Pro is a helpful plugin developed by Smash Balloon. It lets you generate easy, customizable Facebook feeds for WordPress sites. Link your accounts, and you can auto-publish Facebook posts on your blog. Everything that's written or published on your Facebook timeline will appear on your website!
It's ideal if you don't have time to write a blog and want some fresh content for your site. This can also drive more growth by bringing Facebook followers to your blog – and vice versa! You also benefit from dynamic SEO-rich Facebook content being implemented on your WP site, which can contribute to a big search ranking boost.
The plugin is trusted by over 1.7 million users worldwide and prices start from $49/year for 1 website.
#3 Facebook Chat Plugin: best for integrating the Facebook chat function
Incorporating a Facebook Chat feature on your WP site dramatically improves the user experience. If you're selling things, this is a key way to offer excellent customer service, and thanks to Facebook Chat Plugin, this is easy to do. It implements a widget on your pages that people can click on and immediately start chatting via Facebook.
The beauty of this is that you can carry on the conversation even after someone leaves. It's a powerful tool to recapture leads and build trust through a familiar interface. Even if people don't have a Facebook account, this widget lets them converse via a Guest Mode feature. If you want to build trust with visitors and improve conversions, this is a great plugin to consider.
It requires WordPress Version 3.9 or higher to work, but it is completely free to download and install.
#4 WP Like Button: best for integrating a Facebook 'Like' feature
WP Like Button lets you implement the Facebook Like Button on your WordPress site. This is a genius way of improving Facebook engagement and growing your follower count. You can choose between four different button layouts and configure where you place them. As a bonus, you can add a share button to encourage users to share your posts with their friends via Facebook, driving more traffic to your site.
This is another plugin that's brilliant at showcasing social proof. Instead of reviews, you're showing Facebook Likes. People can see that you've amassed lots of likes, giving the impression that you must be legitimate. Sometimes, this is all it takes to push someone into taking action and boost your conversions.
You'll be happy to know that the free version of this plugin is the only version. You get all of the benefits above, without paying a penny.
#5 Shared Counts: best for Facebook sharing and tracking shares
Shared Counts is a simple WordPress plugin that can add a lot of value to your website. You can implement a highly customizable Facebook sharing button on every page of your site. Simply select where to place it, and make it as visible as possible.
This plugin is fantastic at encouraging people to share your content with one click. More than that, it displays how many shares a post has for all to see. This makes it easy for users to spot high-value content on your site, driving up more and more views!
One underrated feature of this plugin is that it uses lean coding. This doesn't bloat your site or impact the loading speeds, so your SEO won't take a hit. It's a completely free plugin that works across all WordPress themes and versions.
#6 Social Sharing: best for creating custom CTAs for Facebook sharing
The Social Sharing plugin by Social Warfare is the best for creating customizable CTAs that encourage Facebook sharing. It enables you to use shortcodes to manually place share buttons anywhere on a page, meaning they stand out as much as possible.
However, the key feature is how you can customize these buttons: you can make them bigger and more attractive, while adding text that draws users in. The aim is to get people to click and share your posts on Facebook, which boosts engagement and web traffic.
As we mentioned previously, the more shares a site gets, the more authority it has. Google (and other search engines) see this and bump the site up the rankings. You don't just get social media traffic; you can also see an influx in web traffic thanks to an improved online presence.
Social Sharing by Social Warfare is available from $29/year for a single site license.
#7 Import Social Events: best for importing Facebook events to your WordPress site

If you want to import Facebook Events to your WordPress site, this is the plugin to download. Import Social Events extracts event listings on Facebook and places them on your website for you. It's the ultimate way to supercharge event marketing by making more people aware of your upcoming events.
In turn, this can also help you get more Facebook engagement by pushing people from your blog to your Facebook page, where they can sign up for the events. You can configure the event listings in a variety of ways to make them attractive and easy to see. It works seamlessly with both Gutenberg Block and Visual Composer page builders.
There is a free version you can download and try, and the full license is available from $49/year.
#8 Jetpack Social: best for scheduling posts in advance
Jetpack Social is a hugely popular plugin with a mobile app that lets you schedule posts in advance. All you need to do is create WordPress content, then use Jetpack to schedule post sharing on Facebook. The moment your posts are live on your website, they appear on your connected Facebook feed.
It saves so much time as you don't have to worry about publishing content and then sharing it. This means you reach your entire audience rather than just the people visiting your site – or those signed up for notifications. As a result, every post could generate more views, which helps your website grow exponentially over time.
Jetpack Social is available for free, but it only gives you up to 30 shares. For more features, there are two additional options:
Social Basic – $7.95/month
Social Advanced – $12.95/month
#9 Nelio Content: best for social analytics
Nelio Content comes with a range of features from post-scheduling to social media marketing and promotion. However, it's on our list as it's the best WordPress Facebook plugin for analytics.
When you publish content, Nelio shows you so much data about it. This includes the views generated via different social media platforms – including Facebook. It also shows Facebook engagement and integrates with Google Analytics to let you know if users are finding you via Facebook or elsewhere.
It's an excellent tool to help you find your best-performing content and rank your pages. Spot patterns and see what types of blogs do the best, so you can incorporate similar content in the future. You can also use the plugin to test content and figure out how to generate more views and engagement. Overall, it's a tool every WP website owner should implement.
As far as pricing goes, you can get started from $9/month for a single site.
Boost your blog growth with the right Facebook plugin today
Choosing the right Facebook plugin for WordPress will help you generate more views, drive traffic to your site, boost engagement, and build more trust with your audience. Your blog will start to grow as you see more people interacting with your posts, more social shares, and so on.
Explore the top 9 Facebook plugins for WordPress listed above to see which ones you value the most. We strongly recommend integrating WP Review Slider Pro if you want the best Facebook review integration experience. This is the ultimate way to show Facebook reviews on your website, turbocharging social proof, and establishing trust with users. It lets them know that you're good at what you do, which is essential for businesses trying to close a sale. You'll see an increase in conversions, translating to a boost in revenue.
Improve your WordPress website today by downloading WP Review Slider Pro to implement all of your five-star Facebook reviews!