Are you in the hospitality business? And do you want to create your own Airbnb-style booking site?
Airbnb is one of the most popular vacation rental websites and a simple way for homeowners to earn a little extra income. However, it can be a little challenging to make your property stand out, as each location will likely have hundreds of competing listings.
If you want to find the perfect guest for your vacation property, you should consider creating your own Airbnb-like booking site (which you can, of course, promote as part of a larger strategy that includes some of the bigger platforms, too). An easy way to do this is by using the popular CMS platform WordPress and a few specialized themes and plugins. 
In this article, we will tell you everything you need to know about creating your own Airbnb booking site, optimizing its user experience, and customizing the entire site so you can easily rent your property without depending on an external platform like Booking.com or Airbnb.
What Are the Benefits of Having a WordPress Airbnb Booking Site?
Airbnb has many advantages, but it's not the perfect solution for all situations. If you want to have more control over the way your vacation home is promoted, or you own a hotel, hostel, or resort, you might want to consider setting up your own booking website. This is where running an "Airbnb WordPress site" can come in handy.

There are several benefits to having your own portal to promote your property. For one, a custom site can help you market your places better and convert visitors into customers more efficiently. But there's more! A WordPress booking site can:
Aid you in managing your bookings more easily.
Allow you to provide more personalized customer support.
Make you stand out from other properties because you have complete control over how your property is presented online.
Accept payments directly and without having to pay for platform fees (especially if you accept WooCommerce bookings, which have integrated payment gateways).
Allow you to customize every step of the user journey according to your needs and the unique characteristics of your property, include Google maps, choose the specificities of your reservation system, create custom fields, use geolocation, and much more.
There are many other situations where you might also want to have your own platform to manage your properties, too. For example, if you're an Airbnb host who wants to handle bookings on your own website instead of through Airbnb itself, or if you're a property owner who wants to list your properties on Airbnb but also have your own independent website as well. Having an independent platform can also help real estate agents who post properties on Airbnb but also want to have a dedicated listing website.
Let's look at an example so you can see how having your own Airbnb-like site can help your business. Malaga Feeling is a website offering elegantly furnished apartments in Malaga, Spain. The site is built on WordPress and uses WP Review Slider Pro to offer seven unique places you can rent through Airbnb or directly through the site. The main reason it's such a great idea for Malaga Feeling to have its own portal? The owners are able to include a multitude of additional content, such as recommendations for things to do in the city, restaurants, and places to see! When someone searches for a property in Malaga, they can come across this site (and if they're looking for something this site mentions specifically, they will do so before they even see Airbnb listings). On top of this, Malaga Feeling also uses its own branding throughout the site (which is based on traditional local tiles and something they wouldn't be able to feature in the other booking platforms).
The Best WordPress Plugins and Themes To Help You Build an Airbnb-Like Website
You can create your own booking website using a variety of tools, but we recommend the CMS (Content Management System) WordPress. This platform is easy to use, comes with a lot of documentation, and the most important thing is: you can achieve practically any functionality you can think of using plugins and themes! A WordPress site can be the perfect choice for creating and running your own rental and booking website. So, let's take a look at some of the plugins and themes that can help you achieve the perfect Airbnb-like experience all on your own, and go through their main features, advantages, and disadvantages.
The Best Airbnb-Like WordPress Plugins
Our top four plugins for making your own booking site are WP Review Slider Pro, Booking Calendar, Hotel Booking Lite, and Widgets for Airbnb Reviews. With them, you should get all the essential features you need to get started!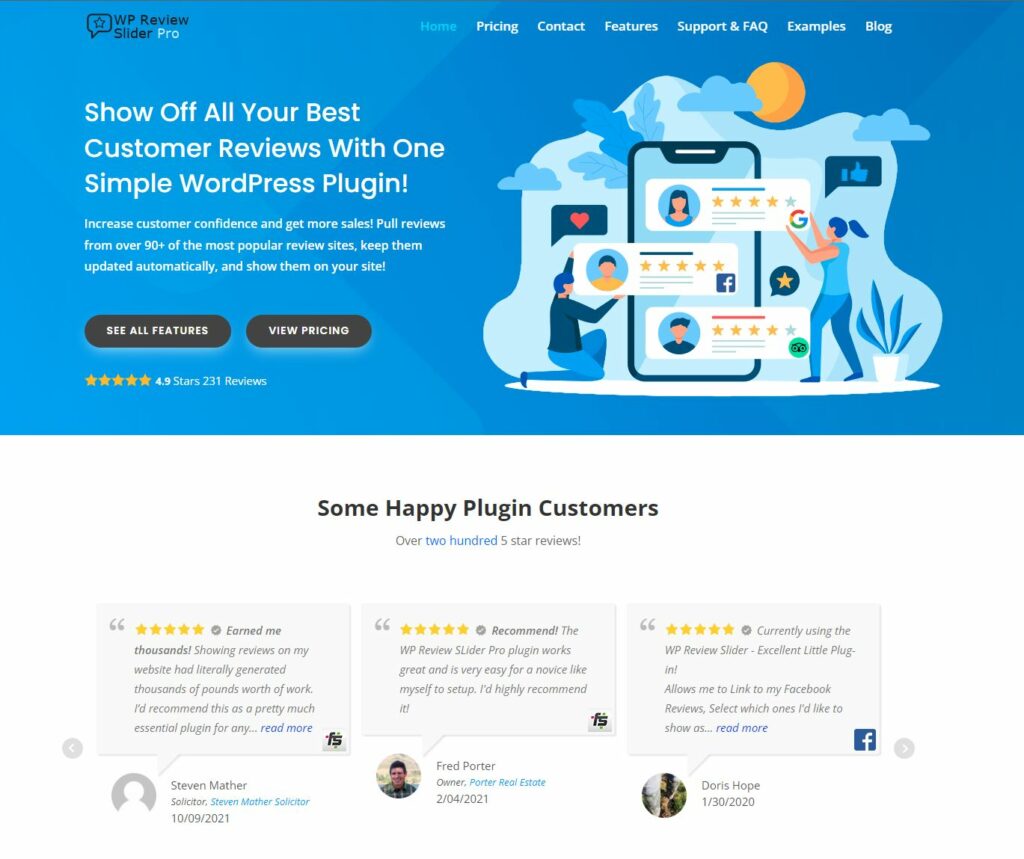 If you want to attract more people to your property, one of the best things you can do is show potential customers what other people who have stayed in your place think it was such a great idea to do so. This powerful plugin can help you display social proof from over 90+ platforms in an attractive and conversion-optimized format.
This is what people who have used the plugin love the most about WP Review Slider Pro for WordPress:
You can showcase social proof of your property using reviews from the most popular platforms, including Airbnb and many others.
It's really easy to customize the way you want to display your testimonials. The tool includes several attractive templates and supports sliders, grids, floats, and your own CSS.
You can automatically keep all reviews updated and identify trends and common complaints with advanced analytics.
You can create your own forms to ask your customers to leave reviews on-site.
If you have any questions about how to use the plugin, there are tutorials and a responsive support team to help you achieve exactly what you want.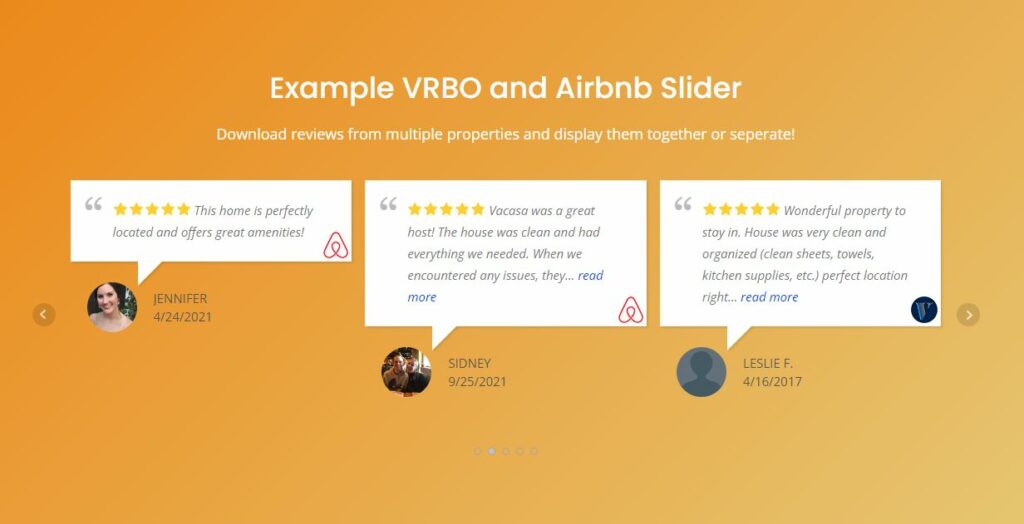 Setting up WP Review Slider Pro is also very easy. All you need to do is go to your WordPress plugins area and search for the name. Then, search for reviews through all the popular sites and choose which ones you want to display, how, and where. That's it!
Airbnb has a dedicated area to show what people think about a specific property and/or host. With WP Review Slider Pro, you can embed reviews from multiple platforms on your homepage or even create a dedicated page to showcase reviews from AirBnb, TripAdvisor, Google, etc. You can also get personalized testimonials using custom forms, and filter what you want to display based on minimum rating conditions, keywords, and more.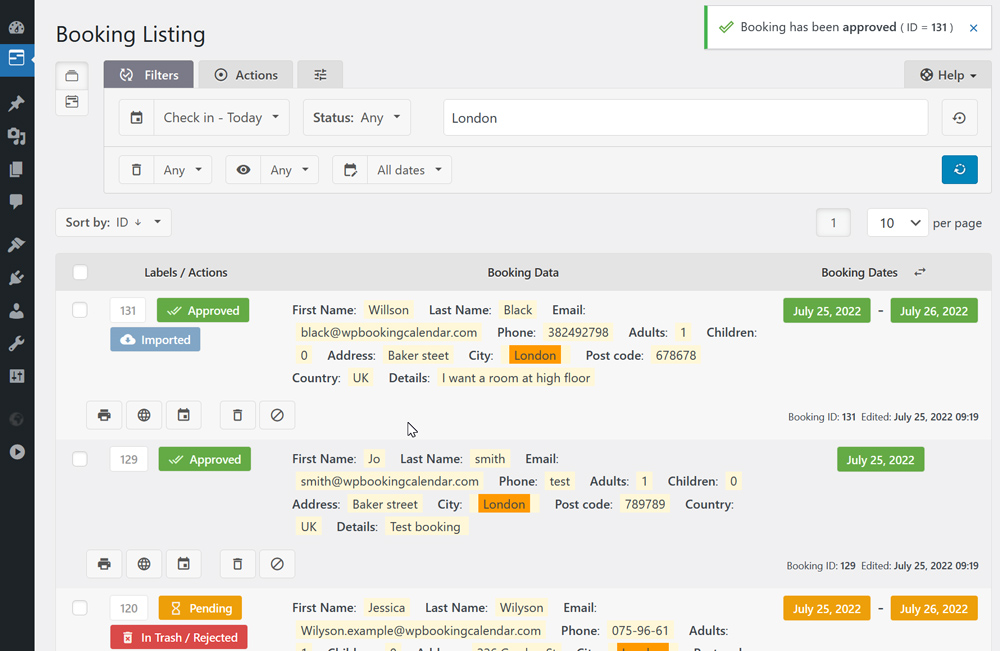 The Booking Calendar plugin gives you the option to add a booking system to your WordPress website. With it, you can:
Allow visitors to check the availability of a property and make reservations for specific day(s) or time slots.
Support payments for bookings directly and online through multiple platforms like Stripe and PayPal..
Give you the ability to approve or decline reservations.
Booking Calendar is beneficial for someone managing multiple homeaway rental properties, even if they are not their primary source of income. This booking plugin is also very easy to use and has an efficient support team to help you get the best out of its functionality.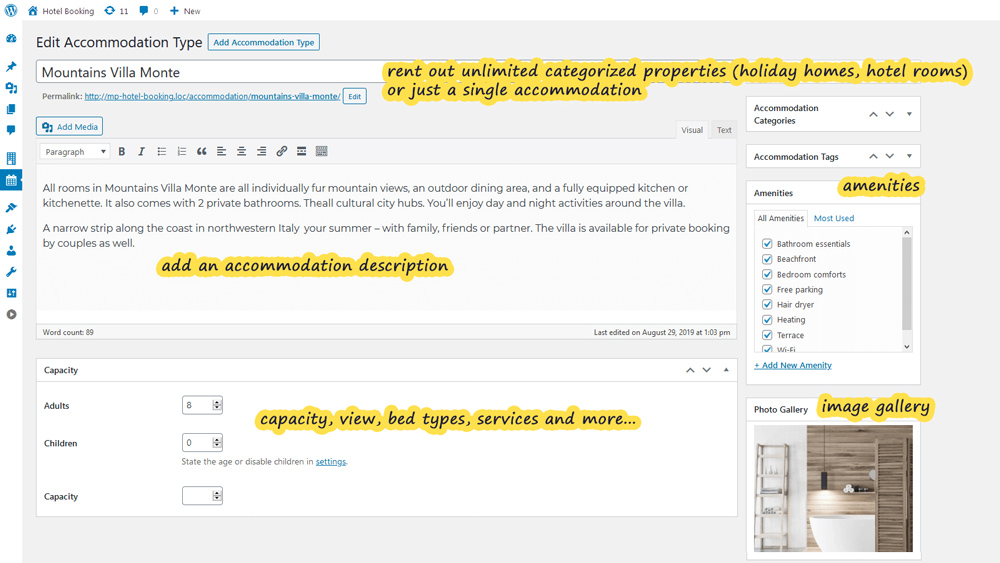 Hotel Booking Lite is a new plugin that is super easy to use and comes with several excellent features for creating simple vacation listings. For instance, it can allow you to:
Include a real-time search availability form and smart search algorithm to help guests find the best stay for their needs.
Support multiple accommodations bookings.
Integrate with WooCommerce to receive payments.
Use the plugin's own REST API to ensure secure code.
One thing to keep in mind when using this hotel booking plugin is its steep learning curve. You will need some time to get familiar with its complex functionality. Support has also been mentioned to be inconsistent.
This plugin is another popular one among people who want to create their own websites to showcase their rental properties. One important consideration is that, unlike WP Review Slider Pro, this tool will only allow you to showcase reviews from Airbnb and not other sites. With this in mind, you can also:
Display up to 10 Airbnb reviews.
Choose from over 40 widget layouts and 25 pre-designed styles.
Filter reviews and use shortcodes to include them in pages of your choice.
As we mentioned, this lightweight plugin will be helpful if you only want to display reviews from a single source, Airbnb. The free version also works with both the Gutenberg editor and Elementor.
The Best Airbnb-Like WordPress Themes
A good theme can go a long way to make your site stand out. Here are our three favorite picks to make your website unique: Listify, Homey, and Travel Booking.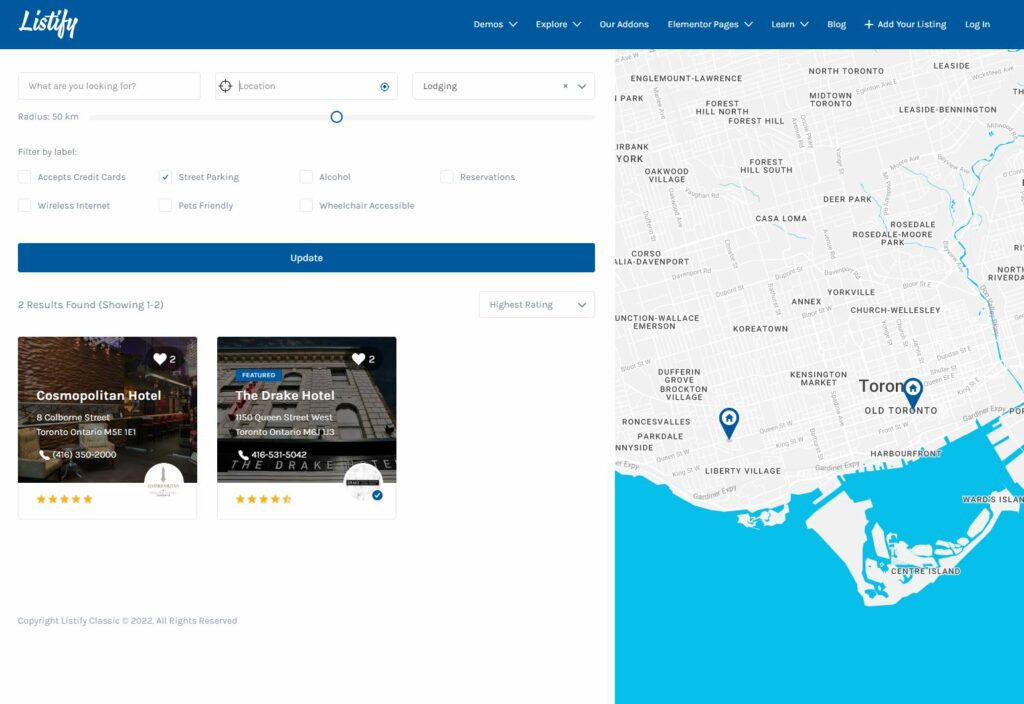 Listify is a perfect theme if you have many properties you want to include in your rental home website. This is primarily a listing theme that comes with several excellent integrations. For example, you can work with different regions, use labels, and produce statistics using Astoundify or plan your listings with Appointify.
The theme has a drag-and-drop feature so you can customize your pages without having to write any code. Just pick the components you like, and create your listings!
Homey is a WordPress theme that allows you receive easy reservations without users having to register or log in. Adding new listings is really straightforward, too, as you can do this from WP Admin itself. You can also allow bookings nightly, daily, weekly, or monthly, or use a subscription-based model to avoid having to pay costly host commissions to sites like Airbnb.
Homey offers advanced search and booking management. The plugin also supports WooCommerce payments and advanced search and provides an excellent user experience while offering rich theme documentation
Travel Booking is a free theme for WordPress and a great option if you're looking to rent properties in tourist locations or you have a travel operator company. The theme allows you to add trips, destinations, and experiences and enable visitors to make bookings for them.
The theme has a modern design that is speed-optimized, fully responsive, and SEO-friendly. Apart from using it for property listings, you can also feature blogs, car booking, and many other advanced features.
Power your Airbnb Booking site with WP Review Slider Pro today
Having your own Airbnb-like site can help you gain complete control over how your property is promoted and rented out. If you know where to advertise, it can also get you more bookings, especially if you combine it with other platforms that have their own loyal customer bases.
If you want to create a genuinely engaging and functional site, you need to pick a solid platform and install the best tools. We recommend a combination of the CMS WordPress and a series of specialized plugins and themes to give your customers a good frontend experience..
WP Review Slider Pro, in particular, is a must-have for any Airbnb-style website because:
You can showcase all your positive reviews and testimonials using badges, stars, ratings, and detailed positive statements from your guests (just like Malaga Feeling does, as this site uses the plugin extensively).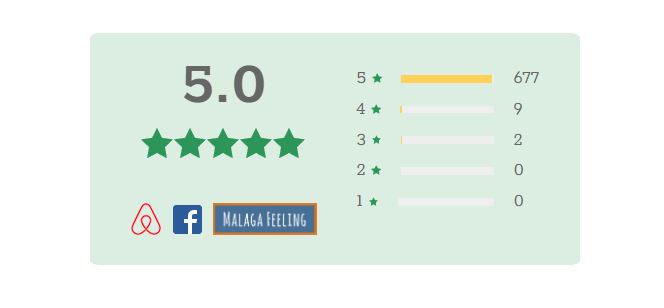 There's no coding required to use this plugin. In fact, you can easily set up beautiful review sliders without ever needing to worry about any kind of code.
You can choose from eleven attractive templates or design your own from scratch, so it matches your site's branding. There are several options you can customize, such as text colors, borders, fonts, alignment, position, style, animations, and more.
WP Review Slider Pro has a built-in review management system that can pull reviews from 90+ sites automatically and keep them updated. You can also create forms to ask your customers for more personalized reviews.
Not sure yet? These are some of the things people are saying about WP Review Slider Pro:
"The WP Review Slider Pro plugin works great and is very easy for a novice like myself to set up. I'd highly recommend it! "
Fred Porter – Owner, Porter Real Estate
"WP Review Slider Pro synced seamlessly with Zillow! Great plugin!"
Kandi Thompson – Owner, Divine Properties