You've probably seen those great customer reviews on Expedia for hotels and other businesses, but how can you add them to your own website?
Now, more than ever, customers are looking for social proof to gauge the trustworthiness of travel-related businesses like motels, hotels, car rental companies, and adventure tourism. In fact, 50% of high-value travelers admit to considering online reviews before making a hotel booking.
It's never been easier to show up-to-date reviews directly on your website. Using a WordPress Expedia plugin like WP Review Slider Pro, you can embed Expedia reviews quickly and easily. Let's understand why reviews are so good to use and how you can get set up in minutes.
How to embed Expedia reviews on your WordPress site with WP Review Slider Pro
Before we look at the steps to embed Expedia reviews on a WordPress site, let's first establish why you should embed reviews on your website.
Why should I embed Expedia reviews on my website?
Expedia is one of the most popular travel websites with over 400 million reviews from real customers, home to over three million properties in 70+ countries.
Expedia is one way of generating leads, but many people will also find you directly through your website. Your website is the most important part of your marketing, and it's where you can showcase your services, philosophy, and customer reviews.
Embedding Expedia reviews on your website displays up-to-date feedback, builds trust, and enhances SEO. It is especially beneficial for travel agencies or booking sites to establish credibility with potential customers.
Google loves fresh content, and customer reviews are a great way to add this. Additionally, customers value reading about other people's product or service experiences, so hosting reviews will increase the click-through rate (CTR).
So, how can you embed reviews on your WordPress site? Does it require coding, or can you use a plugin?
Do I need a WordPress Expedia plugin to display reviews?
In short, no, you don't need a plugin. However, we would highly recommend using one.
If you're uncomfortable with code or want an easy and reliable way to manage your reviews, then a plugin is the way to go. This reduces the chance of causing bugs or breaking your website. We recommend WP Review Slider Pro because it's easy to use and has all the features you'll need for displaying reviews from multiple sources, including Booking.com and Tripadvisor.
Notable features using a WordPress Expedia plugin to display reviews include:
Choose which reviews to display
Display multiple reviews at once in a slider or grid layout
Filter reviews by rating, date, or review source
Moderate reviews before they're displayed on your site
and much more
With this plugin, you can also easily add review schema markup to your website's code. This will help search engines recognize your customer reviews and display them in search results as star ratings, making your website more attractive to potential customers.

Now that we've established why you should embed reviews on your website let's look at how to do it using WP Review Slider Pro.
This is an uncomplicated plugin with all the features you will need when embedding reviews into your site. It has also been designed to make the interface easy to use. Other plugins tend to have a steeper learning curve.
Here is a step-by-step guide on how to get yourself up and running:
Step 1: Download WP Review Slider Pro 
You'll need to first get a license key from WP Review Slider Pro. You'll be given the download link to the Pro plugin, which will be used for installation.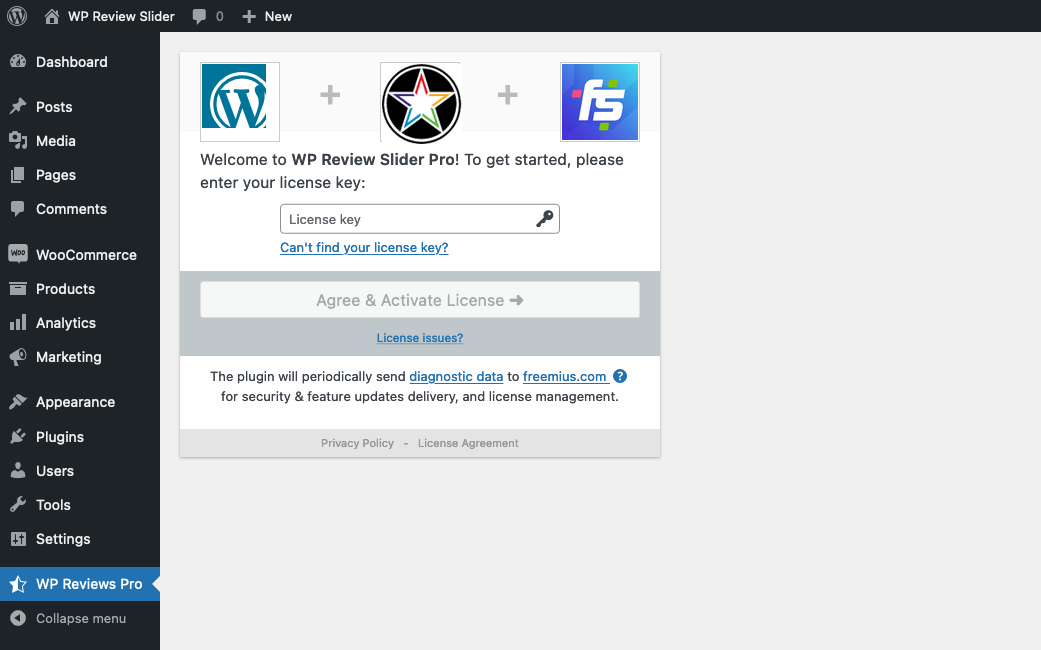 Step 2: Install the plugin
Next, you will need to install and activate the plugin. You can do this from the WordPress plugin option on your site's admin page.
Go to https://yoursite.com/wp-admin and log in.
Go to plugins on the left sidebar and click "Add New," then "Upload Plugin."
Click "Choose file" and select the recently downloaded .zip file, then press "Install Now.
Once installed, you should have access to the WordPress Review Slider Pro plugin.
You should see on the left side of your dashboard "WP Reviews Pro." This is where you control and configure the plugin.
Step 3: Link your Expedia account with WP Review Slider Pro
There is no API key used to link your Expedia account for reviews. Instead, the plugin finds the publicly viewable reviews page on the Expedia site.
Go to Expedia and find your listing.
Find the reviews tab and click it
Click "See all reviews."
Now, copy the URL and go to the Review Funnels tab of the plugin. Fill in each of the options, selecting Expedia as the site, and paste the URL in the "Review source URL" field, e.g., https://www.expedia.com/Auckland-Hotels-Hilton-Auckland.h579309.Hotel-Information?pwaDialog=reviews-property-reviews-1
You will now see a new entry for your site.
Importing reviews from your Expedia page
Now that you have the site in the review funnel, let's get the reviews.
Click Get Reviews
Request New Scrape
You'll now see a job to scrape the Expedia site for review.
You can set this to happen daily, weekly, or monthly. Otherwise, do this whenever you need to refresh what reviews are on your site. How often should depend on the frequency of reviews added to Expedia.
View and customize a review
Once your reviews are discovered, they're loaded directly into the WordPress plugin. From here, you can view, remove, or edit the reviews.
To edit the contents, name, rating, etc., click on the pencil icon next to the review. You'll see a load of fields you can change to customize the review.
Templates for displaying reviews
There are 11 great templates to start with, but you can also create your own custom template. This is done using hundreds of customizable properties, from star symbols, to text sizing, colors, and layout.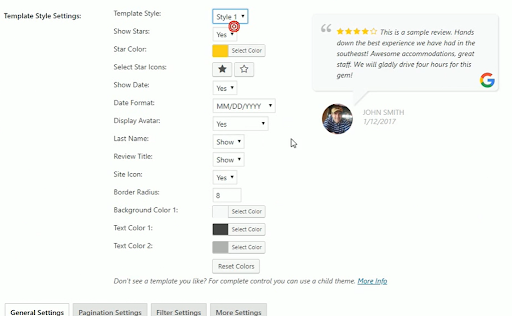 You can even change how customers see your reviews on a page. Select a grid layout for multiple reviews to be displayed at once, or select the slider which appears over a page after a slight delay – ideal for your checkout page to add social proof when a purchase is being made.
Once you've created a template, you'll have a new row in the list. You can have multiple templates so you can display reviews in many different ways.
Making Reviews visible on your site
Once you have reviews and templates, it's time to put them on your website.
Go back to the templates page and locate the one you want to use for displaying a review.
Click the "Shortcode" button on the review, and a "How to display" popup will appear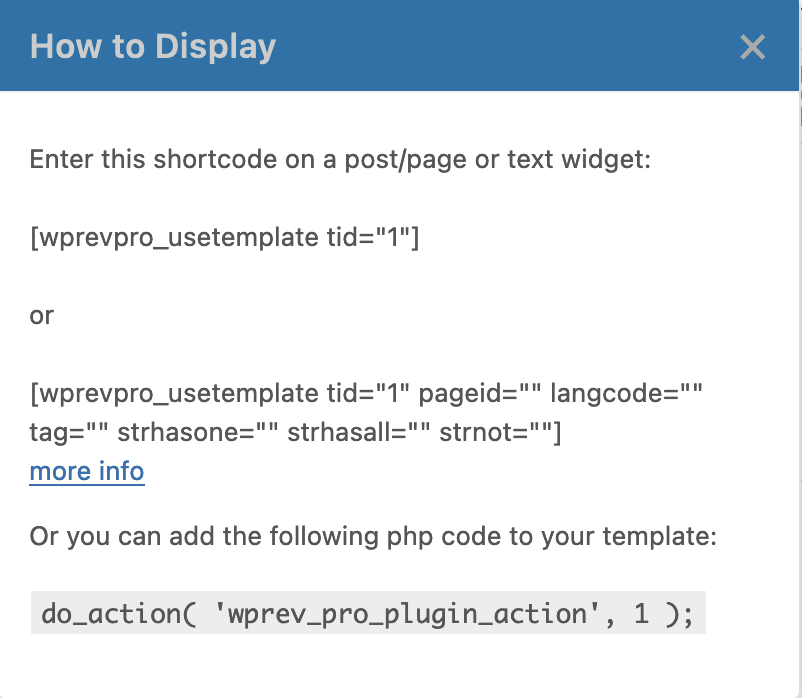 Copy the shortcode.
Go to the page you want to display the reviews in edit mode and add a shortcode block.
Paste the shortcode into the block and click "save."
You'll now see the reviews displayed directly on the website, like in the example below.
Why WP Review Slider Pro is your #1 Expedia reviews plugin
Here are some of the reasons why this Expedia reviews plugin is the best on the market:
With this plugin, reviews are mobile responsive for over 60% of web traffic from mobile devices.
It gives you full control over the review appearance with 11 included starting styles and custom template options.
This super lightweight plugin won't slow down your website, integrates seamlessly with WordPress, and is easy to use.
This plugin's analytics tab provides insights on review performance, average stars, word clouds for positive and negative reviews, and rating trends.
Other WordPress Expedia plugins may have a steeper learning curve in comparison.
Conclusion
If you're looking for a WordPress Expedia plugin, WP Review Slider Pro is the best option on the market. It's lightweight, mobile responsive, and gives you full control over how your reviews are displayed.
From this article, you should have everything you need to get started with the plugin and realize how easy it is to use.
If you have any questions, reach out to the support team, who are very responsive. Start embedding your Expedia reviews today with WP Review Slider Pro.