Tired of bashing your head against a wall waiting for those conversions to roll in? Maybe it's time to start displaying customer reviews on your WordPress website. According to a study by BrightLocal, 78% of consumers use the internet more than once a week to research local businesses. What's more, 88% of consumers trust online reviews as much as personal recommendations.
Reviews, while often underrated, are among the most crucial tools in your conversion kit. They provide valuable proof to consumers of the quality and consistency of your work; your customers feel informed and confident in what they're buying. Not only that, but your website rankings can greatly benefit from displaying customer reviews on your website.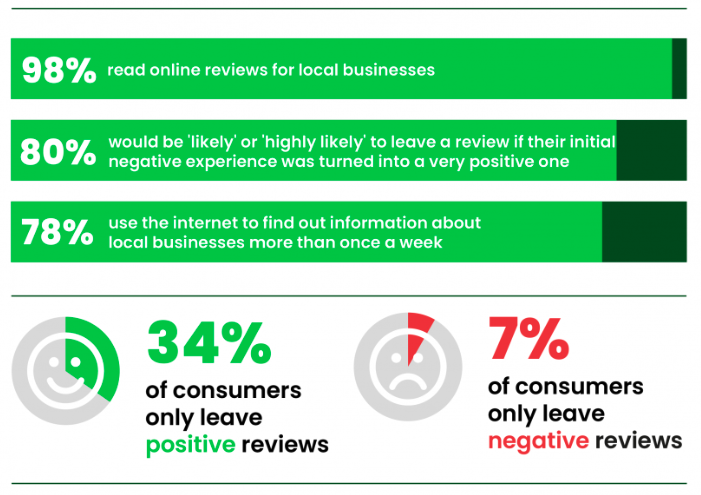 Here, we discuss exactly how to display customer reviews on WordPress websites. We cover the different plugins and methods you can use to make the most of this valuable asset. Let's dive right in!
Why should you display reviews on your website?
In the digital age, your consumer base has access to a wealth of information about your business right at their fingertips. Anything that appears under your company's name in a Google search will shape their opinion of you—whether you like it or not. And, as we've already mentioned, online reviews are heavily trusted by consumers.

But that's not all. Did you know that nearly 70% of online shoppers read between one and six reviews when deliberating over a purchase? In fact, fewer than a tenth of shoppers will buy something without first reading a review.
What this means is simple: without making positive customer reviews clearly visible on your website, you're letting a significant chunk of your potential customer base go free. Displaying reviews on WordPress is one of the simplest and most effective ways to show off the quality of your work and convert website visitors into paying customers.
Aside from the inherent social proof that reviews provide your customers, several more key reasons should convince you of the importance of displaying reviews on your website:
Customer feedback
Reviews are an excellent way to gain insight into the perspectives and attitudes of your customer base. Through reviews, you can glean important feedback about what your customers like and don't like about your product or service.
This valuable feedback can help you improve the quality of your offering, increasing customer satisfaction and loyalty in the process.
Free advertising
Advertising is an expensive endeavor so companies should make the most of every opportunity to get their name out there. Displaying customer reviews on your website is a great way to do this, and as mentioned earlier, the vast majority of consumers trust online reviews as much as personal recommendations.
Fill in the gaps
Interestingly, 34% of consumers say they would leave a review for a positive experience, while only 7% of customers will leave a review after a negative experience. What does this mean for you? Well, it means reviews are a great way to show off the positive aspects of your business (while paying attention to the 7% and making improvements, of course).
Improve your SEO
Google's search results page provides "rich snippets," the stars or ratings that appear next to a website link. These stars are calculated based on the average rating of a business's reviews on major review sites. The more stars a business has, the higher its ranking in Google search results.

Evidently, displaying customer reviews on your WordPress website is essential for gaining trust and credibility with potential customers, getting free advertising, filling in the gaps, and improving your SEO. So how can you start displaying those reviews?
How do you display reviews on your WordPress website?
Fortunately, displaying reviews on your WordPress website is a relatively simple process. You can follow two main methods:
1. Manually add reviews using code
For those who are web savvy, this is a straightforward option that involves pulling reviews directly from Google, Facebook, Yelp, and other websites. You can do this using embed code, and it gives you total control over which reviews are displayed on your website. However, prepare for a time-consuming process; it takes a while to manually pull and embed the code for each review.
2. Use a third-party plugin
Alternatively, a number of plugins are available that are specifically designed for pulling and displaying customer reviews. This method has a few key advantages:
Reviews are automatically refreshed and updated.
Vast customization options are available.
You don't need to have advanced coding experience.
A few options are available when it comes to finding a plugin, which we'll explore in greater depth below for your convenience.
What should you look for in a plugin for displaying customer reviews?
Since it's become fairly easy for anyone to create WordPress plugins, the quality and features of these plugins vary greatly. So, when looking for a plugin to help you display customer reviews on your website, be sure to keep the following in mind:
Customizability
Every company has different requirements and preferences when it comes to displaying reviews. Make sure the plugin you choose offers a high degree of customizability so that you can tweak the look and feel to match your branding and website design.
Versatility
The best plugins are able to pull reviews from multiple websites, not just one. This gives you a greater range of reviews to choose from and it makes your website more credible in the eyes of potential customers.
Integrations
Some plugins have a built-in analytics tool, but if not, it's crucial to make sure that the plugin integrates seamlessly with your current analytics software. You'll be able to use the data gleaned from reviews to improve your business in myriad ways.
Rating system functionality
In addition to displaying reviews on your website, why not provide an on-site rating system as well? This will allow customers to rate and review your products and services on the spot, which can be incredibly valuable feedback for you. Look for a plugin that offers this functionality.
Top 4 plugins for displaying customer reviews
Now that you're aware of the features to look for in a WordPress reviews plugin, let's take an in-depth look at some of the most popular and high-quality options on the market.
WP Customer Reviews
WP Customer Reviews is a plugin that lets you collect and display customer reviews on your WordPress website. It's lightweight, easy to use, and all reviews are moderated. With a little HTML and CSS knowledge, you can customize the page to your liking.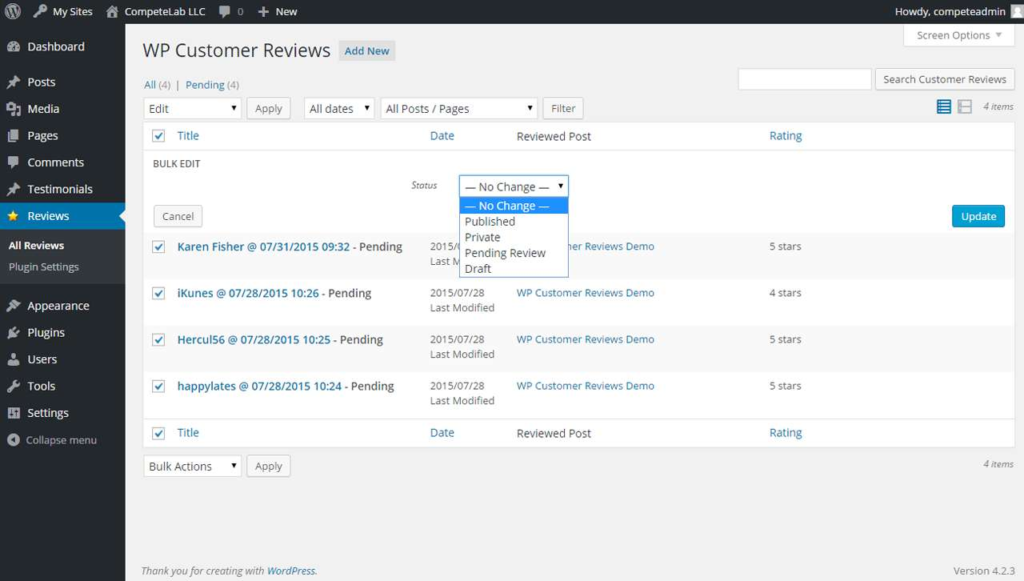 Pros
completely free
all-in-one solution for collecting, moderating, and publishing reviews on your WordPress site
lightweight and speed-optimized
Cons
rarely updated, so while it works well now, it may not in the future
HTML and CSS knowledge is required for customization beyond the basic form format
Pricing: Free
If you want to add Yelp, Facebook, and Google reviews to your WordPress site, this plugin will help you do just that. It automatically updates your reviews for added convenience and time-saving.

Pros
allows you to pull in reviews from three of the most popular review platforms, as well as add your own custom reviews
automatic update functionality
option to filter negative reviews
Cons
only basic customer support with the basic package
Pricing: From $49.50/per year for a basic (1-site) package
Site Reviews
The Site Reviews plugin offers users a simple and effective way to display reviews, with a straightforward design and plenty of options for customizing. Use shortcodes, widgets, and blocks to make it your own.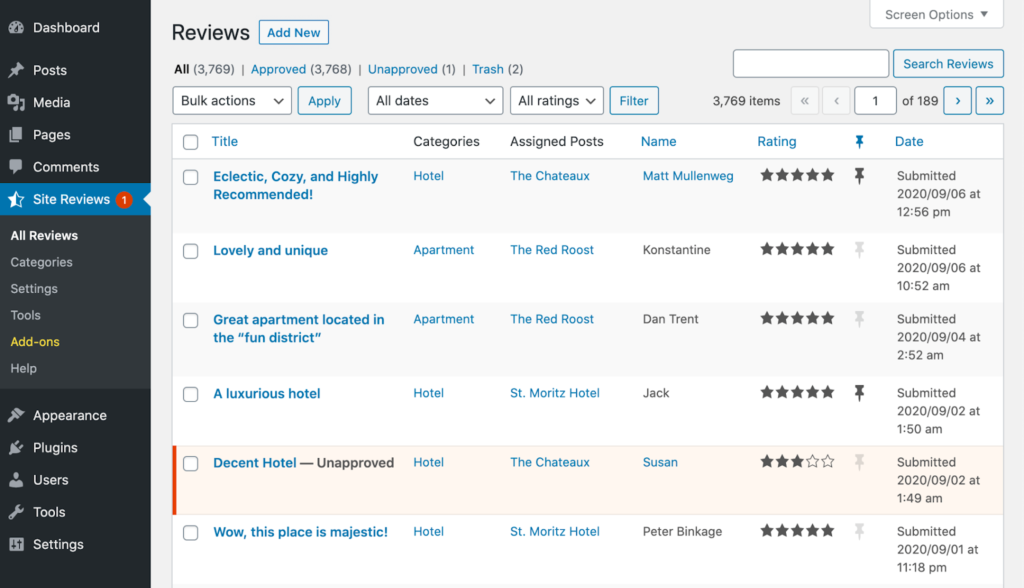 Pros
support for rich snippets
reviews are displayed wherever you want on your site
support for review moderation and the ability to pin best reviews for visibility
Cons
basic functionality compared to other plugins
Price: Fully functional free version available, pro version from $90USD
WP Review Slider Pro
We've saved the best for last! WP Review Slider Pro is a comprehensive end-to-end solution that pulls data from over 90 websites. It enables you to generate custom forms to gather reviews directly, fully customize the appearance of reviews on your site, and analyze customer feedback data using its in-built analytics functionality.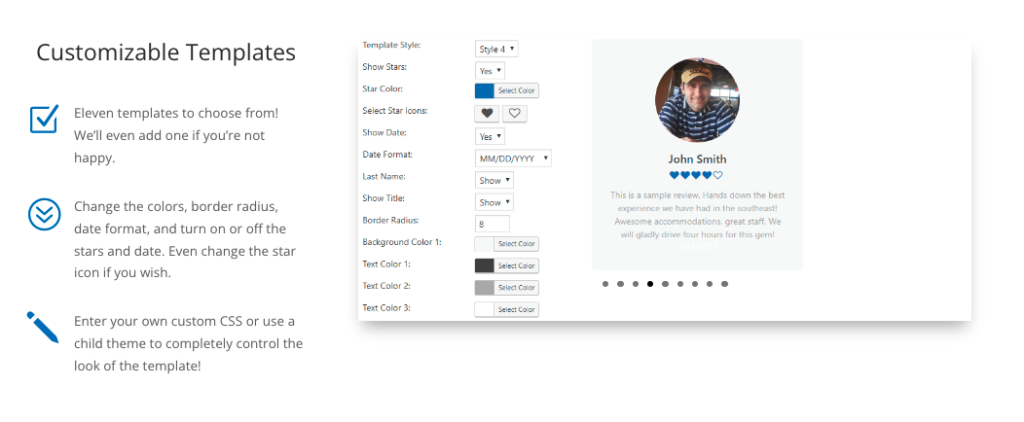 With features like this, it's easy to give consumers the social proof they need to trust your business. That's why we recommend it as the best plugin option on our list. Here are a few of the features that make it stand out from the rest:
Showcase up-to-date reviews from a wide range of platforms
Provide social proof of the quality of your products or services by pulling in customer reviews from 90+ of the most popular review sites, including Amazon, Facebook, Airbnb, IMDB, eBay, etc. Using WP Review Slider Pro's auto-update feature, you can ensure only the most recent and relevant reviews are shown.
Showcase reviews in attractive, customized formats, and display them anywhere on your website (including functionality to include reviews in a pop-up or slide-out format), either using WP Review Slider Pro's built-in templates or custom CSS. It works for beginners and coders alike!
WP Review Slider Pro enables you to analyze the data gathered from reviews over time (including in graph or chart formats) to identify trends in the feedback you receive from customers. This helps you adapt to customer needs and helps increase your conversion rate.
Build your own custom review forms to capture additional reviews directly from your website. This functionality comes with the option to add Google reCAPTCHA (to help prevent spam), as well as advanced form logic options to help curb negative reviews.
Priced at just $29 per year, you can't get much better than WP Review Slider Pro. Keep reading to find out how you can use this tool to your advantage.
How do you set up WP Review Slider Pro to show reviews on your WordPress website?
Ready to set up your website with customer reviews? Let's zoom in on how to use the WP Review Slider Pro features to show off your stellar ratings.
Pull data from different review sites
As mentioned, one of this plugin's greatest appeals is its ability to aggregate review data from various sources. By simply clarifying which sites you want scraped—whether that be Facebook, Google, or another source—you can set up the plugin to automatically pull in ratings and reviews.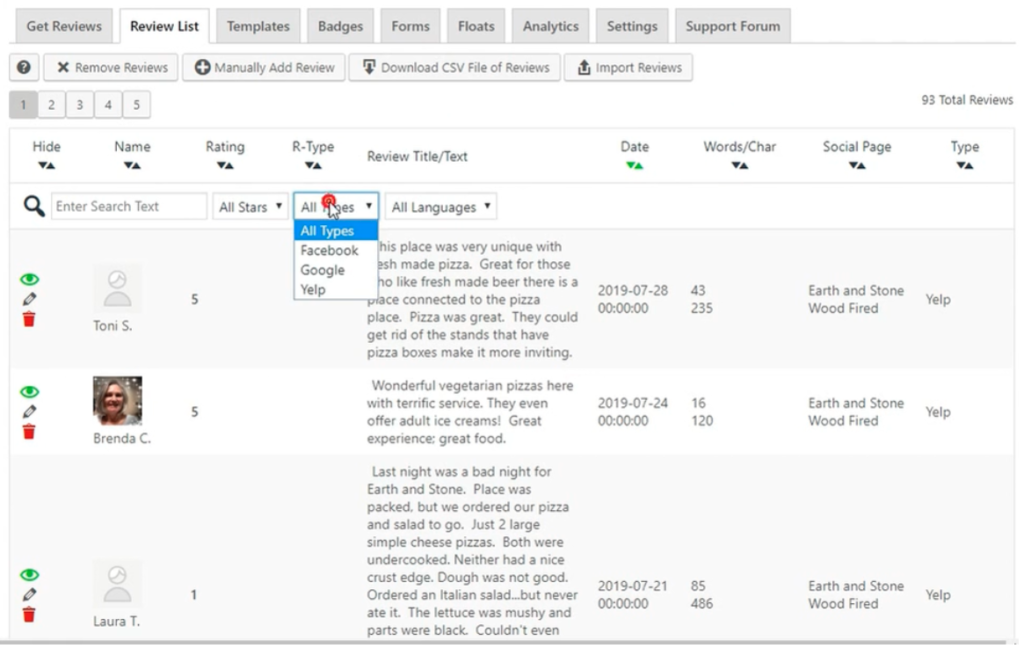 Alternatively, you may choose to manually pull the reviews. This means you can have a mix of automatically uploaded reviews and hand-picked customer testimonials. It's a great way to show that your product or service has been validated by real people.
Better yet, set up filters for your plugin so that it knows which reviews to get approval on before they're displayed on your website. Your customers only see the best side of your business!
Use built-in templates or custom CSS
This plugin is one of the easiest for matching your company's style and layout preferences. For a simple set-up, you can use one of the provided templates; plenty of structures are available to choose from, and you can emphasize certain elements. For example, you can display star ratings only, or customer names and photos.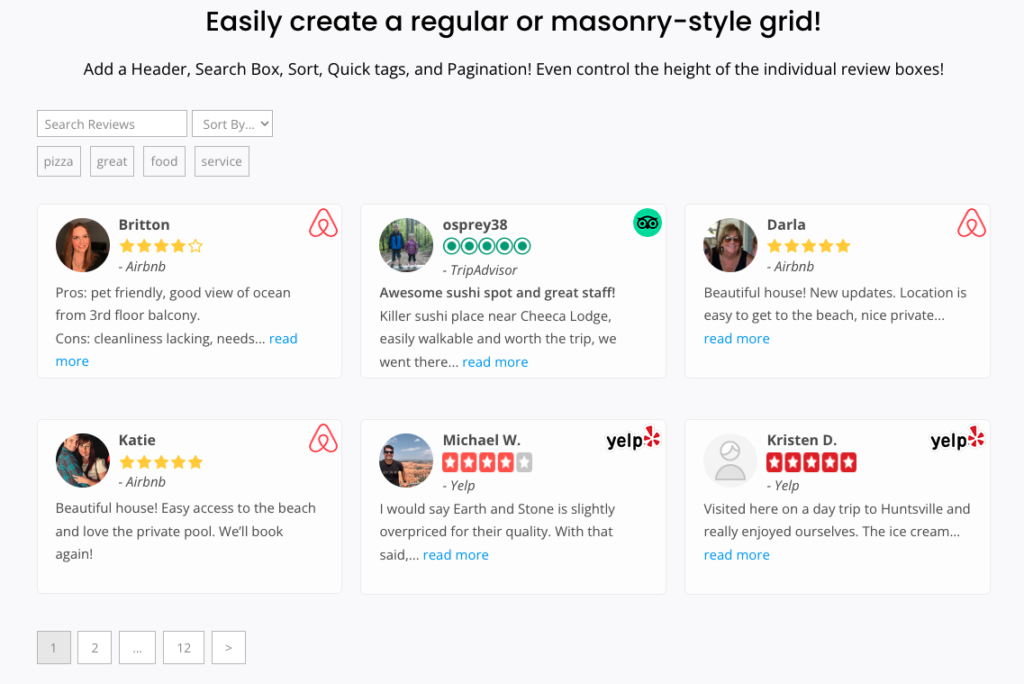 If you're not happy with any of the templates or if you want to create a unique look for your website, WP Review Slider Pro also allows for custom CSS. This is perfect for WordPress users who have some coding experience and want more creative control over how reviews are displayed on their website.
Make use of the advanced analytics
Another key element to make the most of is the analytical tools – you can view an in-depth breakdown of consumer feedback across multiple data visualizations, as shown below: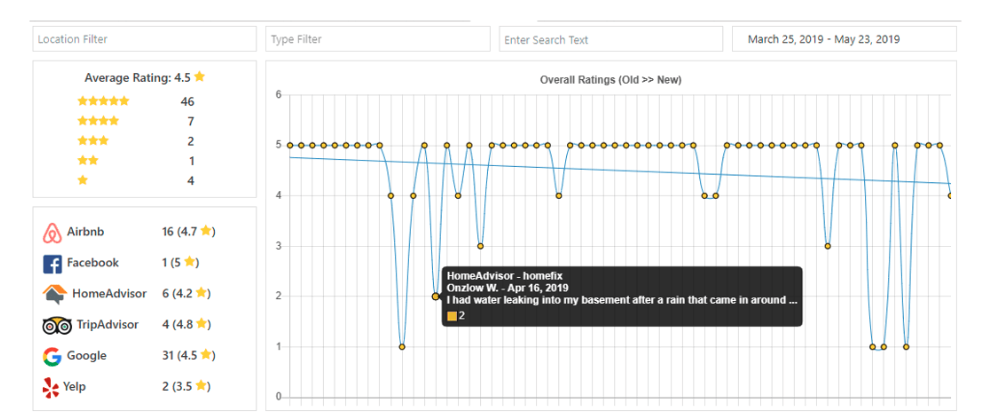 With the functionality of feedback forms, it's easy to keep track of customer inquiries and suggestions. This is an especially helpful feature if you want to keep track of any recurring issues that may need to be addressed.
Overall, WP Review Slider Pro is a powerful tool for displaying customer reviews on your WordPress website. With its ability to aggregate data from different sources, customizable templates, and detailed analytics, you'll be able to set up a review system that perfectly suits your business.
Conclusion
When it comes to boosting conversions on your website, displaying customer reviews is a sure-fire way to do so. Not only does it provide your customers with social proof, but it also helps you collect and analyze customer feedback as well as boost your SEO through increased site authority.
Displaying customer reviews on your WordPress website is a relatively easy process with WP Review Slider Pro. It's a clear winner in our eyes, especially when you consider the plugin's ability to pull from 90+ websites as well as its impressive templates and CSS customization options. If you're looking for a reasonably priced plugin that does everything you need (and more), consider WP Review Slider Pro. It's a great way to show off your customer reviews and help boost your website's conversions. {{Try the Starter license for just $29/month!}}