If you're using the WooCommerce plugin to run your online WordPress store, product reviews can be your greatest ally or worst enemy.
On the one hand, they are the perfect way to showcase social proof and get more sales. On the other hand, most people will hesitate to make a purchase if the business has negative customer reviews. However, studies have found that 79% of people are likely to leave a positive review if the company turns an initially negative experience into a positive one.
Therefore, knowing how to remove WooCommerce product reviews could be one of the most important steps you will ever take as an eCommerce store owner.
In this guide, you'll learn;
Why you may want to remove WooCommerce reviews
How to remove a negative WooCommerce review
How to disable WooCommerce reviews
The best way to manage your WooCommerce reviews with WP Review Slider Pro
Why would you want to disable or remove reviews on WooCommerce?
Customer reviews are a powerful tool that your business can utilize in several ways. For starters, it gives you priceless insights into what customers love or want you to improve. When you enable product reviews on your WordPress site, it also serves as a wonderful tool for converting new leads.
Statistics show that 92% of consumers read online reviews, while 88% trust online reviews as much as personal recommendations. While consumers deserve to gain an honest insight into your brand and products, there are legitimate circumstances where you will want to remove negative reviews from your WooCommerce store. Common examples include;
Spam accounts are sending irrelevant reviews or promoting other websites
Another company is trying to sabotage your brand
Your product has evolved, and you want to remove outdated reviews
A customer has accidentally clicked the wrong star rating despite a positive comment
In these cases, you would want to avoid any negative publicity. Removing or disabling WooCommerce reviews will allow you to do this. Better still, having a clear review management strategy in place can prevent these situations in the first place!
Thankfully, multiple steps may be taken to manage your customer reviews more efficiently, such as using WP Review Slider Pro's review gate features. It ensures that those leaving a negative review are subtly discouraged from leaving any comments on your social media. This saves you time and helps you manage your company's reputation in style.

Let's look at the options available to remove or disable reviews on your WooCommerce store.
How to remove specific WooCommerce product reviews
The easiest method for removing a single negative review is to delete it from your WooCommerce dashboard. You will need to;
Navigate your way to WooCommerce > Reviews
Find the review(s) that you want to delete from the list
Click on the Trash button for the appropriate review(s)
Confirm your selection
Deleting a single negative review is truly that simple. However, it can be quite time-consuming if you get lots of spam reviews or need to manage many reviews due to boasting a large eCommerce store.
How to disable customer reviews in WooCommerce
As well as knowing how to remove reviews, it may be necessary to disable reviews from your WooCommerce store. Consumers are 50% more likely to be influenced by positive reviews than discount codes, but that can only happen if your reputation isn't damaged by negative reviews.
Thankfully there are several ways to disable customer reviews in WooCommerce. They are detailed below:
How to disable or turn off reviews in WooCommerce
Did you know that an estimated 75% of businesses do not respond to negative customer reviews? Aside from potentially damaging the company's reputation, it can lead to lawsuits – as was shown in the LG refrigerator case, which cost the manufacturer over $1.5 million.
So, taking action will give you a noticeable advantage. One solution is to disable WooCommerce reviews across your entire website. It is a very effective option when you are receiving a lot of spam or fake negative reviews.
To remove reviews and not display the product reviews tab from the entire store, you can simply;
Log in to your WooCommerce store
Navigate to your WooCommerce settings
Open the products tab
Uncheck the box next to "Enable Product Reviews"
Click the Save Changes button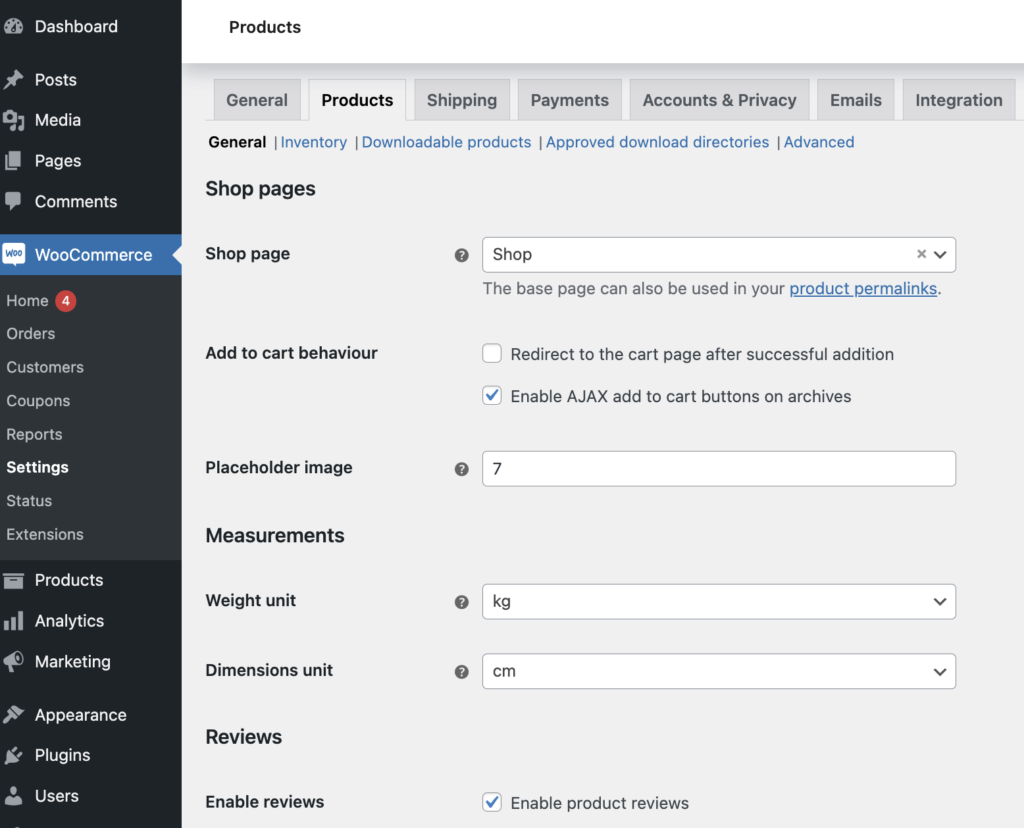 You can then test this out by opening a new browser window and visiting your website as if you were a consumer. You'll see that the reviews tab is no longer shown.
How to disable reviews for a single product
Given that 60% of consumers feel that the number of reviews a business has is an important factor when reviewing their services, most businesses don't want to permanently disable reviews across the whole store. A better alternative would be to remove or disable reviews for a single product instead.
To remove reviews from a single product, you should;
Log in to your WordPress Dashboard
Open the products tab
Find the product that you wish to deactivate reviews for
Click Quick Edit – as shown in the screenshot
Uncheck the box next to "Enable Reviews"
Click Update
Alternatively, you can navigate to Dashboard > Products > Select Product > Advanced > uncheck the Enable Reviews checkbox.
How to disable WooCommerce reviews for multiple products
You may find that removing reviews from multiple product pages on your eCommerce store is necessary. Here's how you can disable comments on multiple products:
Open up your WordPress Admin Dashboard
Navigate to the Products page
Check the boxes next to each product that you wish to disable reviews for
Choose Bulk Actions from the dropdown menu
Select Edit and Click on Apply
Change the Comments setting to Do Not Allow
Click Update
This will successfully disable the reviews on each of the selected products while allowing reviews on the remaining products.
How to disable WooCommerce reviews through code snippets
Finally, if you are familiar with coding, you can use code snippets to disable and delete reviews programmatically by editing your functions.php file. It should be noted that this is a risky approach, however, and could even lead to breaking your WooCommerce site, making it inaccessible to consumers. Similarly, troubleshooting any errors can be a very tedious process.
The better, faster, and simpler way to manage your review is to use a WooCommerce review plugin.
The best way to manage your reviews: WP Review Slider Pro
Over 40% of all websites on the internet use WordPress in 2023. Of these, more than half use WooCommerce! While WooCommerce has attractive features, like enabling or disabling product reviews on your store, you can go one step further. You can optimize and manage your reviews with WP Review Slider Pro. It has an array of top features designed to maximize the impact of your reviews, such as;
It is designed with user accessibility and a great UX in mind
The plugin offers an all-in-one solution capable of embedding reviews from Expedia, Amazon, Facebook, TripAdvisor, and more
There are many templates and customizable elements that allow you to display your reviews from any WooCommerce product page in slider, grid, or list formats
It can be incorporated within any WooCommerce theme and easily managed from your CMS admin panel
Thousands of WooCommerce store owners use WP Review Slider Pro to unlock the full potential of reviews. Here's what some of them have to say:
While WP Review Slider Pro has various great features, two key elements stand out from the crowd – especially if you want to make review management a largely preemptive and automated process rather than a long and laborious manual process.
WP Review Slider Pro's Top 2 Features
Review filters
With the 'review filters' feature, you can select which reviews are displayed on your WooCommerce site. This can be based on length, rating, source page, and other elements. Alternatively, you can manually select which reviews should be shown to prospective customers who navigate to your website or social media channels.
In addition to helping you promote positive reviews and hide unfair reviews or spam, WP Review Slider Pro uses an auto-update feature to show the latest and most relevant reviews.
Review gate
The 'review gate' feature is a powerful tool within the WP Review Slider Pro app. It enables you to use conditional logic in your review/feedback-collecting forms to limit social media buttons to reviews above a set rating.
So, if someone leaves a negative review, it will not encourage the user to share their review with their followers on social media. Conversely, positive reviewers will be able to post their reviews on social media by clicking the appropriate icon. There are 4.75 billion people currently on social media, so it is vital that you take this into consideration!
Conclusion
Customer reviews are immensely valuable for your WordPress WooCommerce store, which can build trust and generate more conversions for your business. Unfortunately, even a small volume of negative reviews can do a lot of damage to your business.
Thankfully, with WP Review Slider Pro, you can build a comprehensive review management strategy that automatically filters reviews and only encourages social media sharing when someone leaves a positive review. You also use our extensive tutorials and resources to improve your online store experience.
Ready to supercharge the impact of your WooCommerce product reviews? Download WP Review Slider Pro for just $29 per year, or start your 7-day free trial today!